Are you tired of watching your favorite movies and TV shows on a small screen? Thanks to the boom in streaming services, it's easier than ever to binge-watch your favorite shows from the comfort of your own home. But let's be real: Watching on a tiny screen can be a real buzzkill.
That's where the magic of short throw projectors comes in. With their ability to transform your living room into a killer home theatre, you'll never want to go back to that puny screen again. Sound like something you might be interested in? Keep reading to learn more about how short throw projectors can take your movie nights to the next level!
What's a Short Throw Projector and how does it work?
A home theatre projector with a short throw can create expansive, high-quality images from a close distance. Short throw projectors can be positioned just a few feet away from a wall or screen without compromising image quality, in contrast to conventional projectors that need a large amount of space between the lens and the screen.
Compared to televisions, short throw projectors offer much larger screen sizes at more affordable prices. Additionally, they can be easily moved and set up in different rooms or outdoor spaces for a unique viewing experience.
The technology behind short throw projectors involves using specially-designed lenses and mirrors to reflect and focus light onto the screen. This results in bright, clear images even in dark or dimly-lit rooms. Some popular models on the market include the LG CineBeam HU85LA 4K UHD Laser Smart TV Projector, Paris Rhône Laser Projector LT002, 4K Ultra Short Throw, and the Optoma GT5600 Ultra Short Throw Gaming and Movie Projector.
Overall, a short throw projector can be a great investment for anyone looking to enhance their home entertainment setup. Whether you want to watch your favorite movies and shows in 4K resolution or play video games on a large, immersive screen, a short throw projector can help bring your home theater dreams to life.
Benefits of a Short Throw Projector
Stunning 4K Ultra HD Resolution
The 4K resolution and 2000 ANSI lumens brightness provide stunning image quality. The ALPD 2.0 Pro and DLP technology deliver crisp 4K images with impressive clarity and contrast.
Ultra-Short Throw Distance
The extremely short throw distance enables massive screen sizes of up to 150 inches from just 2 feet away. You can place the projector as close as 24cm for a 100-inch image or 48cm for 150 inches.
Innovative Light Source Technology
The ALPD laser light source and DLP chip ensure vibrant colors and deep blacks. The 0.47-inch DMD and 3000:1 contrast ratio produce dazzling images that really pop. HDR10 support further enhances highlights and shadows.
High-Quality Audio
The powerful dual 25W speakers with Dolby and DTS audio deliver room-filling sound for an immersive experience. The 2.1-channel audio has separate bass drivers for rich lows and tweeters for clear highs.
Eye Protection
Eye care features like low blue light and no flicker protect your eyes during long viewing sessions. This is great for movie marathons or gaming.
Connectivity Features
the laser light source has an extremely long lifespan of 25,000 hours, meaning you'll get years of maintenance-free use. Wireless connectivity via dual-band WiFi and Bluetooth makes setup simple.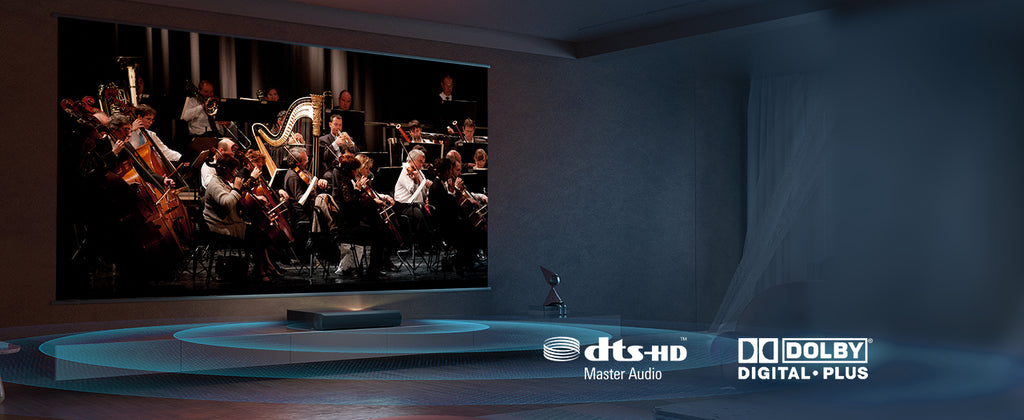 Setting Up a Short Throw Projector
Setting up a short throw projector involves certain considerations to ensure you get the best viewing experience.
Room lighting is important, as ambient light can impact image quality. Low-light conditions are ideal, but if that's not possible, invest in blinds or curtains to reduce glare.
Positioning and angle of projection are also critical. A projector's distance from the screen should follow manufacturer recommendations (24CM for 100", and 48CM for 150"), and adjust lens tilt as needed.
Finally, consider the projection surface: walls painted white or with a dedicated screen material can both work well. Investing in a short throw projector with advanced technology such as ALPD 2.0 Pro and DLP can significantly improve the overall quality of your setup.
Choosing the Right Short Throw Projector and Screen
There are a few different types of short throw projectors to choose from, each with its own advantages.
Ultra short throw projectors can create huge screens just inches from the wall, perfect for environments with very limited space. Laser projectors offer the brightest images, sharpest contrast, and longest life due to their laser light source.
When choosing a short throw projector, consider the room size, lighting conditions, screen size you want, brightness requirements, and your budget. An ultra short throw might be best for tiny rooms while a laser projector is great for larger rooms with more ambient light.
Once you've selected a projector, hang your screen securely and level. Place the projector on a stable surface either on top of or behind the screen, aiming it at a 90-degree angle. Use the projector's keystone adjustments to correct any image distortion.
For your screen, a fixed frame screen offers the best image quality but a roll-down screen is more portable. Material matters too - matte white screens diffuse light for the clearest picture while silver screens reflect light for increased brightness.
With the right short throw projector and screen, you'll be able to transform any wall in your home into an immersive movie theater experience. So go ahead and turn that bedroom, living room, or game den into your own personal cinema!
Read More