Paris Rhône 5-in-1 Air Fryer Oven AF013, 14.8-quart air fryer
---
Convenient, Open Design: Air frying is now easier than ever with three easy-turning knobs to set the temperature, timer and cooking functions; the open transparent glass lid enables you keep an eye on your fried meal instead of frequently opening the cover and losing heat
Fry A Feast: The large 14-quart air fryer lets you add a variety of food including a 9-inch pizza, 4 slices of toast, 8 chicken wings, and other types of food that can feed the whole family; includes extra accessories to cook even more
5 Modes to Cook Everything: This premium oven meets all your cooking needs by supporting air frying, toasting, baking, roasting, and warming, so you can make food worthy of a restaurant; comes with a magnetic cheat sheet to help novice and veteran cooks elevate their meals
Ensures an Even Heat: Top and bottom heating pipes, advanced technology and a design that is conducive for 360° hot air circulation work together to create a fume-free cooking experience that leaves food golden, crispy, and evenly cooked
No Mess, No Fuss Cleaning: With its non-stick coating, no food residue is left behind. This means it's never been easier to keep the air fryer and its accessories clean – all you need is a dishwasher or simply a sponge to wipe it clean
---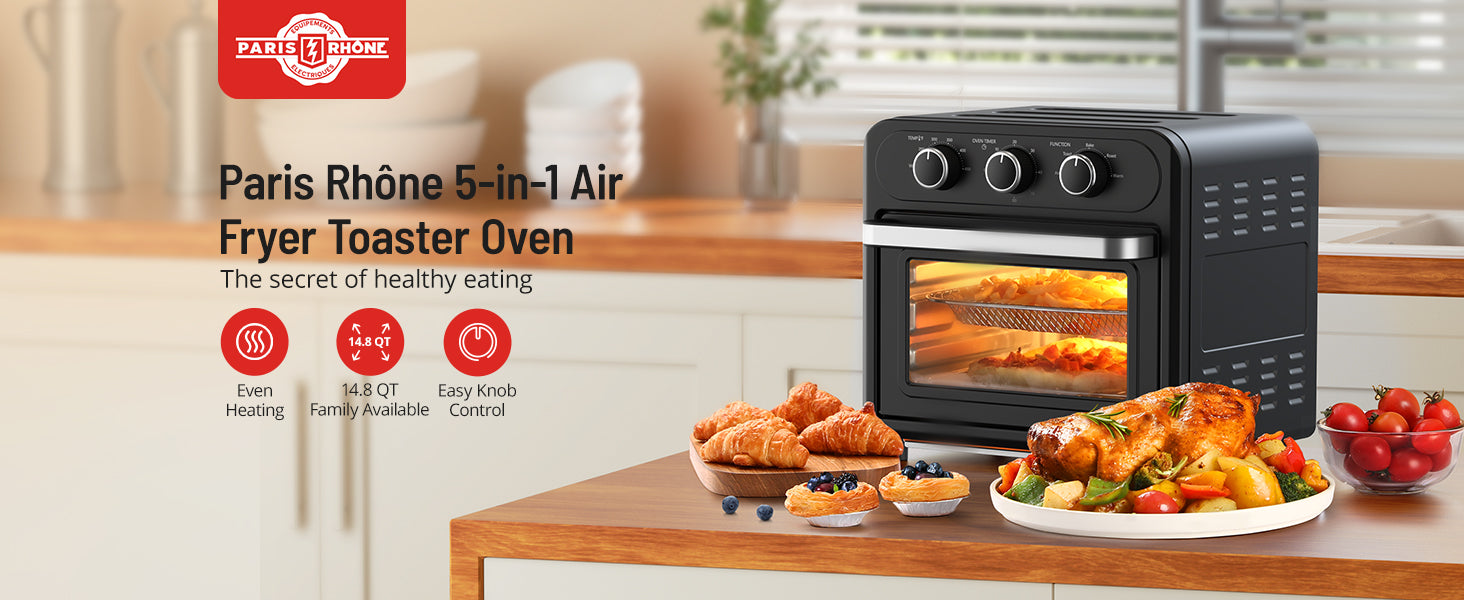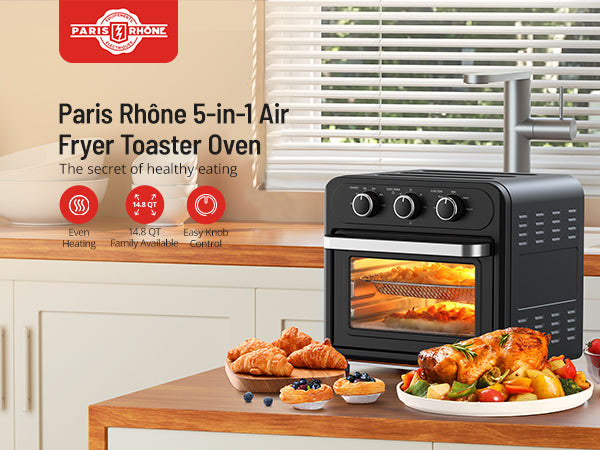 PARIS RHÔNE
Have Fun Frying and Cooking
The 14.8-quart air fryer oven offers multiple cooking modes including air frying, baking, roasting, toasting, and a warming function, allowing you to say goodbye to traditional deep-fried cooking and enjoy a healthy, oil-free diet. Designed with 3 knobs, you can control the temperature and cooking time to bring out crispy textures and rich flavors. A magnetic cheat sheet gives you extra tools to create sumptuous snacks and tasty treats.
Featured
5 Cooking Functions
14.8 QT Large Capacity
3 Knobs Control
6 Accessories Included
Magnetic Cheat Sheet
Adjustable Temp & Timer Built-in Light Bulb
5 Accessories Transform Your Cooking
Includes a baking tray, frying basket, gridiron, crumb tray, and a rack clamp, so there's always an accessory to help create something delicious.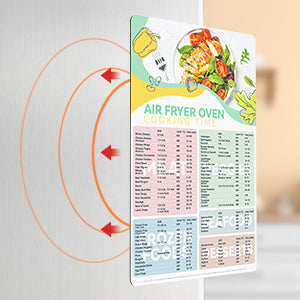 Cheat Sheet Makes Meals Easy
To help make the perfect meal, a magnetic cheat sheet is included that provides handy information such as ideal cooking temperatures and the correct timings to help you unlock the potential of this air fryer oven.
Keep An Eye On Your Meal
In addition to the transparent lid that makes the contents inside visible, a built-in light bulb provides extra illumination so you can see how your meal is progressing.
This product has no reviews yet.
FAQ
Use this text to share information about your product or shipping policies.
Does the 17 inch depth dimension include the handle?

Yes. The size of the liner is: 265*245*192mm
has anyone owned this for longer than 1 year?

I've only had this for two months. The Bake feature works well. I haven't used it as an air fryer yet, and the Toast feature was "disappointing"; (I actually invested in a separate toaster it was that bad.)
I've never used an air fryer before and have absolutely no clue how to place the racks or drip pan for roasting, air frying, toasting? Can you help?

I have this 5-in-1 unit and an older single function air fryer. This unit comes with a wire rack, deep fryer mesh rack (they call it a basket) and a broiling pan. They all slide (insert) into various levels (adjustable height). Their "basket" doesn't have much depth. It's good and bad, because hot air circulates through the food easier and there is less reason to "shake" halfway through to cook more evenly. That said, I still would shake french fries, etc. to get uniform cooking. I would use only the air fryer mesh basket to hold the food you want to air fry. You can place a layer of foil on the metal "crumb sheet" to make cleanup easier. Shake half way through over the sink (use pot holder and cover basket with a tupperware lid to allow for a good shake and crumbs fall in your sink. Don't be afraid to remove the food for 10-15 seconds to do this!
Our customer support is available Monday to Friday: 8am-8:30pm.
Average answer time: 24h