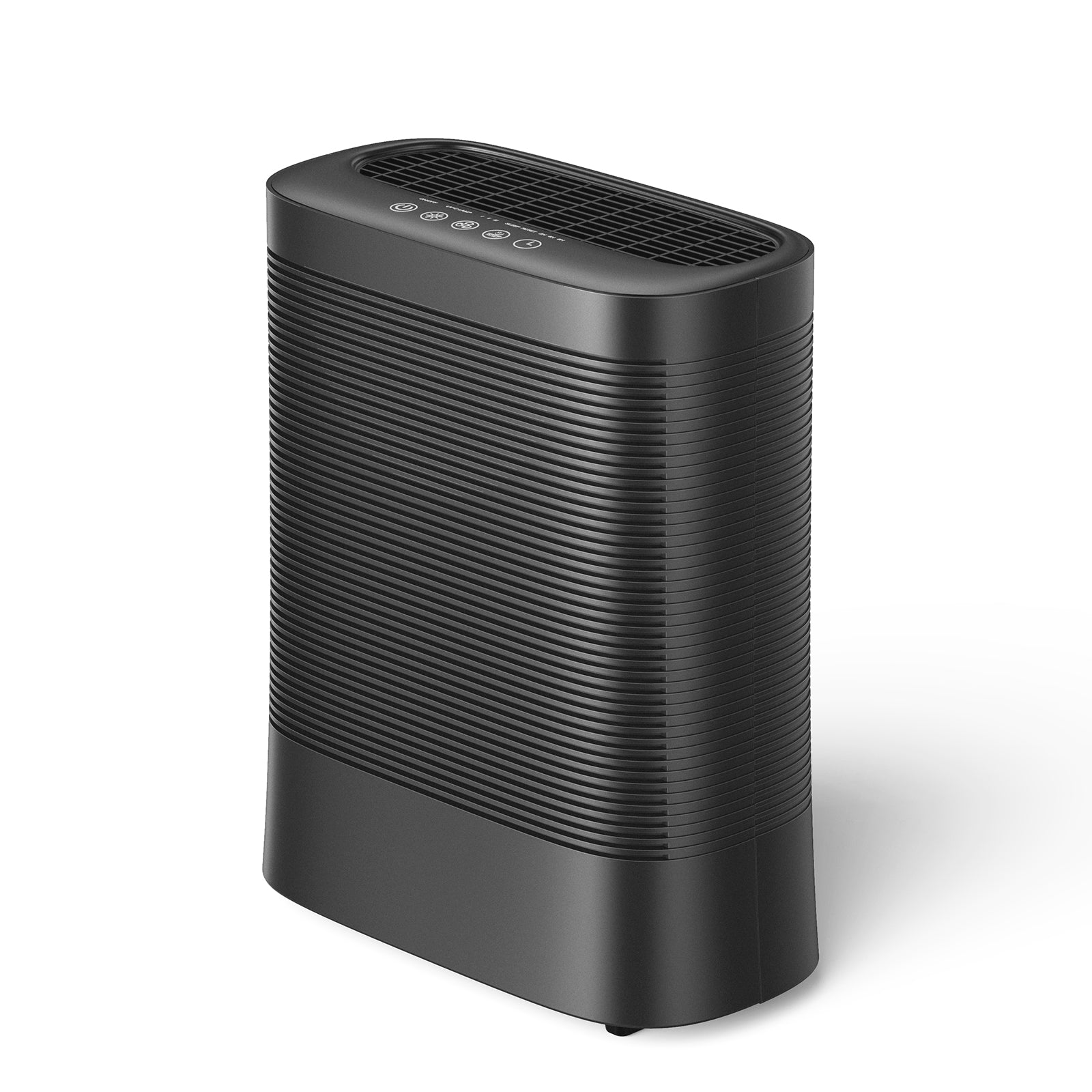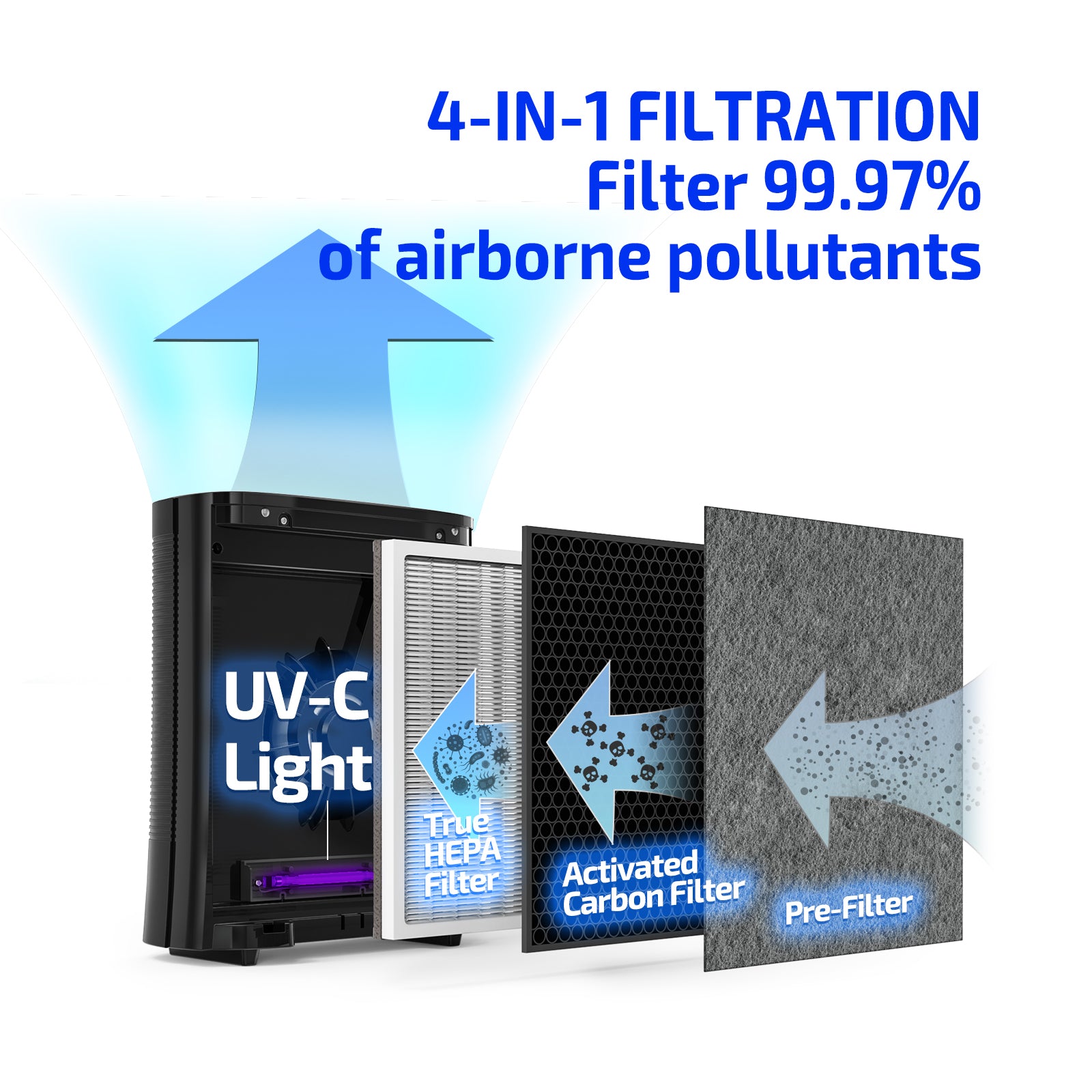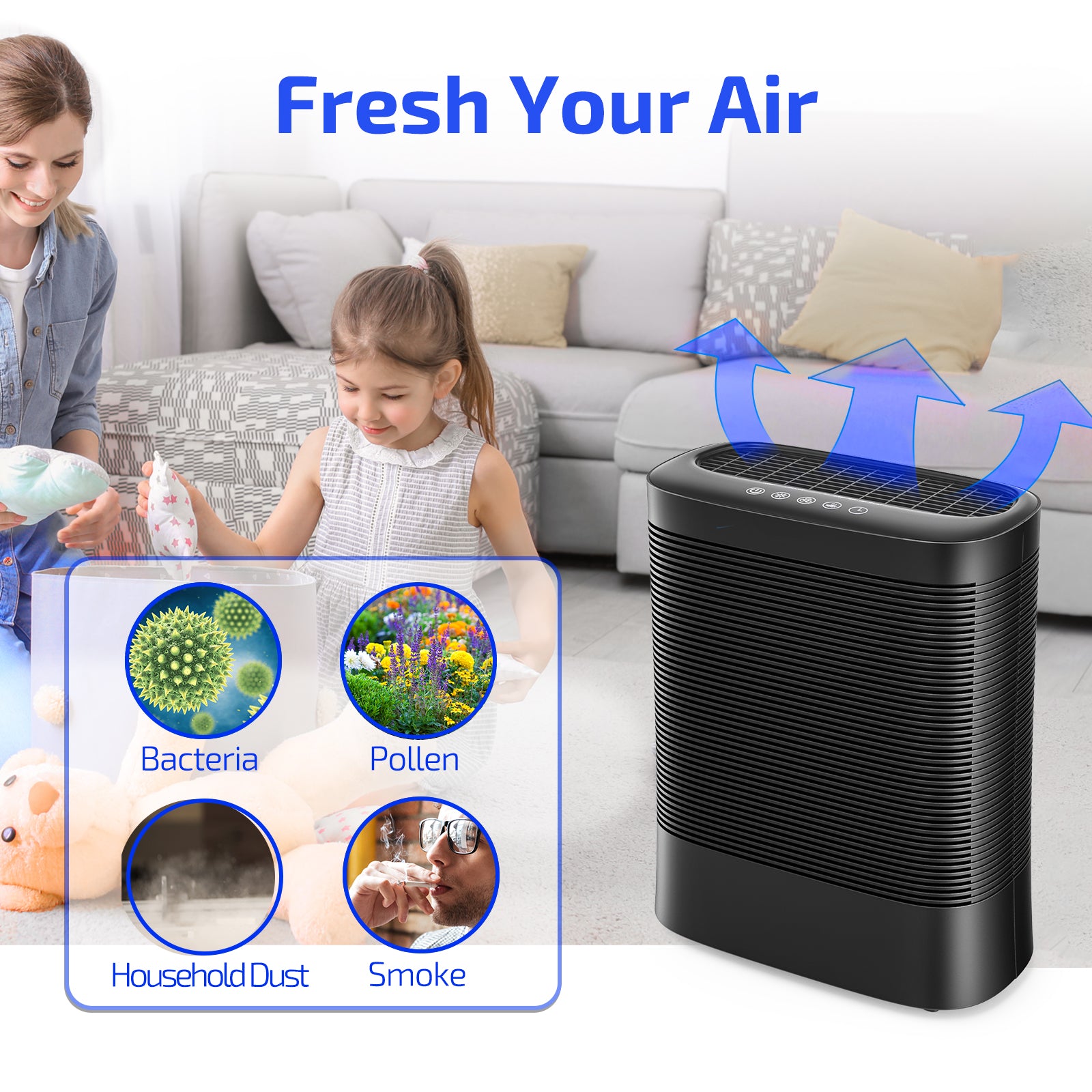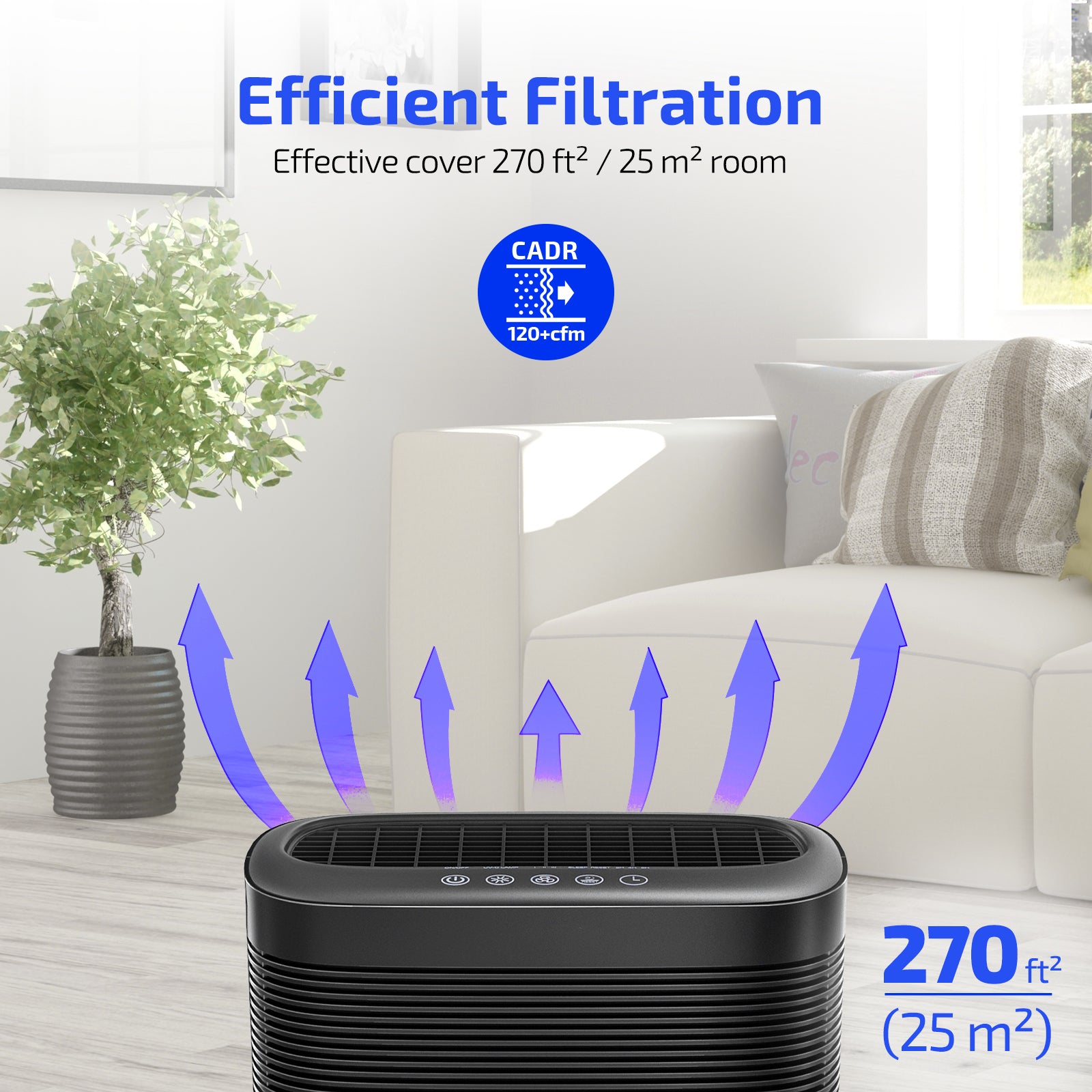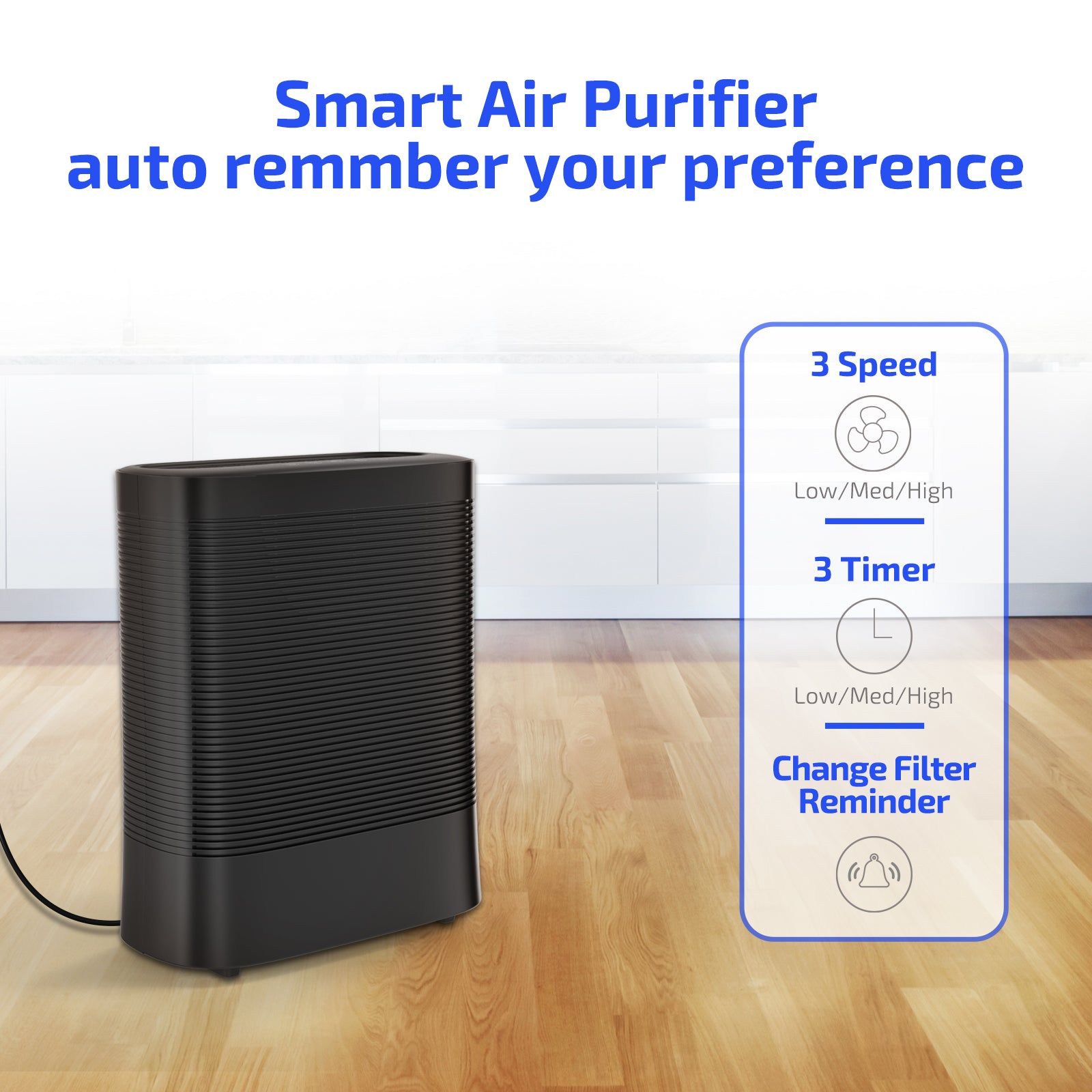 Air Purifiers AP010,with UV-C Light Sanitizer, Purifier with 3 in1 True HEPA Fits
---
【3-STAGE FILTRATION】: Comes equipped with a washable pre-filter for large particles like lint and fur, a High-Efficiency Activated Carbon Filter for toxic fumes and unpleasant odors, and an H13 True HEPA Filter, which captures at least 99.97% of airborne particles 0.3 microns in size.
【UV Light】: UV-C technology photolysis airborne bacteria and viruses, secondary decompose Formaldehyde, Benzene, etc. with up to 98.3% effectiveness, alleviate air pollution
【POWERFUL PERFORMANCE】: With a CADR of 120 CFM / 212 m3/h, the Vital 100 is perfect for living rooms, bedrooms, and kitchens. It can cover 675 ft² in 30 minutes, and 300 ft²in only 18 minutes.
【SLEEP COMFORTABLY】: With noise levels as low as 24 decibels, the Vital 100 won't keep you up at night. You can also turn off the display lights when it's time for bed; comes with 3 fan speeds and an optional uv c light(Low, Med, High)
【USER-FRIENDLY】: Energy-Saving Timer & Memory function, set a timer for 2, 4, or 8 hours whenever you like. The Check Filter Indicator will let you know when it's time for a fresh filter.
---
PARIS RHÔNE
Breathe Life Into Your Home
Better living and breathing starts now. The thorough 3-layer filtration system captures and removes harmful allergens, pollens, and pet dander for cleaner air.
This air purifier utilises an advanced sensor that detect the surrounding air quality and automatically alters the fan speed to clean up hazardous particles in your home for better breathing.
Featured
H13 true HEPA filter
Auto fan speed adjustment
CADR: 212m³/h
Suitable for a 270sq.ft room
2/4/8/ hour timer
360° air inlet
Working noise as low as 24dB
Friendly Filter Replacement Reminder
The control panel indicator charmingly flashes to remind you to replace the air filter when required.
Multi-hour Timer
A handy timer function can be set for 2, 4, 8, and 12 hours. The air purifier will then auto-switch off once the time is up.
Auto Fan Speed Adjustment
Choose 3 preset fan speeds or switch to Auto Mode for the fan to automatically adjust to the quality of the air around you.
This product has no reviews yet.