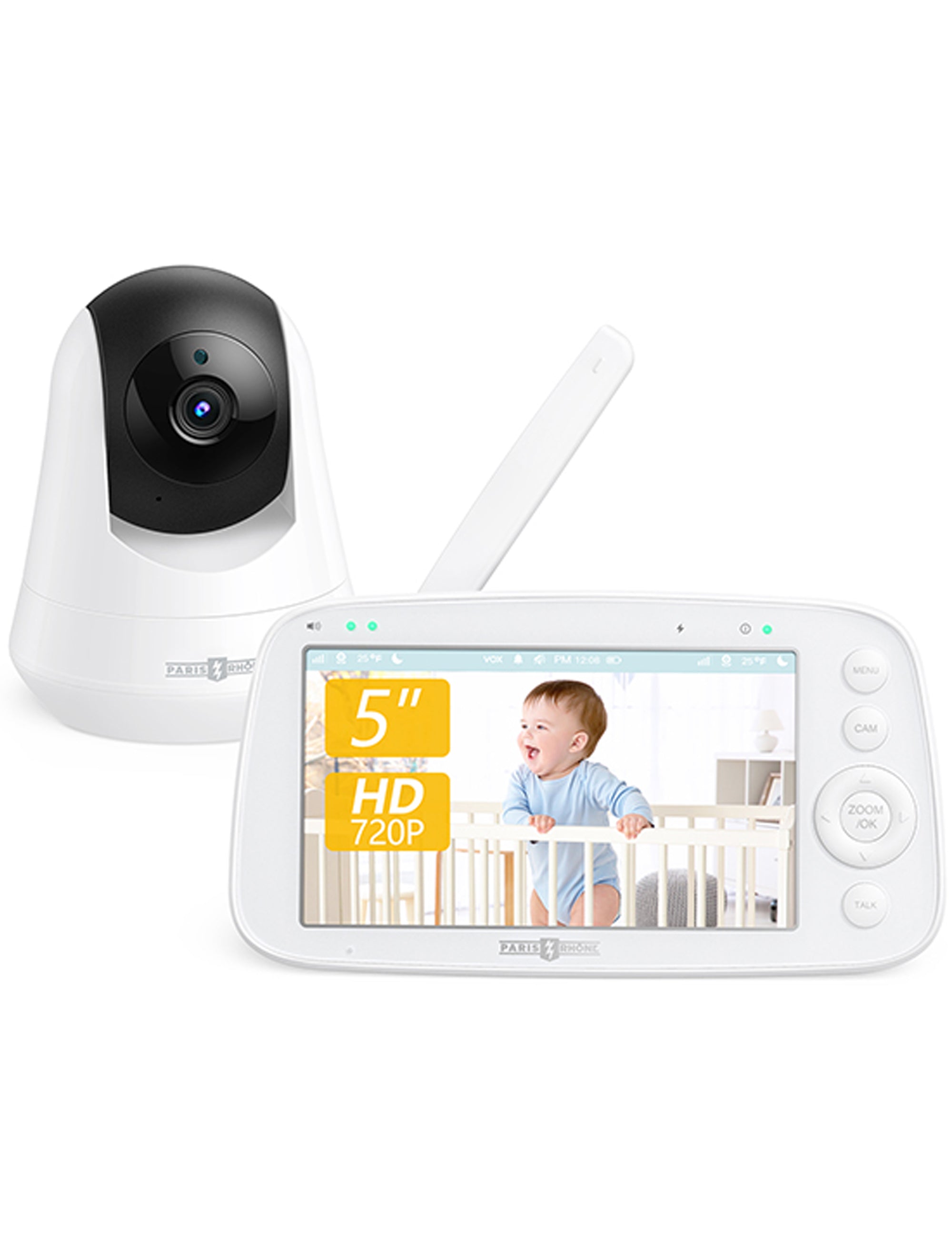 Paris Rhône 720P HD Baby Monitor IH003, Wide-Angle Monitoring,5 inch Display
---
• 【Bigger & Clearer Display】View every detail and move of your adorable baby on a large 5" screen in 720P HD clarity baby camera monitor; With premium picture and video quality, you will never miss any moment of taking good care of your baby by remote parenting while you're doing housework or enjoying the time for recreation.
• 【Two-Way Talking】Communicate with your baby anywhere in the room; when you hear a sound, you can speak to your baby instantly via pressing the speak button; comfort your little one timely for peace of mind even when you're apart.
• 【Powerful Night Vision】No more hassle of frequently going to the nursery to watch over your baby, the superior baby camera displays crisp images even at night and the baby monitor keeps an eye on baby's sleep state up to 19.7ft; the 5 built-in lullabies accompany your baby if they wake up in the night.
• 【Smart Audio and Video Monitoring】With 3 adjustable sound levels, the VOX mode will automatically turn on the screen and alarm when detecting baby's crying or anything unusual; built-in large capacity battery offers 14 hours of monitoring; the temperature sensor precisely detects room temperature to ensure a comfortable environment for baby.
• 【Wide-Angle Monitoring】The baby video monitor with 4x Digital Zoom tilts 110° and pans 340° to provide an expansive view of the nursery to view your baby sleeping or playing; the included screws allow you to flexibly mount the monitor to the wall.
---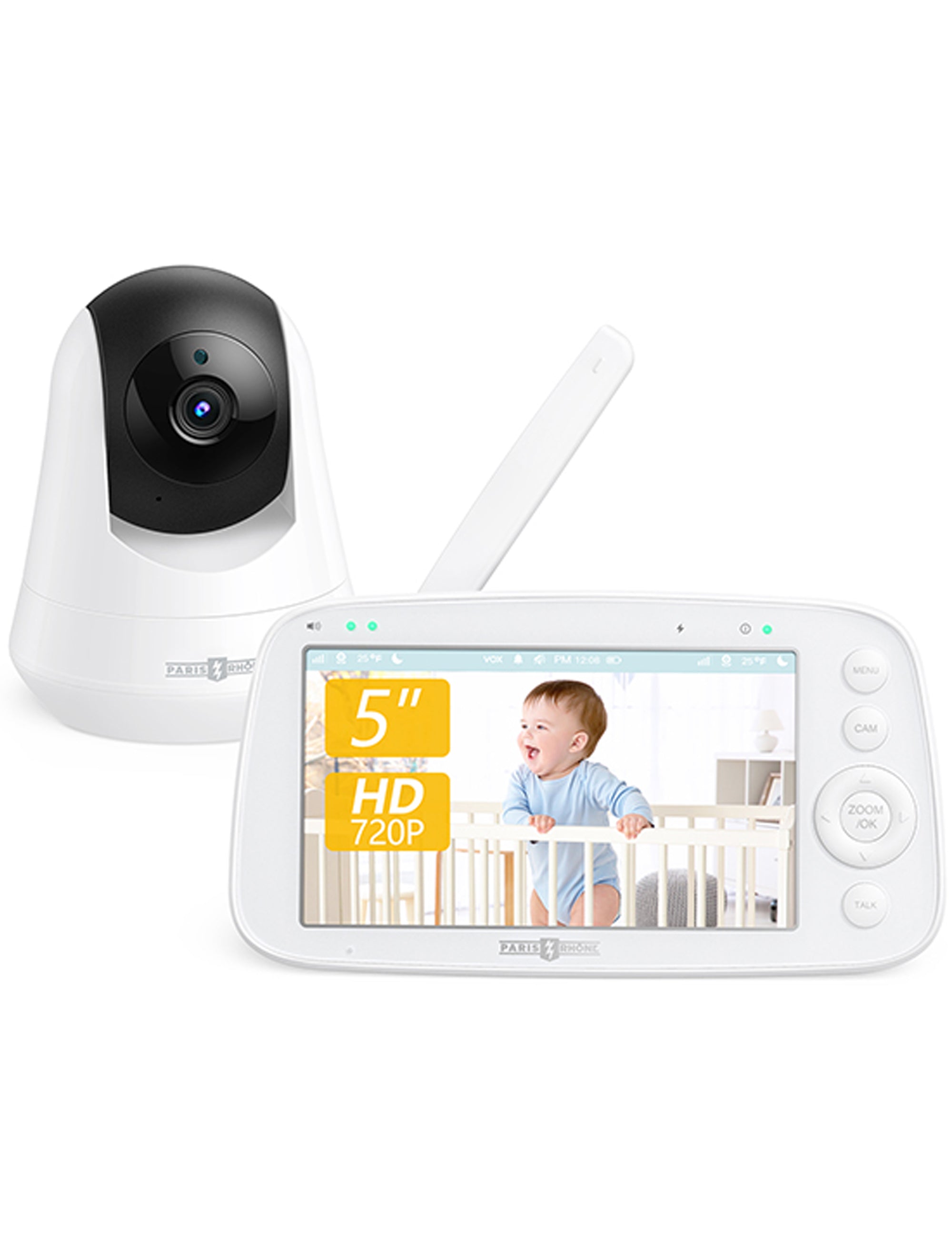 PARIS RHÔNE
Tailored for All Day Care
Enjoy carefree parenting with the Paris Rhône video baby monitor. Boasting a 5-inch 720 HD display, this baby monitor allows you to watch over your baby in crisp detail. Moreover, soothing your sweetheart to sound sleep is a breeze thanks to the smart VOX mode, 2-way talk, and 5 sweet lullabies. A perfect essential for you to stay close to your baby.
Featured
5-inch Large Screen
720 HD Display
2-Way Talk
VOX Mode
5 Built-in Lullabies
4X Zoom
Secure & Private Connection(up to 1000ft)
Feeding Reminder, Temperature Monitor
What's in the box
1 x PARIS RHÔNE Baby Monitor
1 x Camera
2 x AC Power Adapter
2 x Mount Kit
1 x Camera Mount
2 x Power Cable
1 x User Guide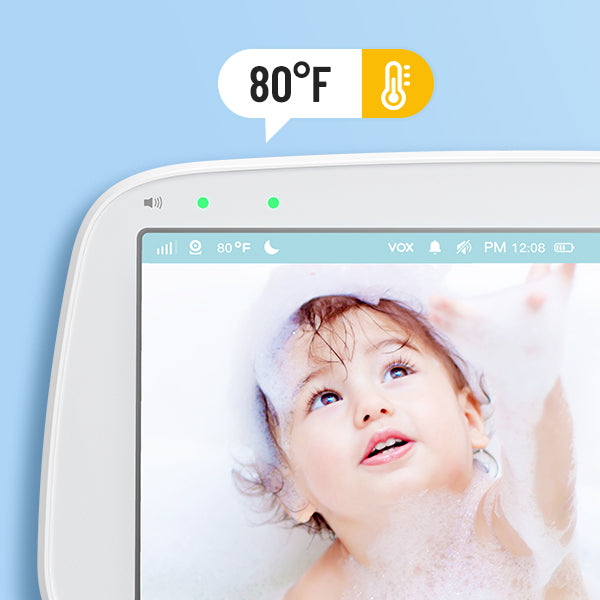 The Perfect Temperature For Sensitive Babies
Your newborn will never feel too hot or cold with instant temperature detection. Simple preset the temperature between 46℉ (8℃) and 95℉ (35℃). You will be alerted if the temperature exceeds this range, so you can make your baby feel more at ease.
1000ft Transmission Covers MostHomes
The long distance transmission covers mostsized homes, providing stable video footage and letting you see every move and action from afar.
It's Time To Eat
Enjoy peace of mind and let the monitor remind you when it's time to feed your baby. This not only helps you relax but ensures babies are fed at the same time each day.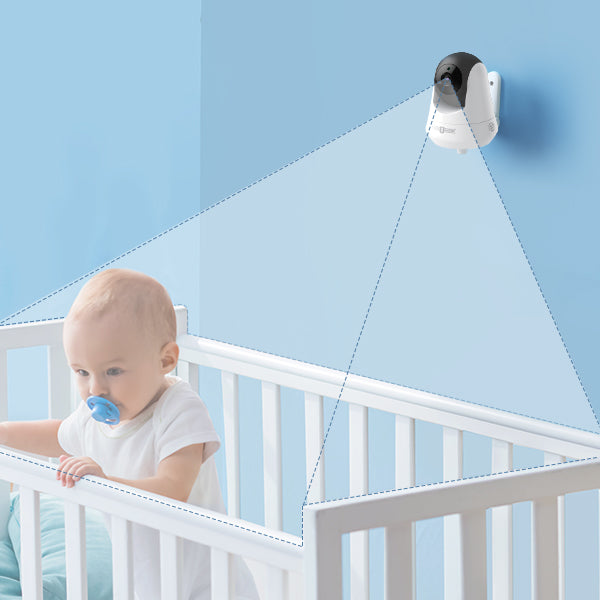 Mounting Material For Mothers
With a simple DIY mount, easily set up the camera on a desktop or on the wall for a better view.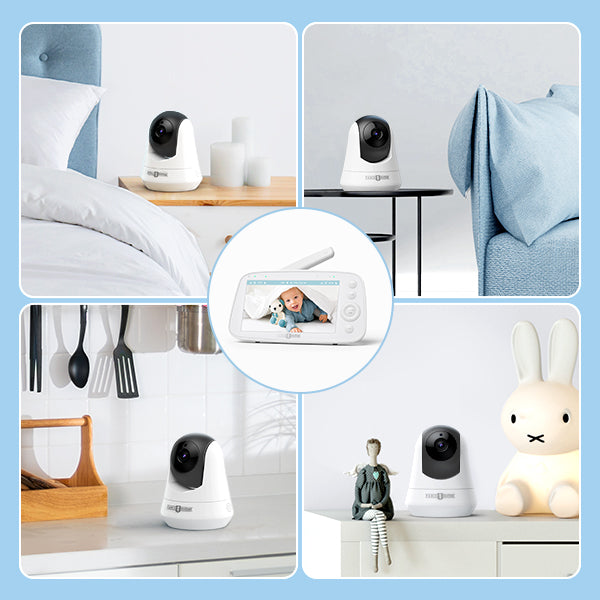 Up To 4 Cameras To Cover Your Child
Connect up to 4 cameras to a single monitor and ensure your baby is watched and kept safe anywhere in the home.
Sleepytime Soothing Songs
Your baby will drift off into a quiet sleep accompanied by one of five gentle and relaxing lullabies.
This product has no reviews yet.
FAQ
Use this text to share information about your product or shipping policies.
What's the monitoring angle of this camera? Can I remote control and see my baby in the whole room range?

Dear customer, we appreciate for choosing Paris Rhone baby monitor.The baby monitor can remotely control the camera to rotate 340° horizontally and 110° vertically, basiclly covering the view angel you needed. It is also equipped with a tripod mount, which makes it easy to mount the camera on the wall to meet the needs of wide viewing angels.
Does this baby monitor and camera need to be plugged in for use? Or have built-in batteries?

The camera needs to be plugged in for use. The monitor has build-in battery. I've tried the VOX mode, and got almost a full day of battery life.
Does this baby monitor operate via app or wifi?

No, the video baby monitor is remoting control with no Wifi or App. It works with FHSS technologyn provides a privacy connection between monitor and camera. The signal is fine when I am in first floor cooking and my baby is in second floor.
Does this setup work with Vava cameras ?

No, you have to work with camera provided by Paris Rhone
Our customer support is available Monday to Friday: 8am-8:30pm.
Average answer time: 24h