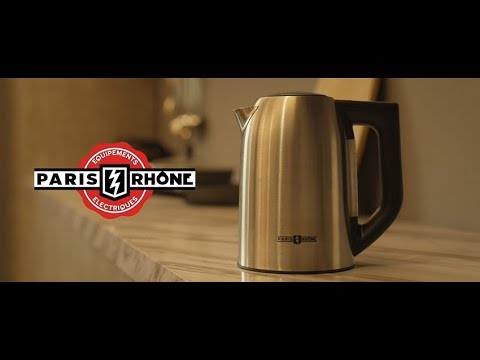 Paris Rhône 1.7L Electric Kettle EK008,1500W 6 Setting
PARIS RHÔNE
Enjoy Hot Drinks Instantly
Gone are the long waits for the perfect cup, the Paris Rhône 1500W stainless steel electric kettle rapidly boils 1.7L of water in under 5mins allowing you to serve splendid tea, coffee, hot cocoa and more in an instant. Thanks to its auto shut-off and boil-dry protection, this electric kettle is safe to boil time and time again. Shipped with a Strix thermostat, the Paris Rhône electric kettle provides the ideal water temperature for different hot drinks, satisfying your whole family or guests.
Featured
1500W Rapid Boiling
1.7L Large Capacity
Stainless Steel & BPA-Free
6 Temperature Settings
Precise Strix Thermostat
Easy Touch Control
Auto Shut-Off & Boil-Dry Protection
Detachable Anti-Scale Filter
Easy-to-view Water Gauge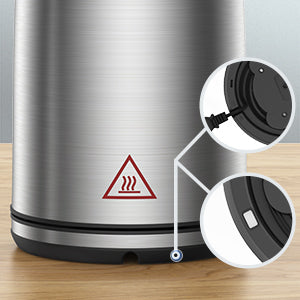 Rotating Base
A 360-degree swivel base is friendly for both right and left-handed users; additional cable storage underneath for tucking away any excess cord; 3 non-slip round granules keep your kettle steady on the kitchen counter.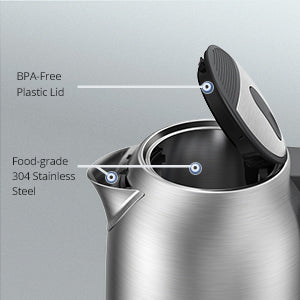 Stainless Steel Interior Wall
Designed with superior quality food-grade 304 stainless steel, the electric kettle's interior isn't prone to forming limescale, keeping your drink limescale-free and saving you the trouble of descaling.
Convenient Viewing Window
Electric kettle with illuminated water level gauge lights up when the kettle is boiling, and the easy-to-read water level gauge lets you easily identify the amount of water. For your safety, do not exceed the MAX line.
Detachable Filter
Located at the base of the spout, this removable and easy-to-wash filter helps keep impurities out of the water, preventing limescale from being poured into your cup, and ensuring the purity of the flavor. distance is up to 50ft.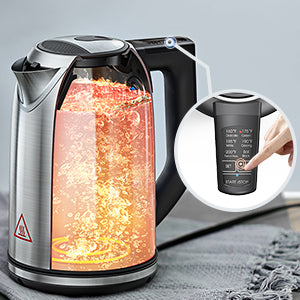 30min Keep-Warm Setting
Handy keep-warm function helps maintain the water temperature for 30min, so you have hot water on standby for when you're ready to pour or refill your cup without having to wait to reheat the water.
Easy-To-Pour Spout
Tired of annoying splashes and spills that other kettles leave on your kitchen counter? This ergonomic Paris Rhône electric kettle with V-shaped spout ensures a splash-free pour that's smooth, accurate, and doesn't create a mess.
This product has no reviews yet.
FAQ
Use this text to share information about your product or shipping policies.
Is there any plastic at all, in contact with the tea water?

Crafted from premium food-grade 304 stainless steel, the Paris Rhône electric kettle is much more durable and robust; BPA-free materials ensure the water is boiled to a high standard and with no objectionable odor.
Where is the detachable filter?

This electric Tea Kettle comes with a detachable filter and you can find it at the base of the spout. For more details, please find the relevant picture from produst description.
How does the temperature control of this hot water kettle electric work?

The water boiler kettle electric has 6 different temperature settings.The default temperature setting is Boil / 212°F.Cycle through the temperature settings with each press of the Set button. The corresponding temperature indicator will light up.Once the maximum or minimum temperature setting is reached, keep pressing the Set Button will not change the setting.It can preserve the temperature of the boiled water for 30 minutes until it automatically shuts off and enters standby mode.
Do the temps of this kettle go down to 120? Or can you not manually adjust the presets?

The default temperature setting is Boil / 212°F. Press the Set Button to select from 6 different temperature settings. Press the Keep Warm Button to preserve the temperature of the boiled water. Once the keep warm function is activated, the heat will be preserved for 30 minutes until it automatically shuts off and enters standby mode.This water boiler kettle electric comes with a 12-months warranty from the date of its original purchase. If you have ever experienced issues with your kettle, please contact us for support. We will take care of you in 24 hours.
Can this kettle be use to heat cow's milk?

We do not recommend you use this kettle to heat the milk as it will make the bottom kettle mushy.
Is the kettle cool touch on the outside

The outside of the kettle was made of 304 Stainless Steel, which is a little cool.
Is this electric Tea Kettle noisy?

This electric Tea Kettle is not noisy and we believe that it will reach your expectations.
By PARIS RHÔNE OfficialSELLER on May 7, 2022
Does the outside of the kettle get hot? Is it insulated?

It does get hot.
By Lori on July 12, 2022
Our customer support is available Monday to Friday: 8am-8:30pm.
Average answer time: 24h