Paris Rhône 4K Ultra Short Throw Laser Projector LT002, Projector Screen
---
• Marvelous 4K UHD with HDR 10: With 3840x2160 resolution, 8.3million distinct pixels, and HDR 10, the Paris Rhône 4K laser projector delivers astonishingly crisp and vivid images with rich and exquisite details for unmatched visual enjoyment
• 150" Large Screen at a Short Distance: Adopting space-saving ultra-short throw technology with a 0.233 throw rate, the compact Paris Rhône laser TV projects a stunning display from 80 to 150 inches from the wall
• Advanced ALPD Technology: Enjoy your favorite movie or sporting event in defined details even during the day thanks to the ALPD 3.0 technology that boasts bright 2000 ANSI lumens, a 3000:1 high contrast ratio, and a wider color gamut
• Immersive Stereo Sound: Equipped with two 25W powerful drivers that support Dolby audio and DTS decoding, the Paris Rhône ultra-short throw laser projector brings you cinematic surround sound that perfectly matches its exceptional visuals
• Intelligent & Durable: The Paris Rhône 4K laser projector will automatically dim when detecting your approach for eye protection; it features a long lamp life of up to 25,000 hours, which is 10 times longer than other regular bulbs
• ❤️❤️❤️Best Valentine's Day gifts for Him/Her, Surprise your favorite one with this romance. ❤️❤️❤️
---
1 x Paris Rhône Laser Projector
1 x Remote Control
2 x AAA Battery
1 x Power Cord
1 x Cleaning Cloth
1 x User Manual
1 x Quick Start Guide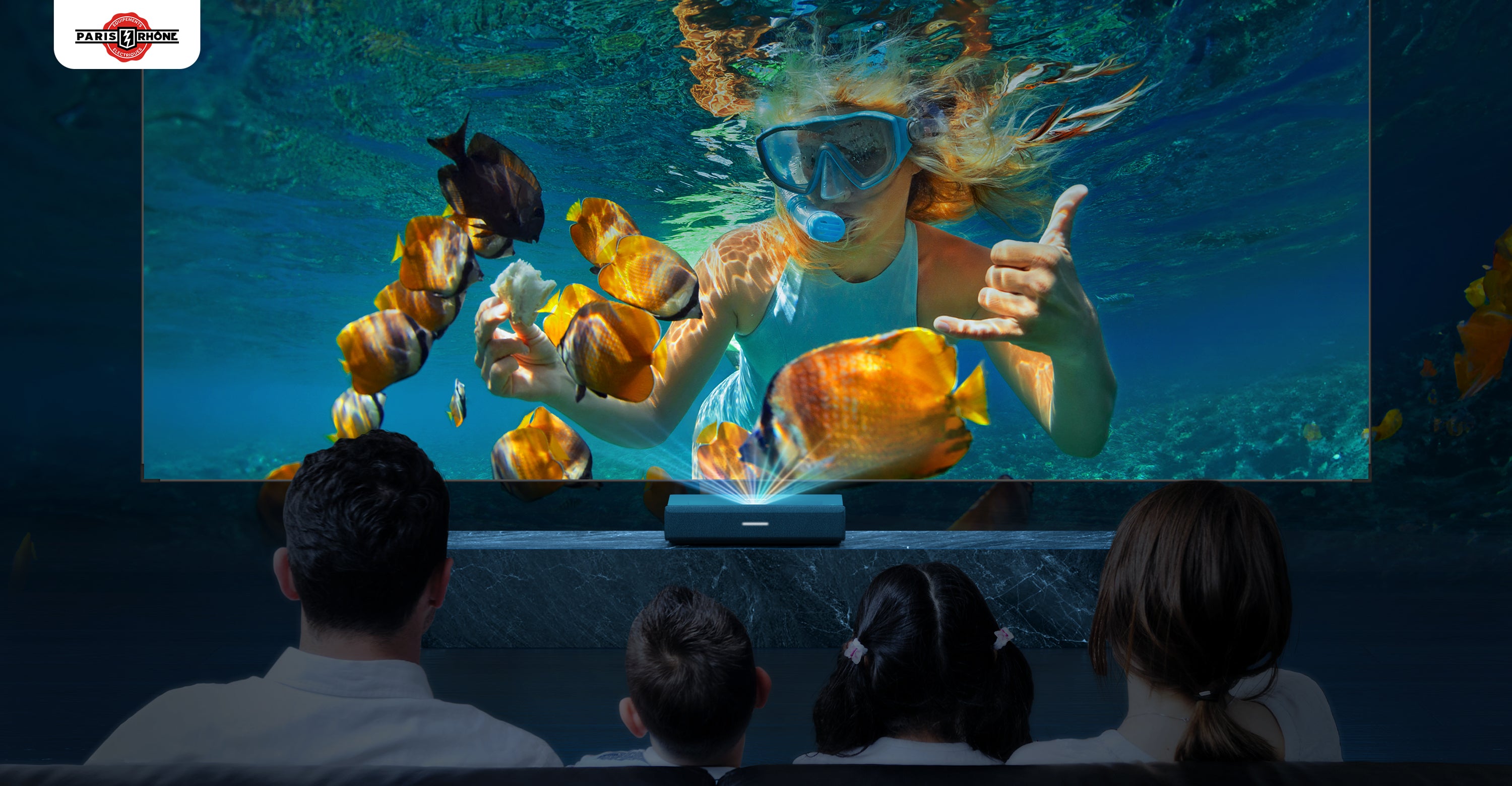 Paris Rhône
Bring the Cinema Home
4K UHD | 80"-150" Display | Ultra Short Throw | 3000:1 Contrast | Dolby Audio & DTS Decoding | MEMC
"The Paris Rhône-LT002 is ideal for a range of entertainment devices such as computers, set-top boxes, speakers, and next-generation gaming consoles."
"the short throw 4k projector that will make your eyes SHINE"
"Paris Rhone 4K Laser Projector is jam-packed with features to enhance the home cinema experience."
"If you want large screen projection from a laser projector this Parisrhone 4k Projector might do the trick!"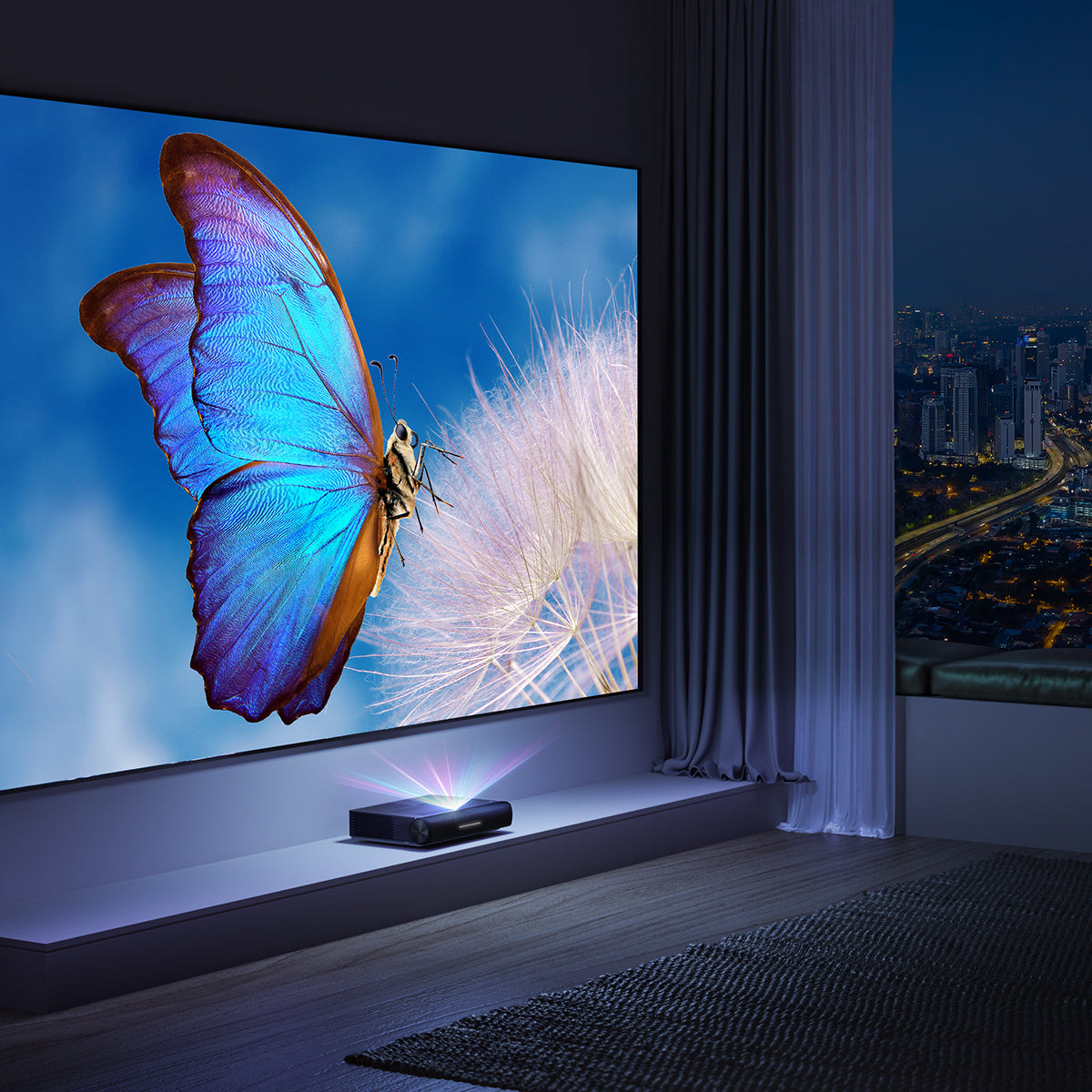 Brilliant 4K UHD Resolution
Featuring a 4K resolution of 8.3 million pixels with HDR10, the incredible Paris Rhône Laser Projector delivers crisp images with rich detail for unparalleled visual enjoyment.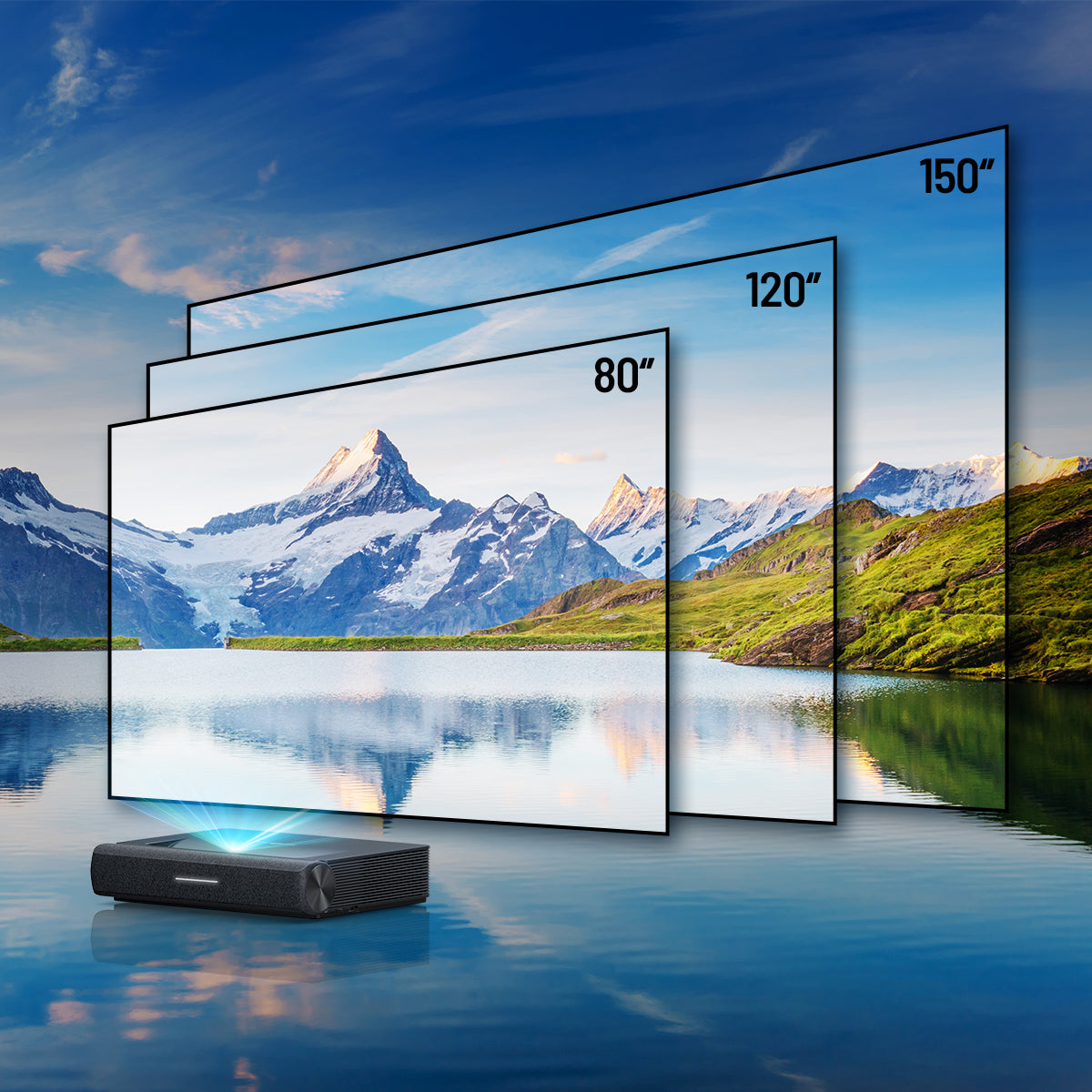 Massive Display from a Short Distance
The ultra-short-throw technology of the Paris Rhône Projector projects 80" to 150" large screens at a close distance of 5.4" to 18.8" from the wall.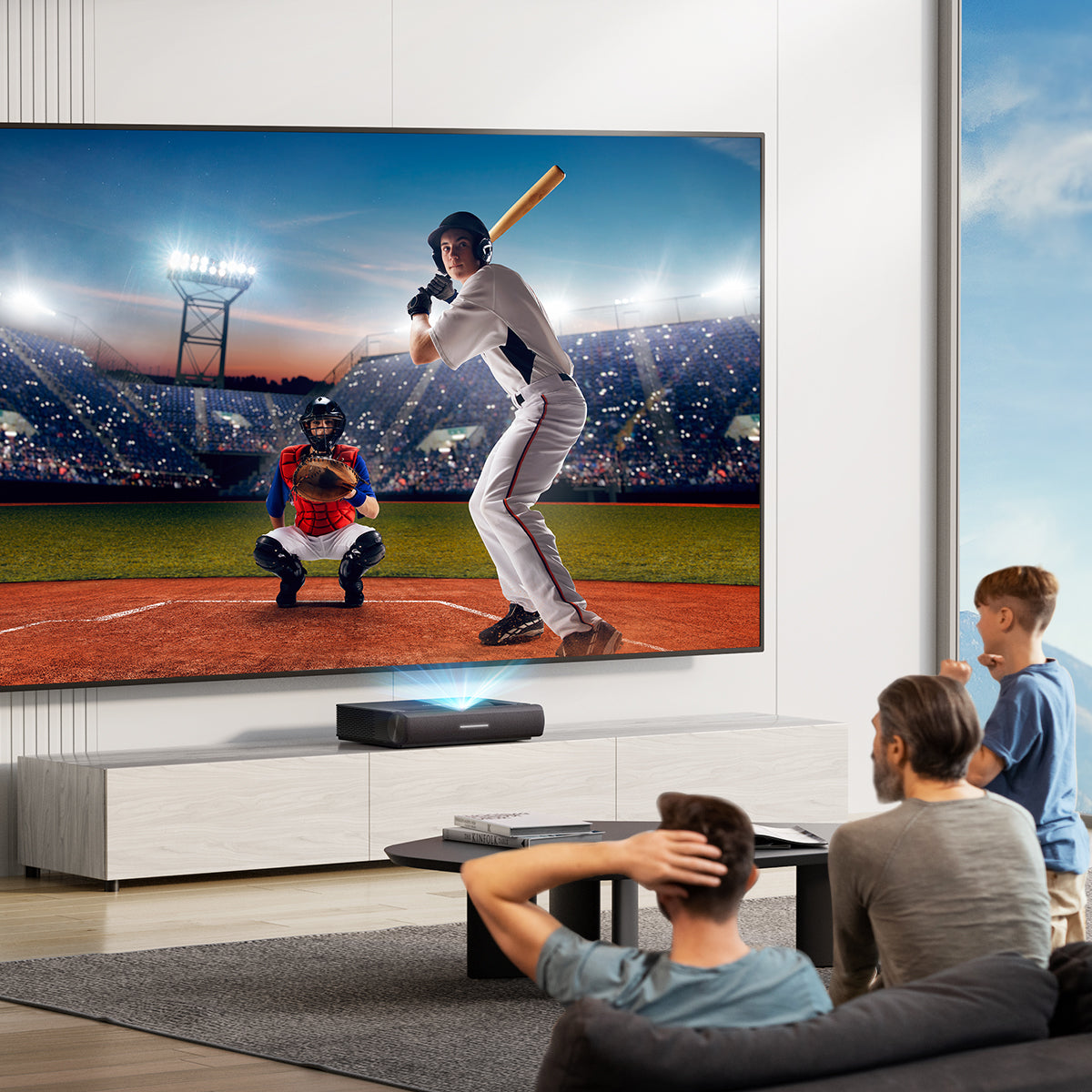 2000 ANSI Lumen Brightness
Thanks to its brightness of 2000 ANSI lumens, it enhances image quality when streaming all your movies, even during the daytime. This is the laser projector that can replace your TV for ultimate entertainment.
Equipped with leading ALPD 3.0 technology, it ensures a wide color gamut, high brightness, and contrast at all times so you can enjoy the breathtaking display at all times.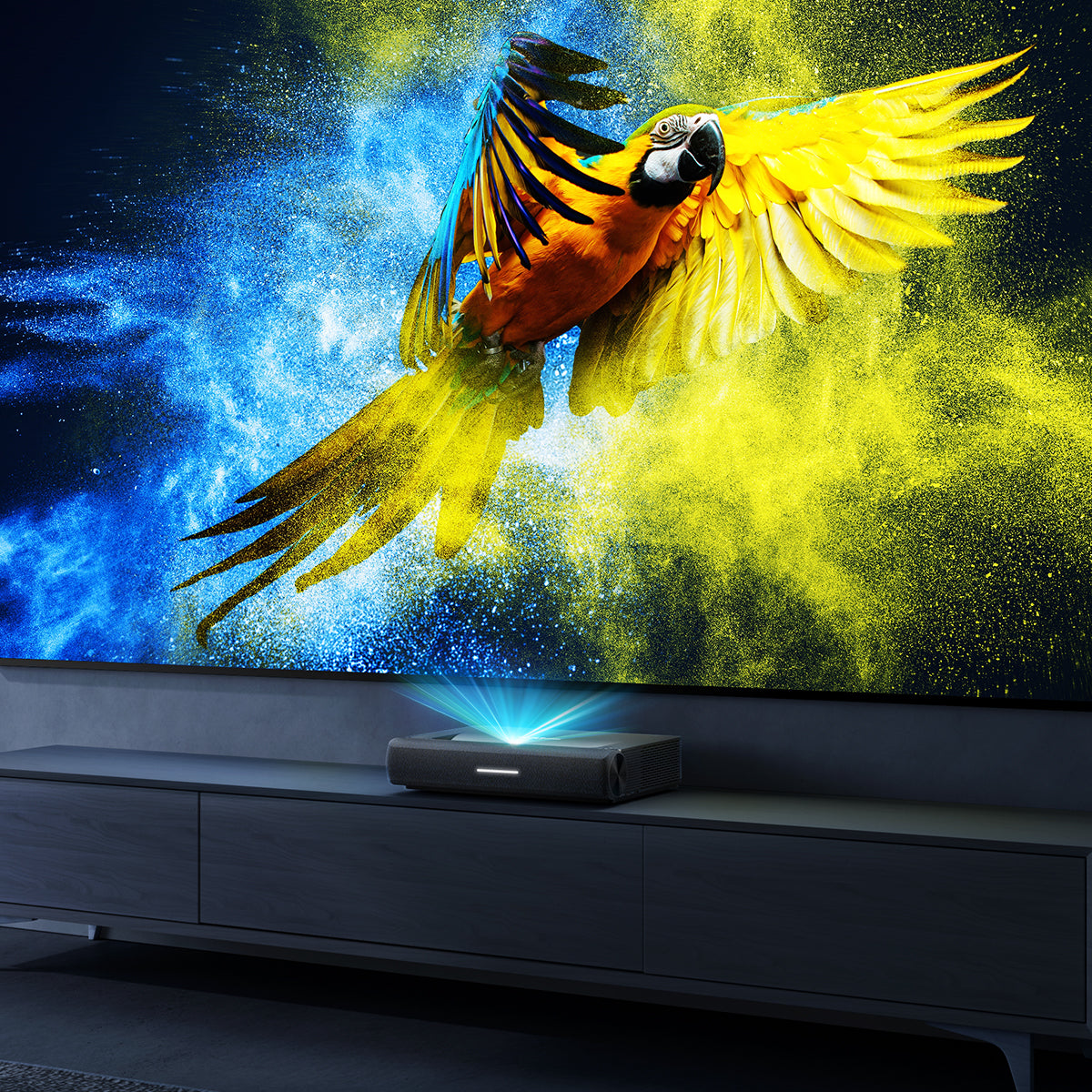 Wide Color Gamut for Vivid Display
Thanks to the 100% Rec.709 color gamut, your 4K viewing experience is now optimized with accurate color expressions and makes every scene on screen more astonishing.
3000:1 Contrast & HDR10
When bright or dark images are not projected correctly, it can be hard to see the details clearly.The Paris Rhône laser projector has a high contrast ratio of 3000:1 with HDR10, so you can clearly see the details in the shadows or bright lights.
Motion Smoothing Technology
The Paris Rhône Laser Projector enables MEMC for smoother movements. Whether you're watching a movie or playing your favorite game, you can enjoy sports events on the big screen without a motion judder.
Immerse Yourself in Stereo Sound
Equipped with two powerful 25W speakers that support Dolby audio and DTS decoding, the laser projector brings a cinematic quality stereo sound that complements its breathtaking visuals.
More Features
25,000 Hours of Lamp Life
The Paris Rhône laser projector has a long lamp life of 25,000 hours, which is 10 times longer than other common bulbs. Enjoy more than 12,000 movies (each 2 hours in length).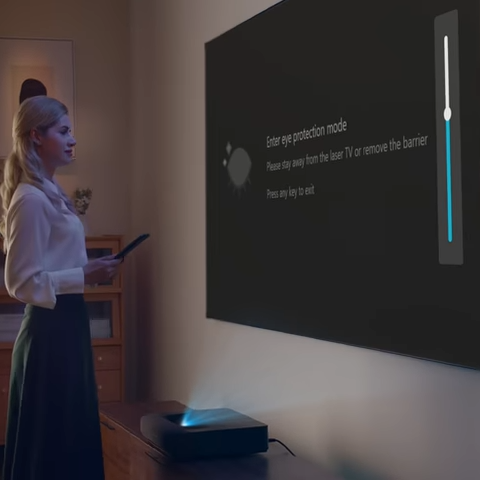 Smart Eye Protection
Built-in two intelligent PIR motion sensors, the Paris Rhône 4k projetor will automatically reduce brightness when you approach to protect your eyes.* Avoid looking directly at the light source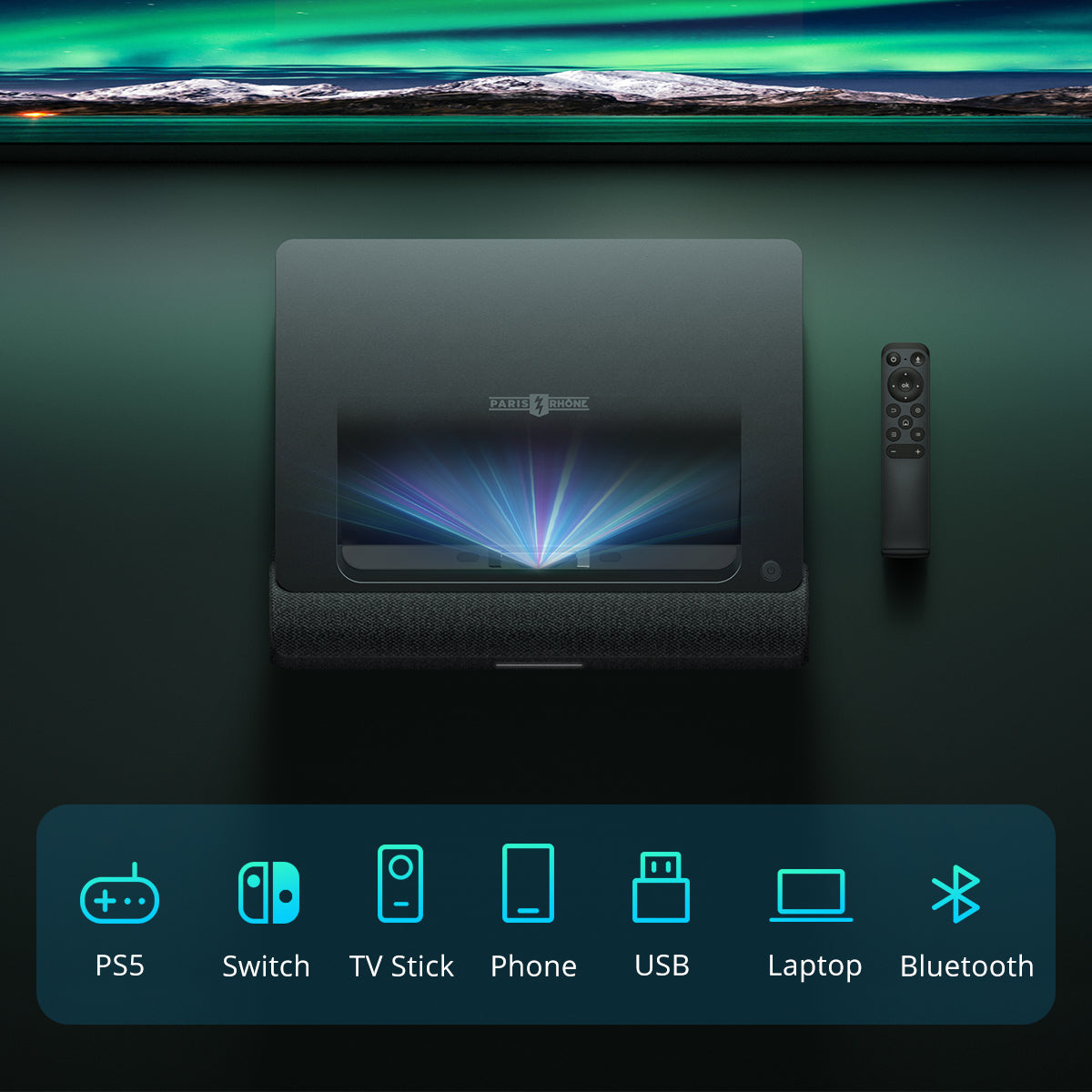 Versatile Connectivity
Designed with a USB port, 2 HDMI input ports, an AV input port, an Ethernet port, the Paris Rhône UST projector is compatible with various peripherals like gaming console, computer, TV set-top box, USB hard drive, speaker, etc.
This product has no reviews yet.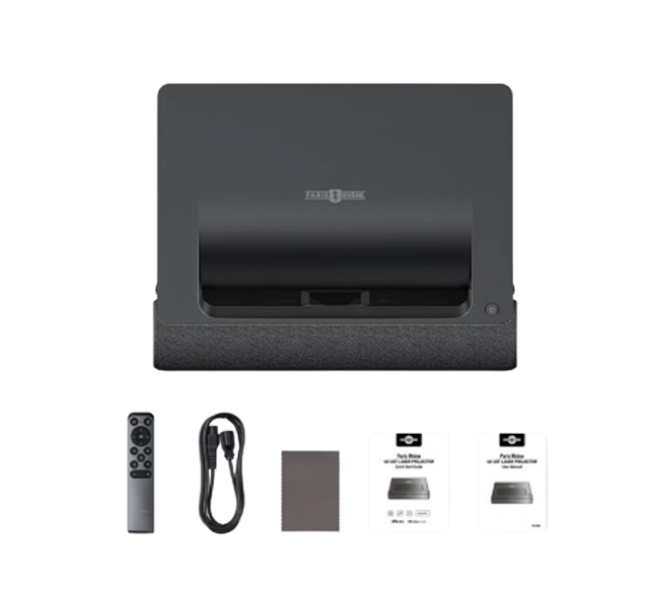 What's in the box
Paris Rhône Laser Projector X1
Remote Control X1
AAA Battery X2
Power Cord X1
Cleaning Cloth X1
User Manual X1
Quick Start Guide X1
Specification
Projection System
Smart TV System
Audio
Interface
Connectivity
Power
Others
What in the box
What's in the box
1 x Paris Rhône Laser Projector
1 x Remote Control
2 x AAA Battery
1 x Power Cord
1 x Cleaning Cloth
1 x User Manual
1 x Quick Start Guide
Bluetooth In
Yes (connect with mobile phone)
Bluetooth Out
Yes (connect with Bluetooth speaker)
Audio Out
Line out 1 (3.5mm) and S / PDIF 1
Internet
Wired and Wireless (802.11ac 2.4G / 5G, with DFS)
Stand by Power Consumption
Dimensions
425*335*100mm / 16.73*13.19*3.94in
What in the box
1 x Paris Rhône Laser Projector
1 x Remote Control
2 x AAA Battery
1 x Power Cord
1 x Cleaning Cloth
1 x User Manual
1 x Quick Start Guide
Does it have a bulb that needs replaced? How long does bulb last? Can you replace bulb?

Long life: The laser light source is rated at 25,000 hours, enabling it to be used 4 hours a day for the next 17 years. The bulbs never have to be replaced; the user never has to worry about bulb life. This is our best seller great projector
How can I order in White? There is no option to select White

If you order it and message us upon ordering, we can arrange to send the White model for you instead of white. we are working on getting the White version listed.

Single laser or triple laser?
Does this work with Apple TV?

Yes, these devices have multiple HDMI inputs to allow them to work with Apple TV! I use one with an Apple TV in my house daily!

How is the response for online gaming with a ps4 or ps5? how noticeable is the lag?

Totally depends on your ISP
Can this adequately replace a computer screen? What's the input latency or input lag?

im sure it would but it is better in low light rooms, so if you don't mind working in dim light it would be cool.
I'm planning to buy 135" screen. Will this work with this screen size?

Yes this projector will work with screens up to 150". Just ensure that it is screen made for short throw projectors.
This projector can update to the latest version?

Software and firmware updates, yes.
can it be dual voltage for 220v and 120v?
How to do a hard reset without a remote control? My remote control seems not working.

It needs to be reset with the remote. Please contact our after-sales service, they will help you solve the problem in time.
Our customer support is available Monday to Friday: 8am-8:30pm.
Average answer time: 24h