True HEPA H13 Air Purifier Filter Eliminates Dust Allergens Pollen Pet Dander AP005
---
• 【3-STAGE FILTER ELIMINATES PARTICLES】: Specifically designed air purifier for bedroom to remove particles so you breathe better, this filter is comprised of a pre-filter, H13 True HEPA filter, and active carbon; when working together, they filter 99.97%+ of particles down to 0.3 microns
• 【BREATHE BETTER, LIVE BETTER】: Filters allergens, dust, pollen, and pet dander, creating a better, more breathable bedroom, home or office space; ideal air cleaner for home and those with allergies and sensitivities
• 【MONITORS & ADJUSTS AIRFLOW】: The real-time air quality monitoring sensor displays color-code levels so you know the bedroom level of air quality; if the air needs purifying, fan speeds will automatically adjust to clear hazardous particles
• 【WHOLE HOME AIR CLEANING】: The HEPA purifier for bedroom can circulate air in a 270 sq. ft. room 5 times per hour. With a CADR rating of 250m³/h; it is ideal air purifier for home large room. With inlets on all sides, enjoy 360-degree coverage no matter where you set it up
• 【SLUMBER IN SILENCE】: The ultra-quiet air purifier for bedroom works only 25dB so you won't notice it during the day or night; turn on Sleep Mode to switch off all indicator lights for an undisturbed and deep rest

---
PARIS RHÔNE
Breathe Life Into Your Home
Better living and breathing starts now. The thorough 3-layer filtration system captures and removes harmful allergens, pollens, and pet dander for cleaner air.
This air purifier utilises an advanced sensor that detect the surrounding air quality and automatically alters the fan speed to clean up hazardous particles in your home for better breathing.
Featured
H13 true HEPA filter
Auto fan speed adjustment
CADR: 250m³/h
Suitable for a 270sq.ft room
2/4/8/12 hour timer
360° air inlet
Working noise as low as 25dB
Friendly Filter Replacement Reminder
The control panel indicator charmingly flashes to remind you to replace the air filter when required.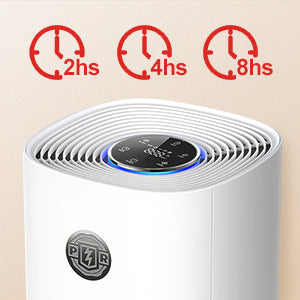 Multi-hour Timer
A handy timer function can be set for 2, 4, 8, and 12 hours. The air purifier will then auto-switch off once the time is up.
Auto Fan Speed Adjustment
Choose 3 preset fan speeds or switch to Auto Mode for the fan to automatically adjust to the quality of the air around you.
This product has no reviews yet.