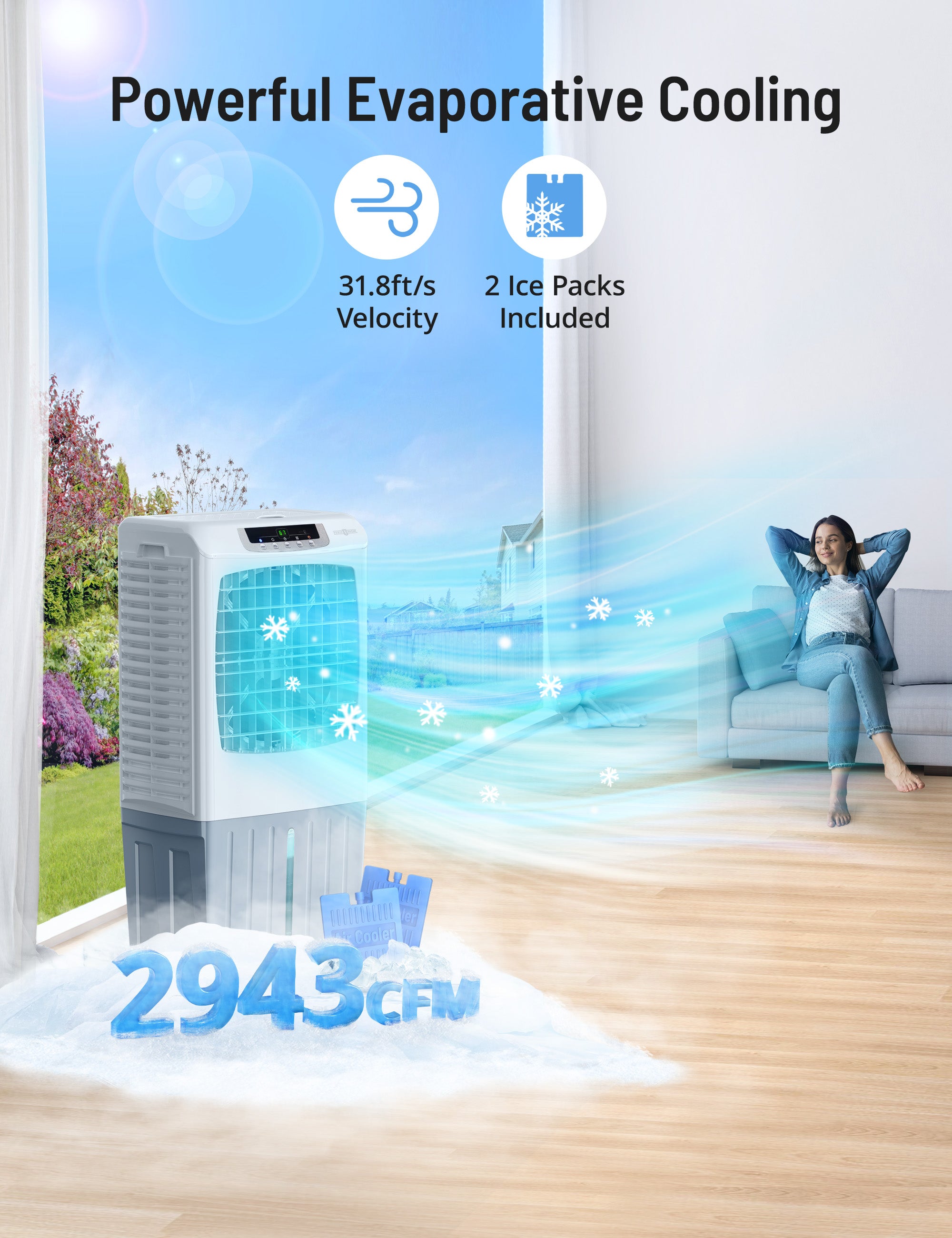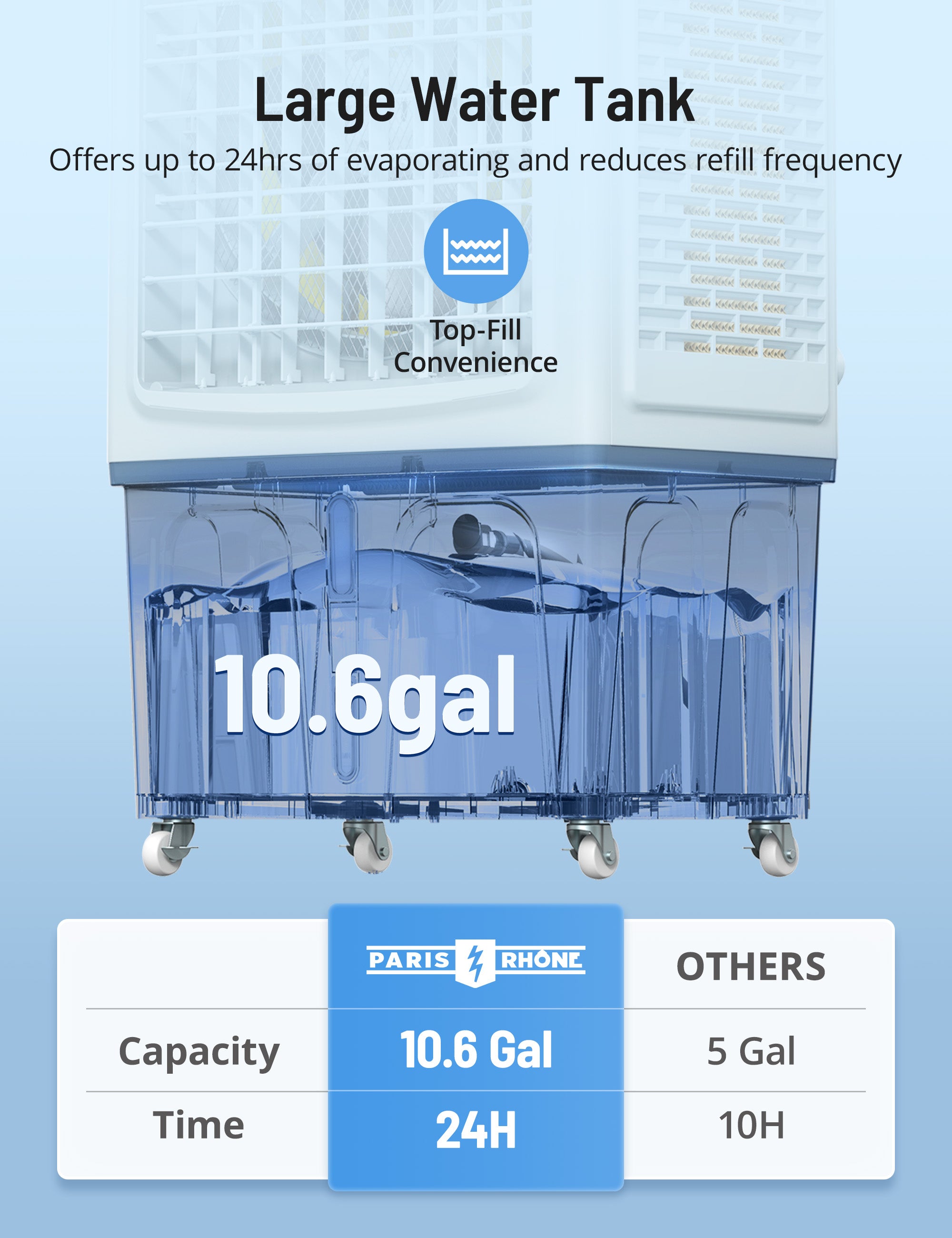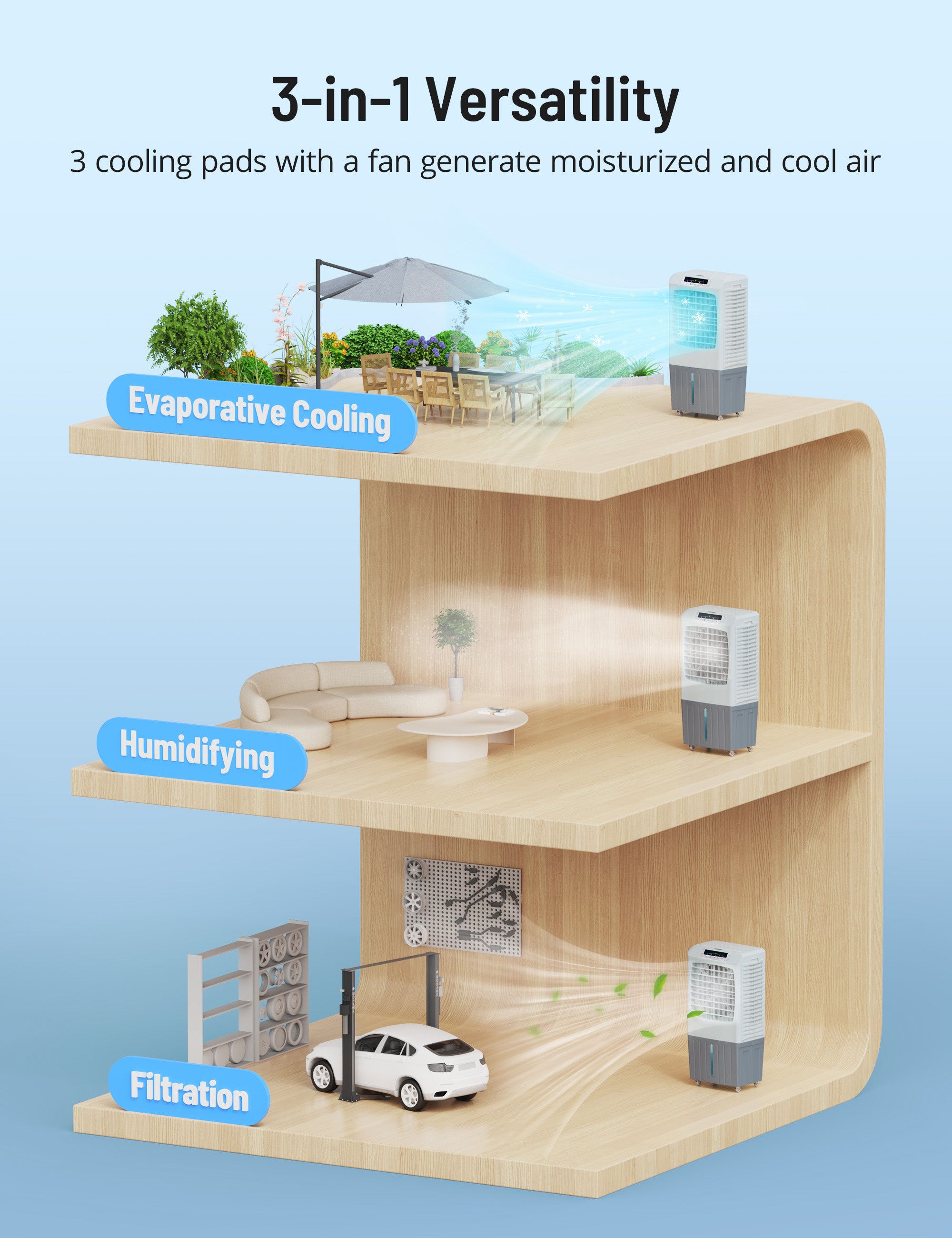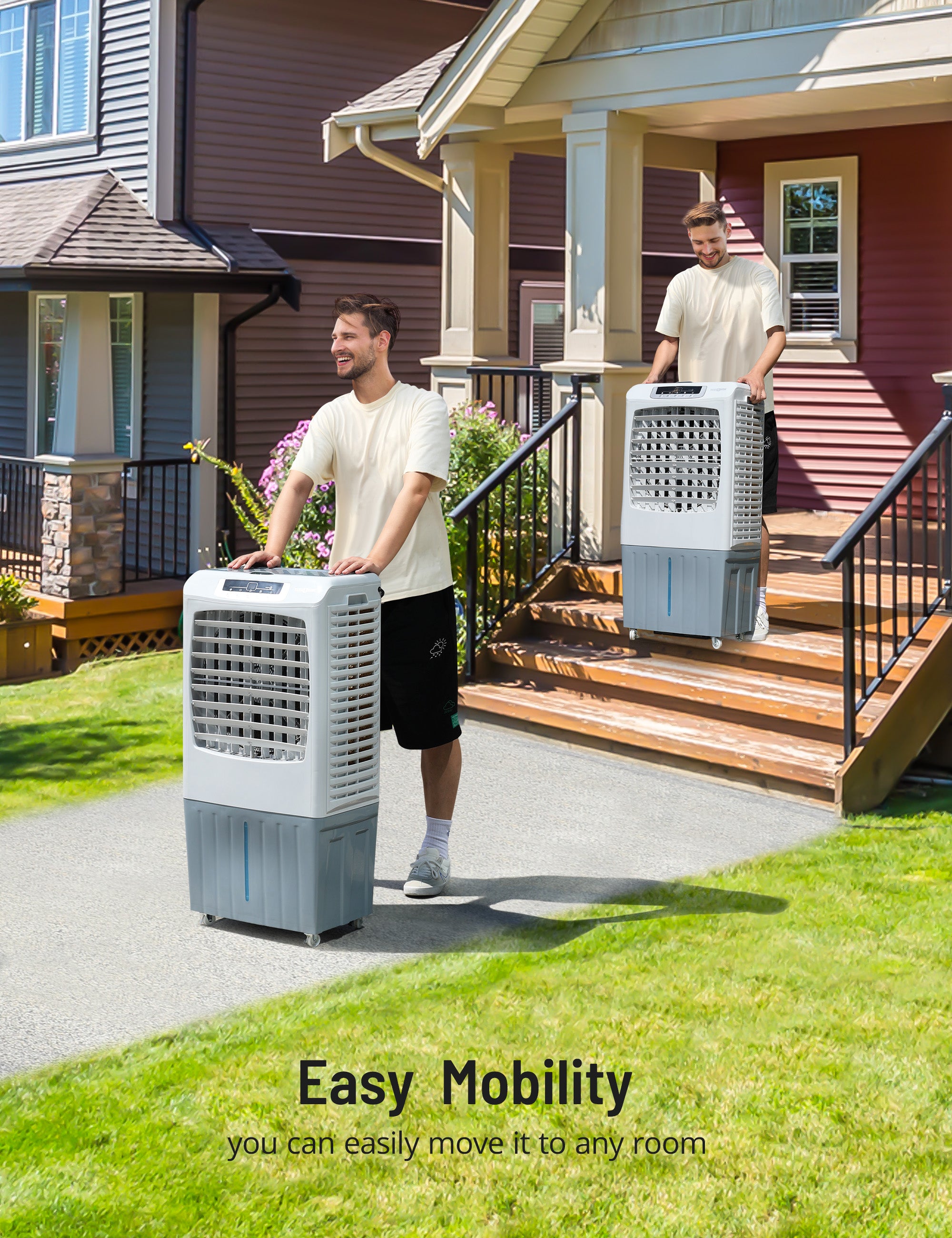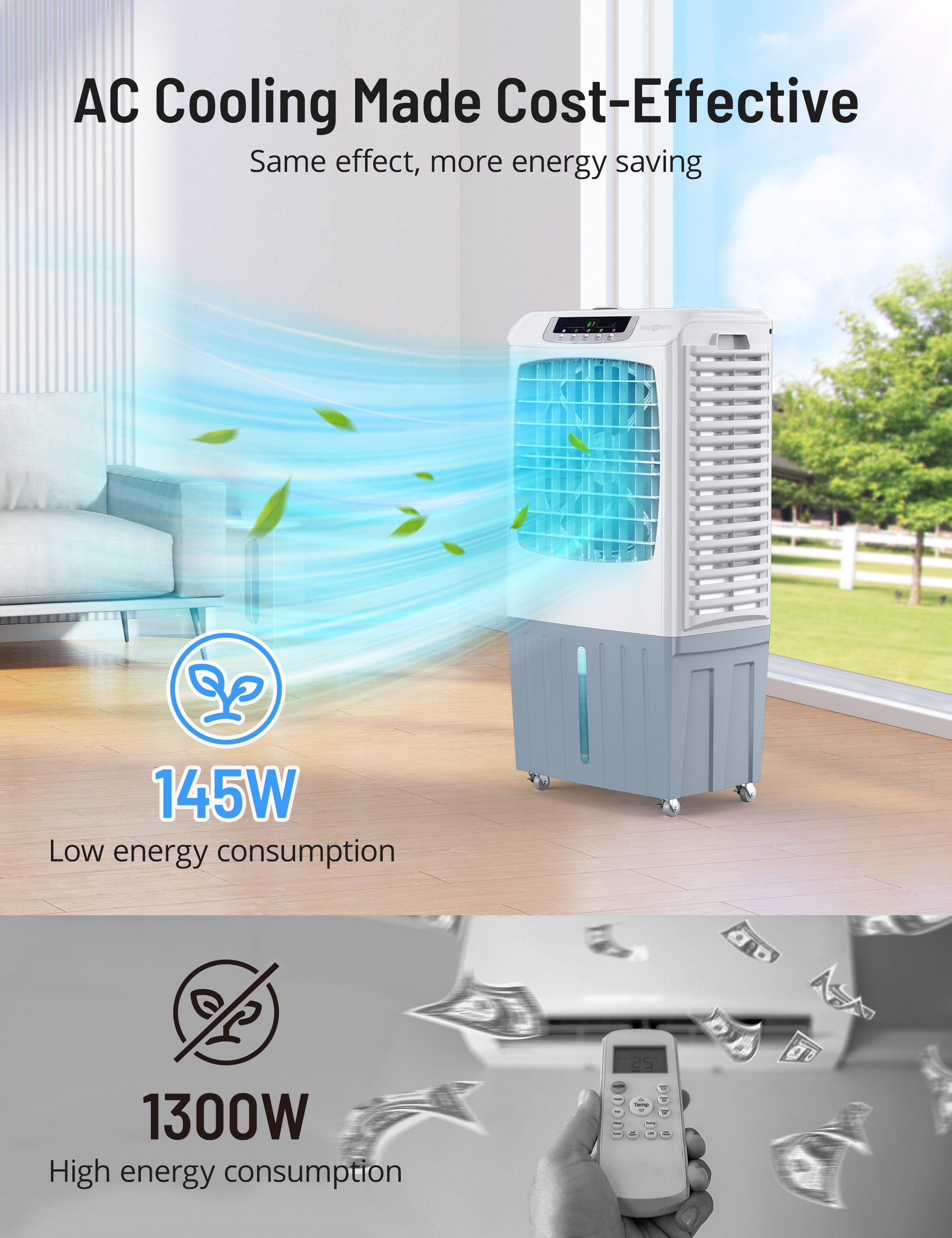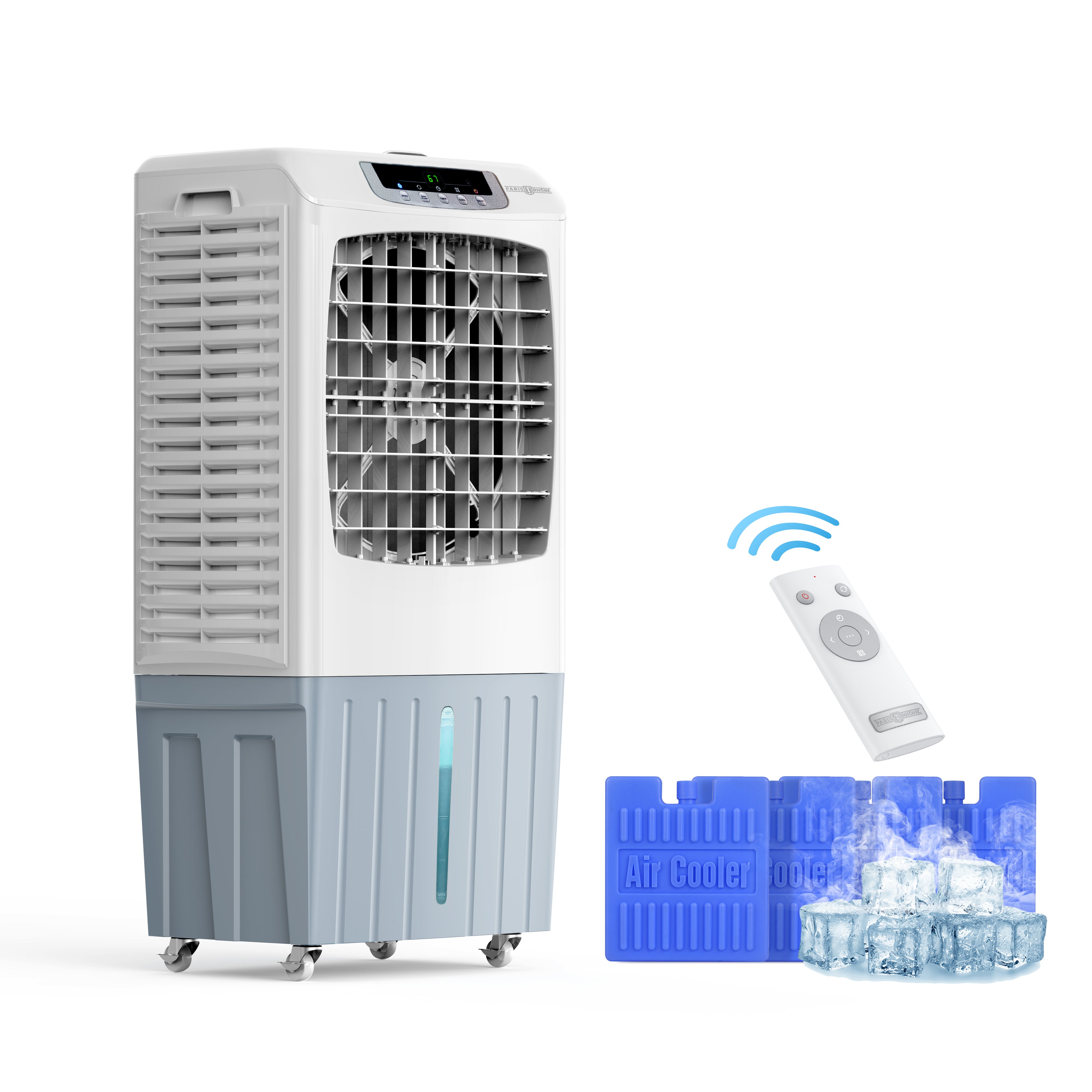 Paris Rhône Evaporative Air Cooler Tower Fan TF026, 2943 CFM Windowless Air Conditioner, Swamp Cooler Portable Humidifier
---
Enjoy 50% Off with Automatic Discounts at Checkout
---
PARIS RHÔNE
Stay Cool & Hydrated in Hot Dry Days
Boasting a maximum velocity of 29.5 ft/s and a maximum air volume of 2943 CFM, this 3-in-1 portable evaporative cooler efficiently keeps the heat at bay and boosts the humidity level in your home, garage, backyard, office, etc. Refill from the top and enjoy the lasting coolness thanks to the icy breeze cooler air conditioner 11.9gal large water tank. Plus, the 3 wind speeds and adjustable louvers room air conditioner enable you to customize airflow for your desired cooling comfort.
Featured
Powerful 3-in-1 Evaporative Air Cooler
45L / 11.9-Gallon Water Tank
Top-Fill Design
3 Wind Speeds Briza Air Cooler
Easy Remote Control
Touch Control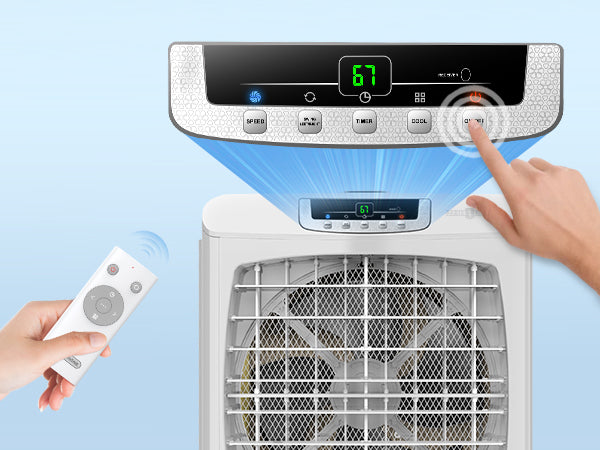 Smart Touch Control & LED Display
Instantly adjust the wind speed, oscillation, and timer setting with the intuitive touch panel. The air cooler's LED display shows room temperature and timer.
24-Hour On/Off Timer
Set a timer ranging from 1 to 24 hours with the touch panel or remote control, the windowless air conditioner will automatically turn on or off to save energy.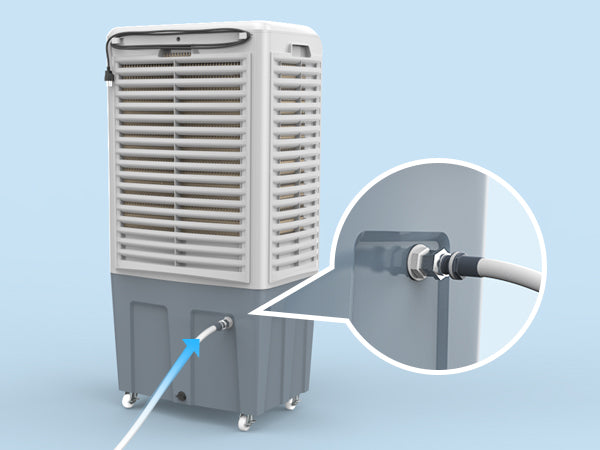 Continuous Fill
Effortlessly fill the hessaire evaporative cooler water tank with water by connecting a 5/8 in. garden hose (not included) with an included 3/4 in. garden hose adapter.
This product has no reviews yet.
FAQ
Use this text to share information about your product or shipping policies.
Thanks for choosing the Paris Rhône 44"" Tower fan.This cooling bladeless tower fan is very easy to assemble.All required tools are in the package. Included Components: 1 x Paris Rhône Tower Fan, 1 x Remote Control, 1 x Screwdriver, 8 x Screws, 1 x User GuideIt won't fall apart as easily as a screwless tower fan.Your support means the world to us. We hope you enjoy our product as much as we did create it.
Paris Rhone ETL-certified bladeless tower fan is designed with a narrow fence to not endanger children; a fused safety plug prevents damage from over-voltage and power surges

Is its panel touchable or buttoned? Does this model have a remote control?

Thanks for your attention to the PARIS RHÔNE Tower fan.The 44'' Oscillating Standing Tower is touch-sensitive, the keys are very responsive, and the overall feel is light. The better way is to choose the remote, it depends on your choice.If you have any questions about the product, contact the Customer Support Team
No Bluetooth.Only the remote control.
We cannot figure out how to make the fan not oscillate. we press the button, but it still moves back/forth???

It sounds like your fan may have broken. I have the 36" and not the 44", but all it should take is a tap of the oscillating button to get it to toggle between the two settings.
Is this tower fan strong enough? How do you feel overall?

Thanks for choosing the Paris Rhône 44"" Tower fan.The massive 1200 CFM volume flowing at heat-breaking wind speeds of 24ft/s makes it a no-brainer. Paris Rhône 44"" Tower fan will give you chills even on the hottest summer days.
How large is the outlet & how high off the ground?

How large? Standard size I guess. Mine is 44 inches high. Operation is smooth and quiet.
Can the LED be turned off so it is completely dark?

Thanks for choosing the Paris Rhône LED Tower fan. This is a quiet cooling tower fan.The lights go out automatically while the fan is running.You can also turn off the screen by pressing the screen-off button on the screen/remote control.
Our customer support is available Monday to Friday: 8am-8:30pm.
Average answer time: 24h