Paris Rhône Space Heater HE010, 1500W Fast Heating Portable Heater
---
• 2-in-1 Fan Heater Combo. Energy-efficient PTC ceramic heating elements with 7-blade fan ensures rapid heating up small space within 3 seconds, thanks to 1500W power. Equipped with 3 modes including high heat, low heat and cool air, Paris Rhône space heater not only brings you comforting warmth, but also cool breeze. Ideal for cold winter days and summer time
• ETL-Certified Safety: Built-in smart tip-over protection and overheat protection, plus V-0 flame retardant material rating, 12-hour timer, and 24-hour auto-off work without interaction together for a much safer personal heater (please use with a wall socket instead of a power strip)
• Energy Efficiency: PARIS RHÔNE space heater will automatically sleep when the ambient temperature reaches the set temperature, and it will work again when the ambient temperature is lower than the set temperature.
• Precise Temperature Control. Compared with knob adjustment, electric space heater is designed with digital thermostat, which enables you to precisely adjust temp in 1℉ increment on touch panel
Wide Angle Oscillation. Paris Rhône personal heater can oscillate up to 70°from side to side. Increase heat distribution area and heat up more evenly without wasting heat. Warm you and your family at the same room.
• Space-saving and Portable. At only 10.04in high, this compact heater can be placed on your desk or kept by your feet for targeted heat. A hidden carrying handle for easily moving room to room. Sleek appearance fits most interior décor.
---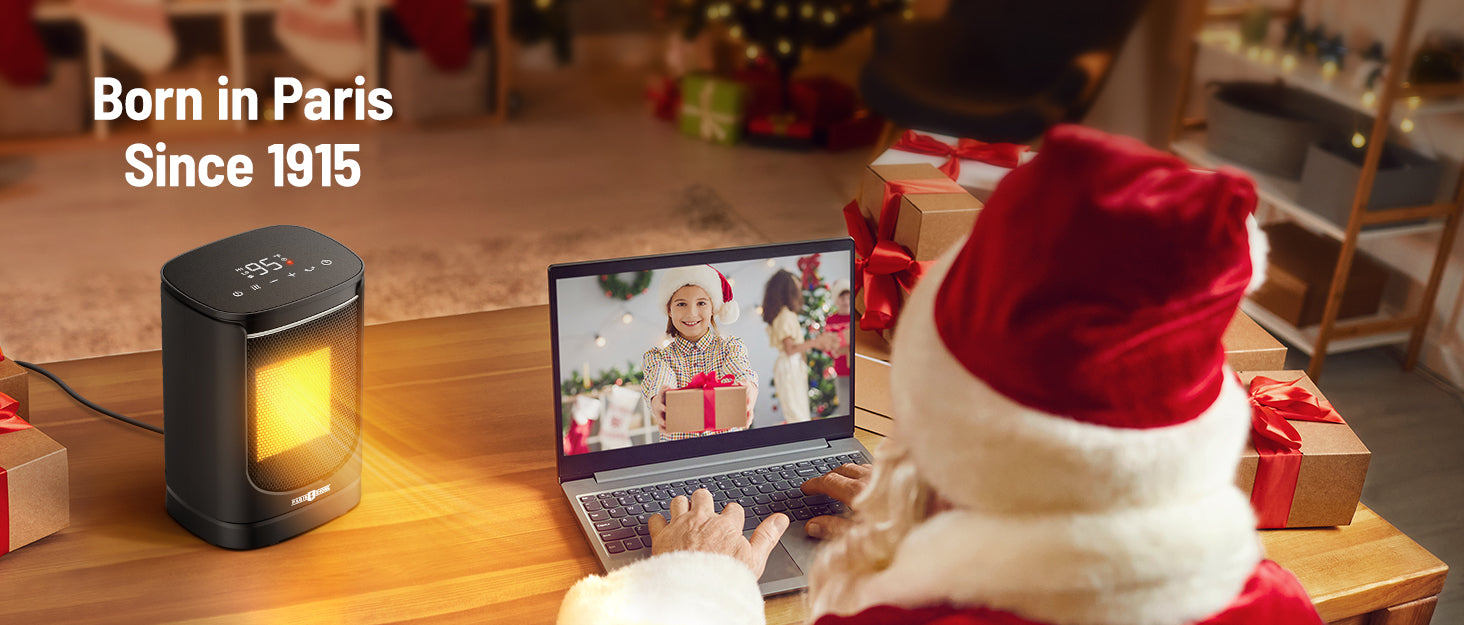 PARIS RHÔNE
Small Yet Powerful
Portable space heater is a stylish addition to any modern space, which can sit unobtrusively on desks and bedside tables. 2-in-1 Heater fan combo brings both cool breeze and toasty warmth to you. Compact design with a hidden handle makes it effortless for you to move from room to room.
Featured
Power: 1500Watts (High Heat)
900 Watts (Low Heat)
21 Watts (Cool Air)
Temperature Range: 41℉- 95℉
Voltage: 120V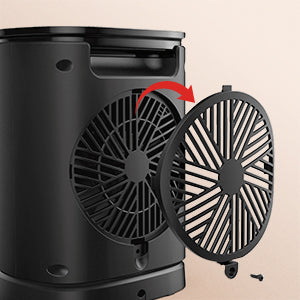 Easy Cleaning
Unscrew to remove the air inlet grill and detach the filter screen for cleaning.
Overheat Auto Shut-Off
Crafted for safety, the space heater will automactically shut off when the ambinet temperature is over 122℉.
Low Noise Operation
With operating noise lower than 50dB, the space heater won't disturb your studying, working or sleeping.
This product has no reviews yet.
FAQ
Use this text to share information about your product or shipping policies.
Would this be good in a garage?

Yes, the space heater apply in the garage.3 heating modes from 900W to 1500W provide personalizable snug warmth to your office, bedroom, living room, or other rooms in an energy-efficient manner.
Does this heater comes remote control ?
How do i turn the heater off when it's running? what do i press? i find the instructions to be lacking and have tried all i think should work. thanks!

Please press the Power ON/OFF to turn it off directly.
This space heater is NOT battery operated. It must be plugged into an electrical outlet.It is powered by a 6Ft long power cord, which is rubber material, V0 Flame-Retardant Materials, perfect for your bedroom, living room, kitchen, or office.
Can not turn off heater when it's running ... nothing I press (including power button) does anything. End up having to unplug 🙄 Defective unit?

Holding the power button down for a few seconds initiated the countdown (15 seconds) process for shutdown for me.
Does the timer work for auto on and auto off simultaneously once it is set?

I don't think that it has a timer for starting. It does have a shut-off timer. The temp setting works good. Nice little heater. Less bulky.
What's the warranty of this Space Heater?

This Space Heater come with 12+6 months warranty from the date of its original purchase. If you have ever experienced issues with your Space Heater, please contact us for support. We will take care of you in 24 hours. Just simply contact us by going to Amazon > Your account > Your Orders > Leave seller feedback > view seller profile > ask question.
The heater often comes on by itself even when manually turned off. Any suggestions? I do unplug it now.

Check if it is due to that the timer is on. Our products are covered with a 12-month warranty. If you have any problems or questions about our product, please contact the customer service for help.
Our customer support is available Monday to Friday: 8am-8:30pm.
Average answer time: 24h