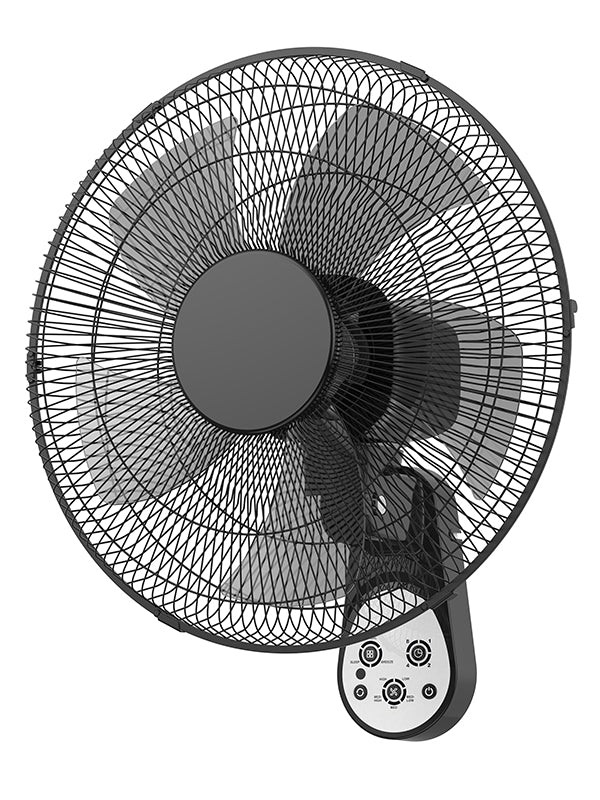 PARIS RHÔNE Wall Mount Fan, 16 inch Wall Fan TF011 with 5-Blades, 5 Speeds
---
• Quiet Fan, Fresh Airflow: Cool down faster than ever with this specifically designed 5-blade wall mount fan that operates at a quiet 40dB; ideal for small spaces such as a bedroom, home gym, study, work area, or any place you need peace and quiet
• Choose Your Comfort Level: Comes with 3 wind modes (Normal, Breeze, and Sleep) and 5 speeds on Normal mode or 3 speeds on Breeze and Sleep modes so you can enjoy fresh air just how you like
• Hassle-Free Remote Control: The included multifunctional remote makes it easy to operate the wll fan and comes with power on/off, wind modes, fan speed, oscillation, timer and indicator lights; instantly works from within 20 feet
• Sweeping 90-Degree Coverage: Emits a wide, steady airflow with 90-degree oscillation and a 60-degree tilt that can be adjusted for a room's height; ensures every corner of your home is met with a cool, refreshing breeze
• Advanced 8-Hour Timer: Never return to a stuffy home or waste energy with the intelligent 1, 2, 4, and 8-hour timer that can be set to turn the wall mount fan on/off; in Sleep mode, the speed drops by one after 30mins and again after another 30, before maintaining its speed
---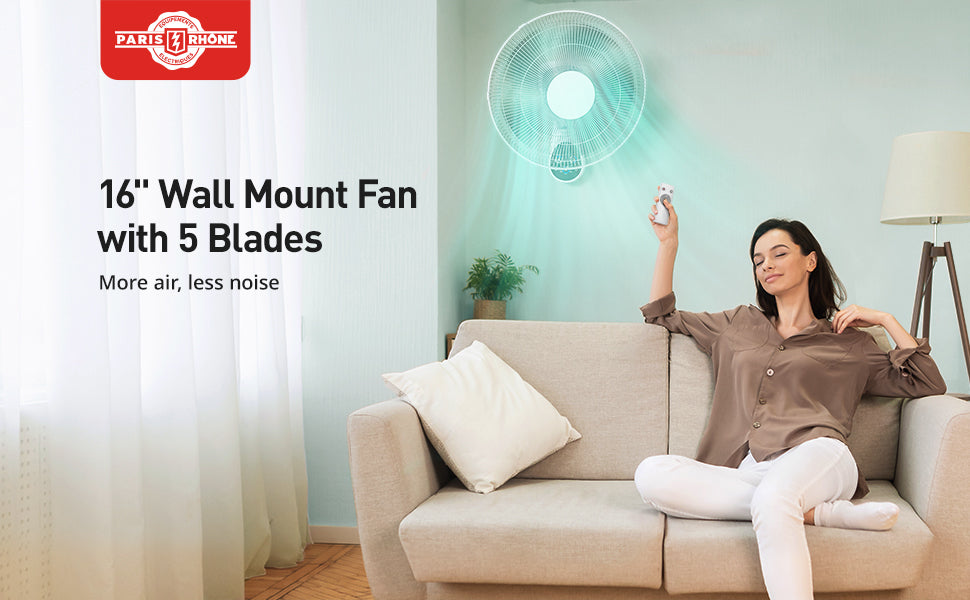 PARIS RHÔNE
A Fan That's Easy & Breezy
Install this 5-blade fan to any wall and enjoy a steady airflow that's quiet at 40dB but powerful enough for true natural ventilation. Boasting a CFM rating of 2100, this wall fan takes up zero floor space while getting the air moving in your bedroom, study, home gym or exercise studio.
Featured
3 wind modes
5 speeds on normal mode
3 speeds on nature and sleep modes
Timer (1, 2, 4, 8 hours)
90° oscillation
60° tilt
5 blade design
16" blade diameter
Helpful Indicator Lights
Always know your current settings with handy indicator lights. You can turn off these blue lights with just one button from the remote.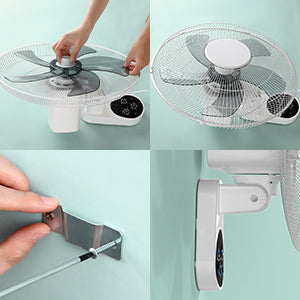 Comes with Everything You Need
All accessories come packed in the box for a no mess, no fuss installation. The quiet operation ensures that unlike traditional moving fans, you will never be bothered by annoying sounds.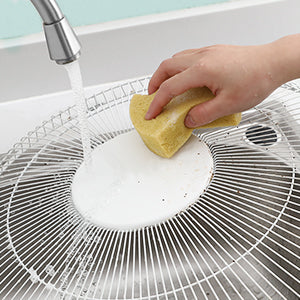 Easily Remove Dust
When it comes time to clean each blade, simply detach the front grille and wipe down with a soft cloth.
This product has no reviews yet.
FAQ
Use this text to share information about your product or shipping policies.
Does this fan remember the settings after being power cycled so that it could be used with a smart plug?

Yes. The settings are completely mechanical (analog). Pull cords control the 4 position speed switch (OFF, LOW, MEDIUM, HIGH) and the 2 position oscillate switch (ON, OFF). Its very well made. Less to go wrong or break vs digital. It's whisper quite, too.
Is the blade covering/grate plastic or metal?
How do you tilt the fan without taking down? Tried to tilt but once screw out , nearly impossible to put that washer back in. way difficult.

I can't begin to imagine what you're doing. There's no screw to remove to tilt your fan. Once the mounting bracket is secured to the wall and the fan is hung on the bracket, the fan tilts up or down very easily.

Is the remote ir or rf, please? translation: does it need line of sight?

Please operate the remote control near or in front of the fan.
I thought i was clear the first time asked, but, apparently, i was not. is the remote infrared or radio frequency? please, be specific.

There is no remote on this fan
Just how quiet is the fan, guys? Is it at all audible?

This is, by far, the quietest fan I've owned. On "Low" from 4 feet away, you won't even know it's running except for the gentle breeze it puts out. That's how I have mine set on the wall next to my bed 24/7 except for when its I need more movement - like on hot nights. I'm a light sleeper and can easily sleep through "Med " and "High." It's more like a very quiet white noise generator. When they say it's quiet, they're not exaggerating. It's quiet.Buy it with confidence. In the unlikely event you don't like it, Amazon returns are easier than any other retailer. Just save the box and stuff.
Can the fan oscillation amount be adjusted?

No, the rate of oscillation can not be adjusted.
Remote controls the oscillating?

Unfortunately I bought the fan without the remote. It's a preferred option that I'd highly recommend however I didn't think I'd need it for where I am using the fan. Specifically I don't know if the remote operates the oscillator.

Our customer support is available Monday to Friday: 8am-8:30pm.
Average answer time: 24h