If you find conventional TV screens lackluster and confining, a TV projector can hugely enhance your home entertainment experience. Projectors offer enormous screens, flexible placement, and customizable settings to create a true cinematic environment at home.
We will discuss the advantages of owning a TV projector, the different projector types on the market, factors to consider when choosing one, and how a projector can provide a cost-effective and environmentally friendly solution for big-screen viewing. Possessing a TV projector will magnify visuals, broaden viewing options and maximize your delight from any content by bringing a theatrical feel into your living room.
Benefits of Owning a TV Projector
TV projectors offer numerous advantages over conventional flat-screen TVs for an enriched home viewing experience. One major benefit of having a home cinema projector is the huge screen size for a truly immersive viewing experience. A smart TV projector can throw high-definition images onto screens ranging from 80 inches all the way up to 150 inches and beyond, replicating the size of a theater screen right in your living room.
Additionally, TV projectors offer unmatched flexibility regarding placement and screen size. Unlike a normal television set, a smart home projector can be positioned anywhere and project the image onto any flat surface, like a wall or screen. This enables you to design the viewing area to suit your tastes and available space.
The portability and ease of setup of home TV projectors are further benefits. The majority of projectors are small, lightweight(Generally speaking, the weight will not exceed 0.2kg), and easy to install and move machines. They just need a few pieces of hardware to make a home theater system work. You can bring your projector when traveling and set it up almost anywhere.
Owning a TV projector gives you many benefits, like a cinematic screen size, flexible installation options, and portability - all at an affordable price tag. If you want to upgrade your home entertainment experience, a smart home projector should definitely be on your wish list!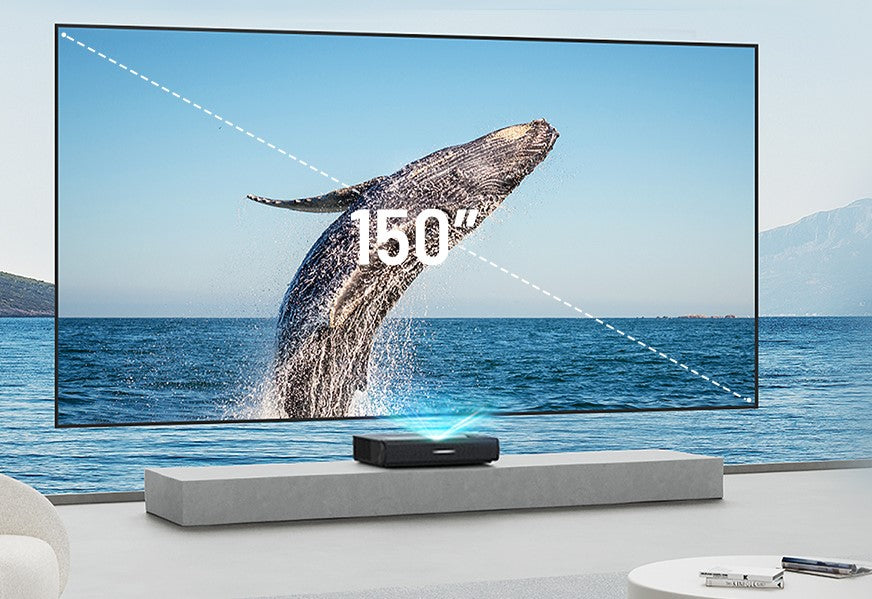 Types of TV Projectors
There are five main types of TV projectors available on the market today: LCD, 3LCD, DLP, 3DLP and LCoS projectors. Each offers distinct features, performance, and price points for home entertainment systems. Today, we talk about three of them.
DLP or digital light processing projectors use tiny mirrors to reflect light and produce the image. 4K laser DLP home TV projectors tend to be the most affordable option, providing good picture quality and high brightness.
LCD TV projectors use liquid crystal panels to manipulate the light and produce a sharp, high-contrast image. These projectors typically offer true native 4K resolution and a wide color gamut for brilliant colors. However, LCD projectors tend to be more expensive compared to DLP models.
LCoS (liquid crystal on silicon) home theater projectors use liquid crystal panels installed on optical elements to reflect light. Known for their extremely high contrast and best-in-class black levels, LCoS projectors are renowned but often come at a premium price point.
In summary, each type of projector has its pros and cons in terms of features, performance, and value for money. In terms of value for money, DLP projectors are the best TV projectors since they offer the lowest entry cost, while LCD and LCoS models provide superior image quality but usually come at a higher price. Choosing the right 4K laser TV projector depends on balancing image excellence, budget, and personal priorities.
Choosing the Right TV Projector
Many important factors must be considered when choosing the best 4K short throw projector for your home theater. Above all, pay close attention to resolution, lumens, and contrast ratio. The greater the resolution, brightness, and contrast, the more immersive and lifelike the viewing experience becomes. Therefore, aim for the highest resolution, say 4K, along with high lumens and contrast ratio to ensure a top-notch home cinema experience.
Other considerations include color accuracy, lamp life, and energy efficiency. Projectors with wider color gamuts can reproduce more accurate and vivid colors. Longer lamp life means less frequent bulb replacements, while energy-efficient projectors keep electricity bills low.
Connectivity options and compatibility with other devices are also critical. Make sure your TV projector has the necessary HDMI ports, audio outputs, and wireless connectivity to pair with speakers, streaming devices, game consoles, and more. A versatile projector gives you more freedom in assembling your home theater system.
Finally, think about your budget. TV projector prices range widely from around $500 for 720p HD models to $5,000 or more for high-end 4K projectors. But you don't have to spend a fortune to get an exceptional cinema experience at home. For example, the Paris Rhône Laser Projector LT002 features advanced ALPD technology. With it, you can enjoy your favorite movie or sporting event in defined details even during the day thanks to the ALPD 3.0 technology that boasts bright 2000 ANSI lumens, a 3000:1 high contrast ratio, and a wider color gamut.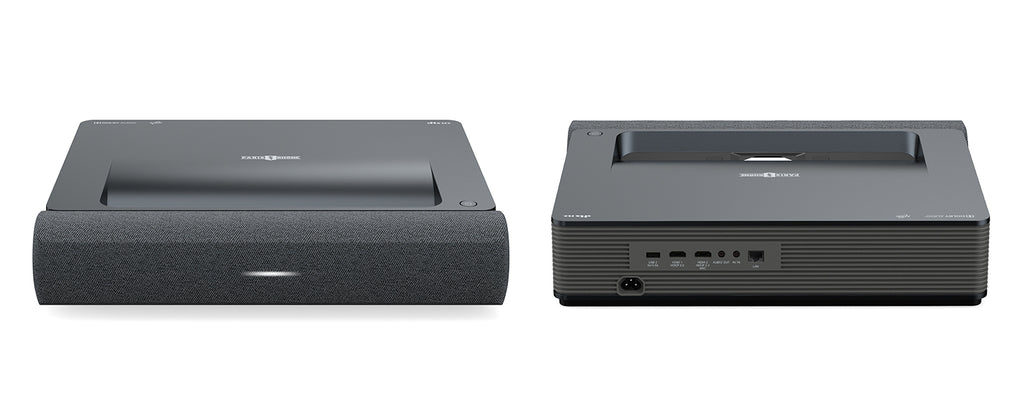 Conclusion
In conclusion, owning a TV projector can elevate your home entertainment experience to the next level. With larger screens, flexibility in placement, and customizable options, you can create your own personal cinema at home. Just be sure to choose the right type of TV projector for your needs and invest in a quality model for long-term cost savings, an enhanced viewing experience, and an eco-friendly choice for your home.
Read More