Paris Rhône Quiet Desktop Fan TF022, for Rooms Bedroom Dorm Office
---
• Intuitive Control: Designed with a touch panel with a LED display, this desktop fan enables you to quickly access all settings; an included remote makes it convenient to control from your sofa or bed without needing to get up
• Customize Your Airflow: Effortlessly select among 3 wind speeds for personalized comfort; moreover, the small table fan delivers a broad range of air distribution with 70° automatic swing or 90° pivoting head
• Boost Whole Room Air Circulation: The compact air circulator fan is a perfect companion to the air conditioner, which efficiently circulates the cool air throughout the entire room for optimal cooling performance
• Refreshing Cool Air: Constructed with 8-inch deep pitch blades and a long air duct, this air circulator fan powerfully distributes spiral and constant cool air up to 35ft. that travels around spaces up to 161sq.ft
• Sound Night's Sleep: Operating at lower than 42dB, the small desk fan creates a quiet and comfortable atmosphere for undisturbed sleep; it will automatically turn off to save energy with 8-hour timer
• Voltage: 120.0 volts
• Wattage: 45.0 watts
---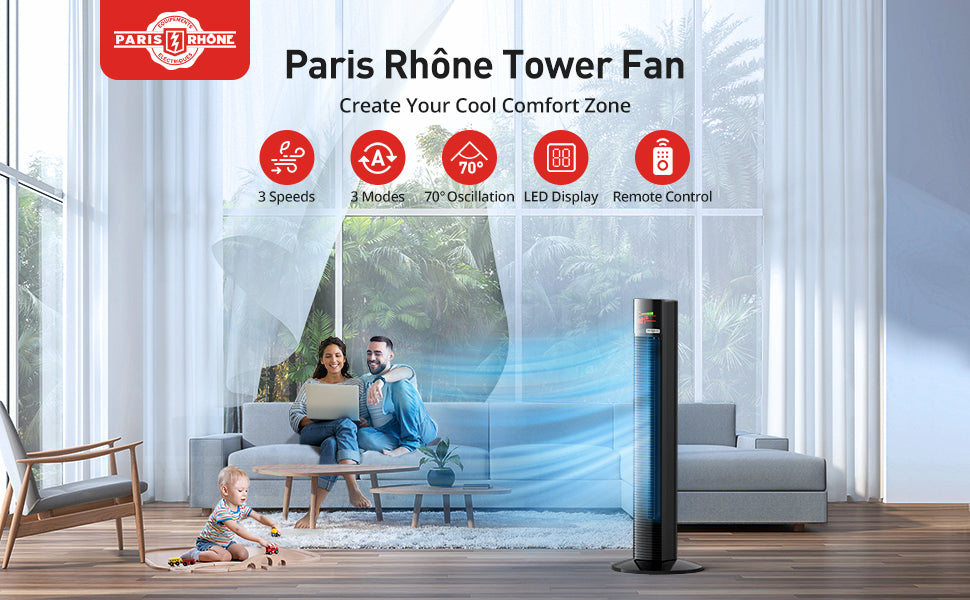 PARIS RHÔNE
Whole Room Cooling For Hot Summer Days
Stay cool and breezy even as the temperature climbs with the Paris Rhône 36" space-saving tower fan. Set your breeze preference via the fully-accessible LED control panel or utilize the remote control to instigate an oscillating air flow to cool down the entire room. 70-degree whisper-quiet oscillation promotes optimal air circulation for cool relief on hot summer days or refreshing room circulation year round.
Featured
36" Space-Saving Design
70° Oscillation
ETL Certified
Ambient Temperature Displayed
Simple Base Assembly
LED display automatically turns off after 30 seconds in sleep mode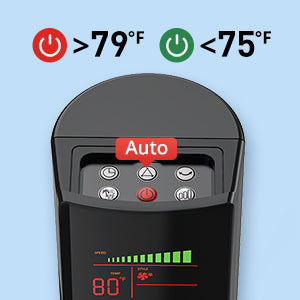 Smart Climate Control
The built-in digital thermostat maintains the ambient temperature at over 79°F and instigates auto shut off when temperatures reach less than 75°F, maintaining a comfortable and controlled climate at all times.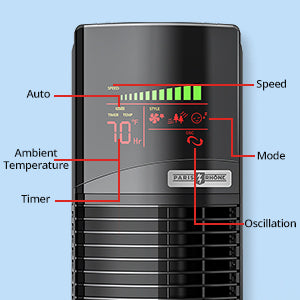 Large LED Display
The Paris Rhône Tower Fan features a 12-hour timer that can be programmed with ease in 1 hour increments for auto shut down at your desired time. All of the fan's features, including the programmable timer are easily controlled via the extended-range remote control or touch sensitive LED control panel.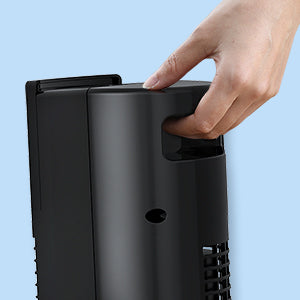 Compact & Portable
The ultra slim and compact design profile makes the Paris Rhône Tower Fan a perfect choice for tight spaces, offices, bedroom nightstands, and more. This tower fan can be effortlessly moved from room to room via the integrated built-in carry handle.
This product has no reviews yet.
FAQ
Use this text to share information about your product or shipping policies.
My mother is in a nursing home and they require all "plug in" items to be UL certified. Does this fan carry that certification?

I am not sureI open the box there is instruction in itBut I throw away when I use the fan
Is there a way to purchase a replacement remote?

In this case, please contact with the seller, they will help you.
Does it come with a cable/AC adapter?

Yes, the tower fan comes with a cable/AC adapter.
QuestionHow hard does the fan blow? I know its 3 speeds…. Does it really blow air?

【Fully Customizable Air Flow】: This bladeless tower fan by Paris Rhône features three variable fan speeds (low, medium, and high) and 3 cooling modes (normal, natural, sleep) so you can tailor the breeze to your liking in different situations.

Yes. Very easy to assemble. The fan itself comes fully assembled all you have to do is put the base on it (it literally just slips into place) and you're ready to go! Absolutely wonderful product.
Can you change the temperature? How cold does it get?

The product is a tower fan. It is not temperature adjustable.
Can you change the oscillation angles? For example, change from 45degres to 90degress?

The fan has a 70° wide angle oscillation and it can not be changed.
How many speeds? It says 9 speeds but in the details it says 3 speeds. Which is correct?

This oscillating tower fan has 3 speeds(low, medium and high) and 3 modes(Normal, Nature and sleep), you can have 9 matching options to meet your various needs.
Our customer support is available Monday to Friday: 8am-8:30pm.
Average answer time: 24h