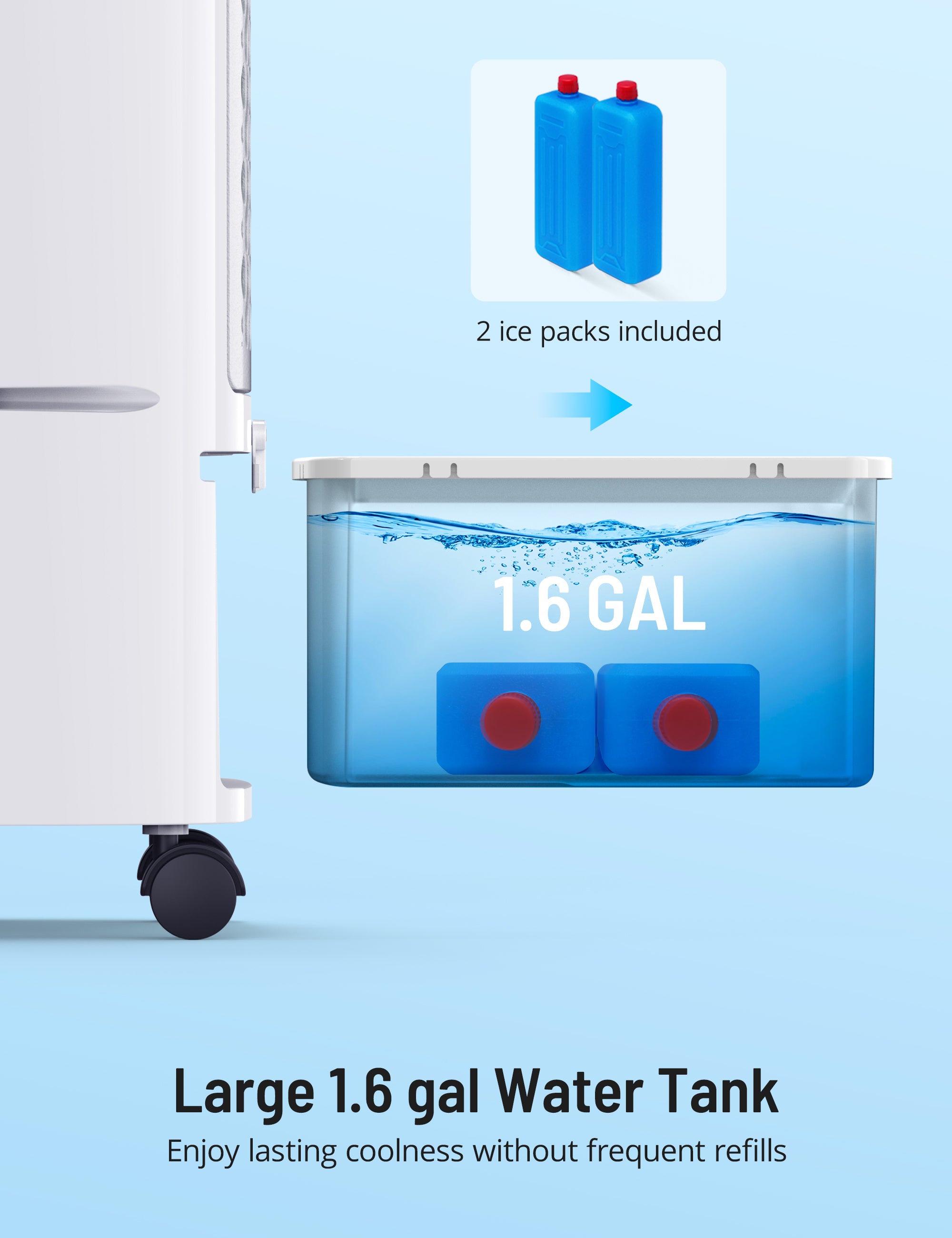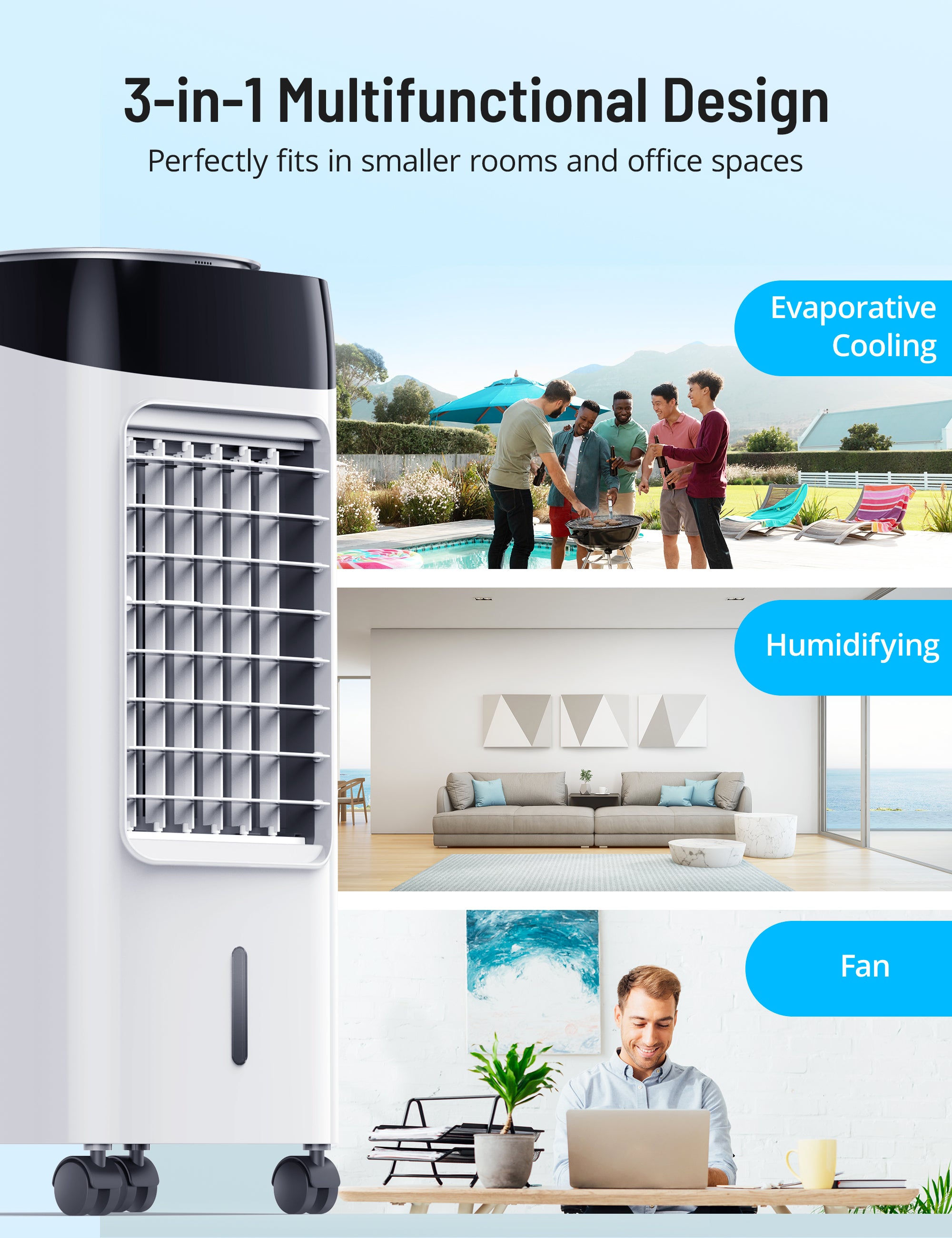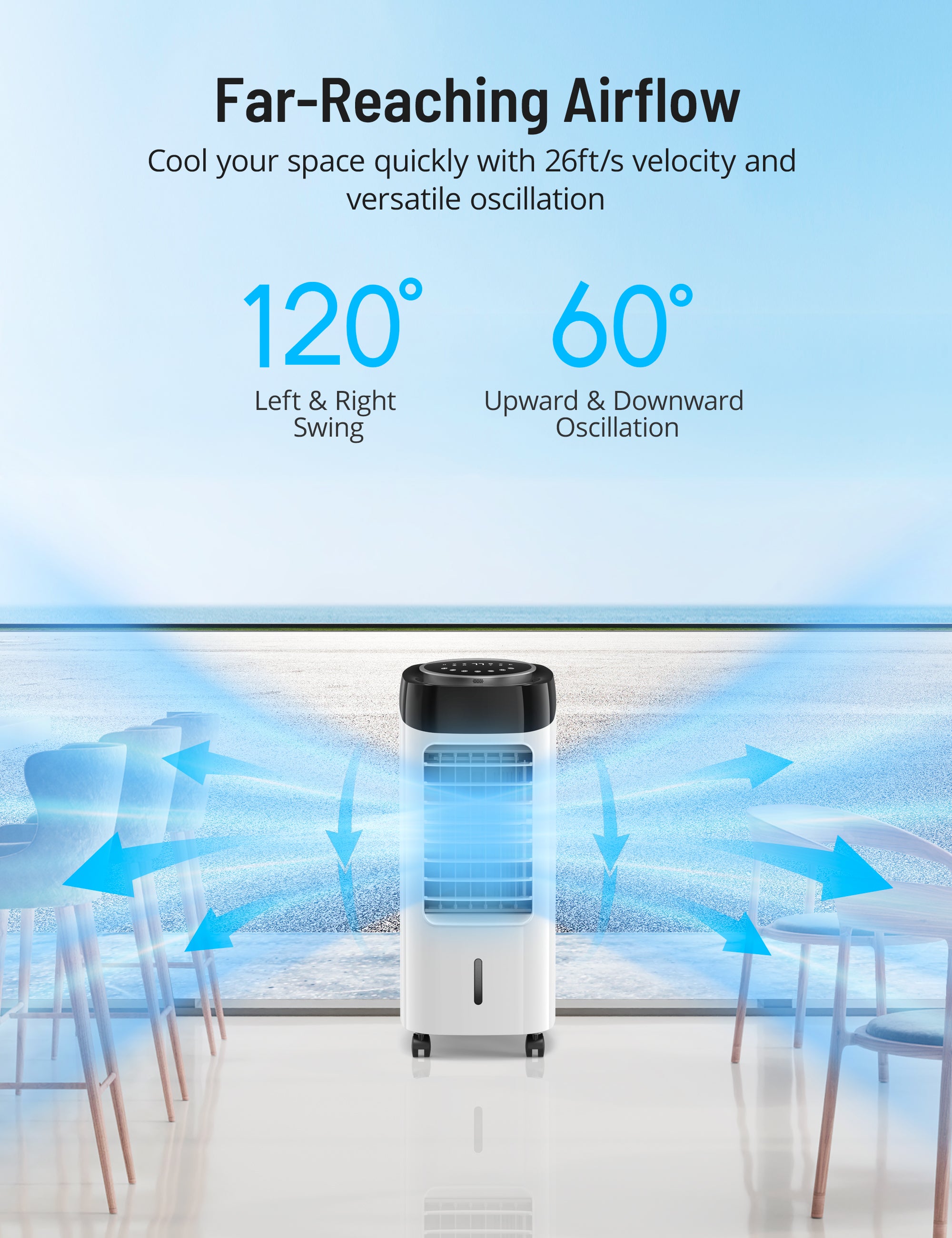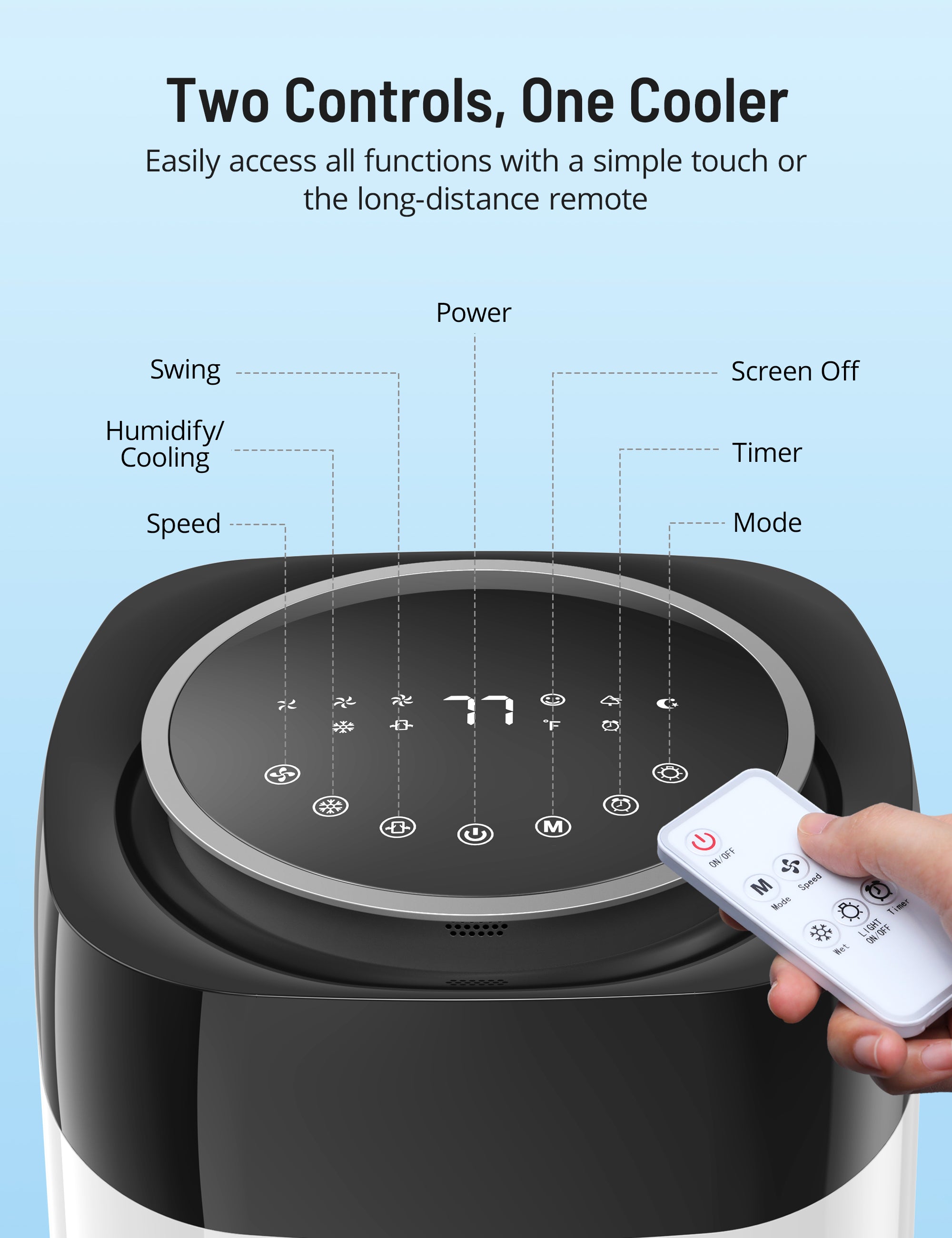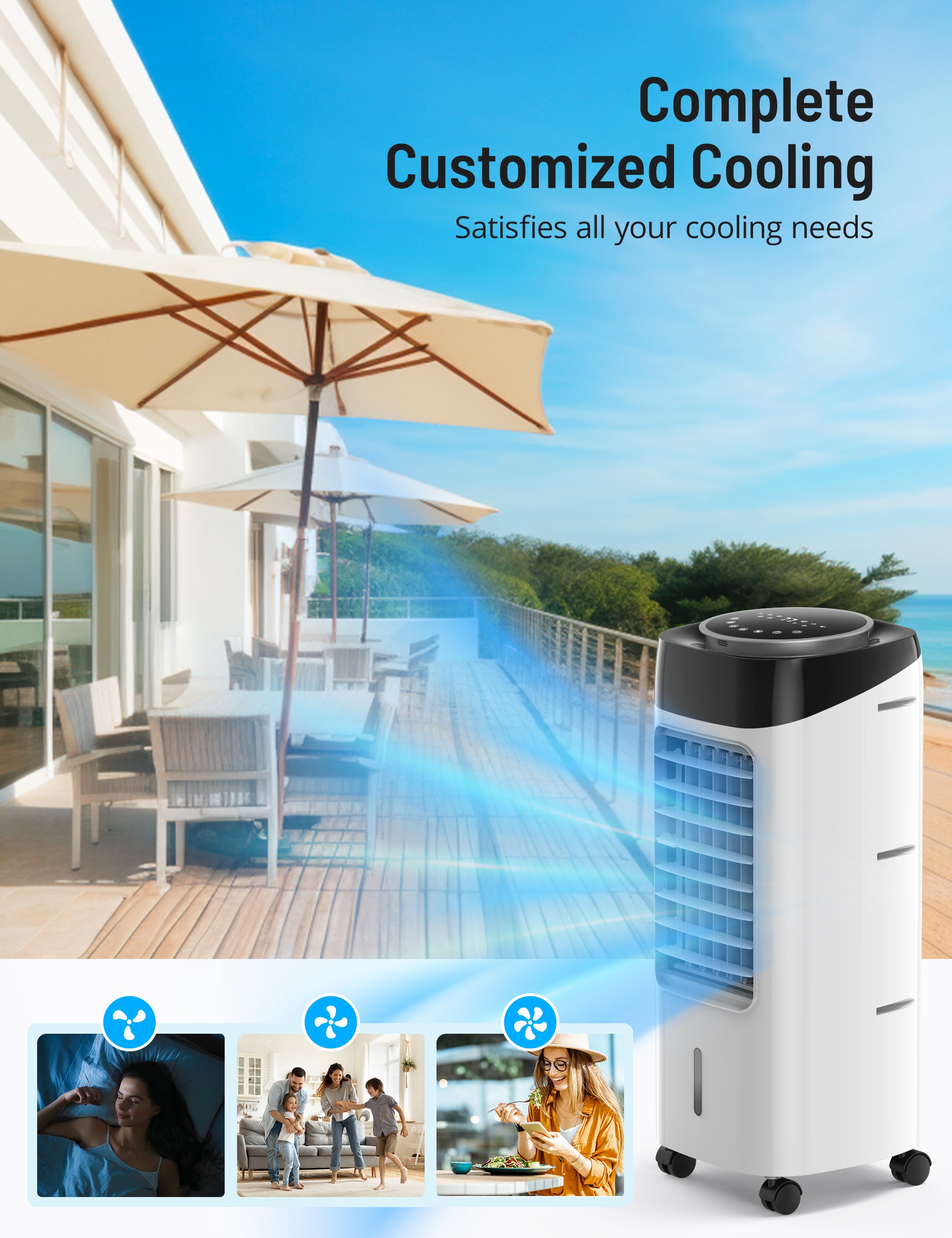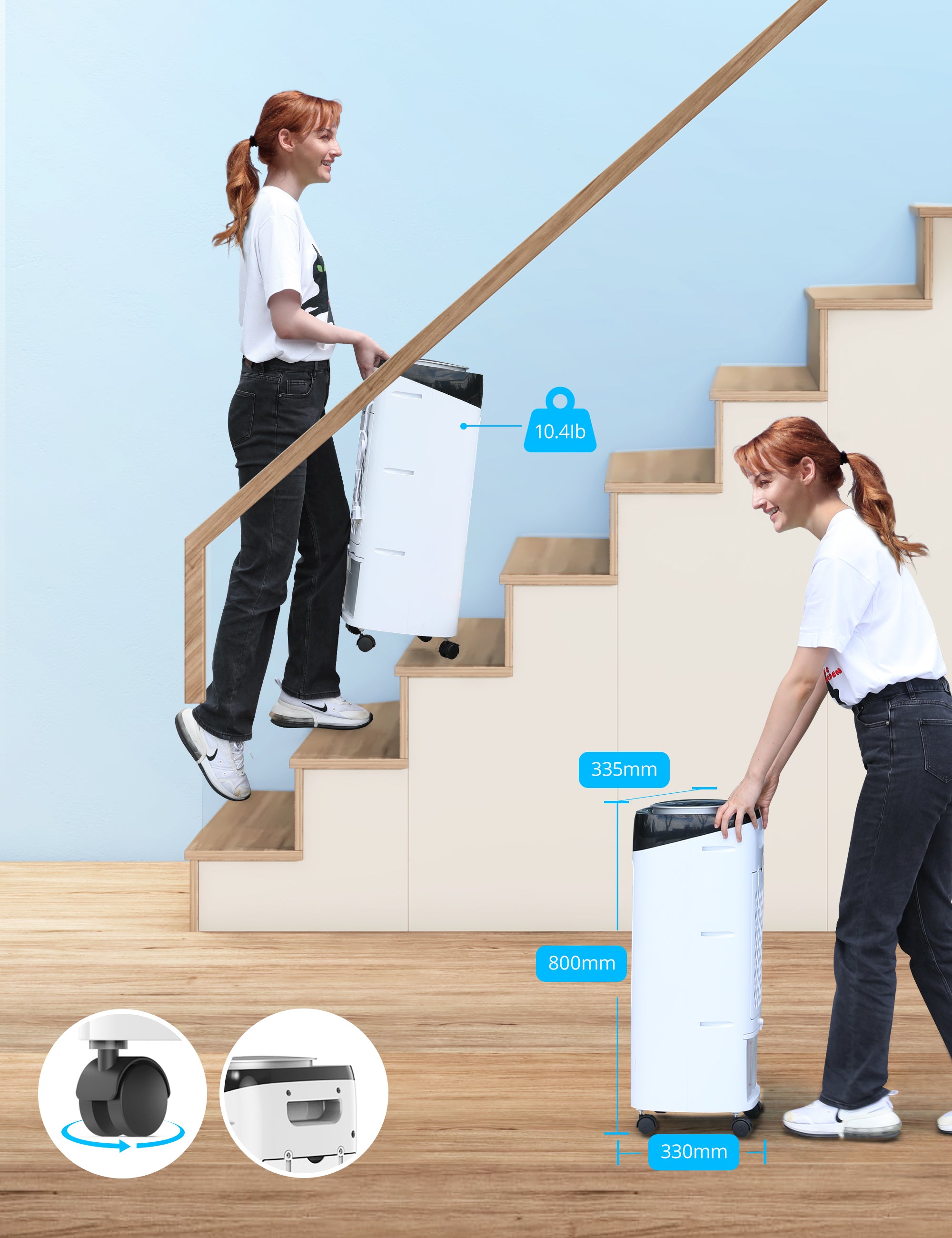 Paris Rhône Evaporative Air Cooler TF027, 120° Oscillation, 3 Wind Speeds
---
3-In-1 Portable Air Conditioners: As a multifunctional air conditioner portable for room, the Paris Rhône evaporative air cooler works as a tower fan to circulate air, a humidifier to hydrate it, and as an air cooler that takes warm air and turns it into a refreshing, cool breeze. Note: If you want to get high cooling efficiency, Please put the ice crystals into the refrigerator for freezing beforehand before use.
3 Wind Speed & 3 Modes: The portable air cooler air conditioner with 3 wind modes (normal/natural/sleep) and 3 speeds (low/mid/high), this evaporative air cooler satisfies your every cooling need on hot summer days so you never break a sweat.
Large Capacity Water Tank: The removable water tank of portable ac offers a huge 1.6 gal capacity so you can enjoy continuous coolness without frequent refills. Throw in the 2 included ice packs to take the chill factor to the next level. Note: use the wet and cooling function must add water and ice packs.
Wide-angle Oscillation: The portable air conditioners with 120° Oscillation for horizontal airflow, and 60° Oscillation for vertical airflow. With the 26ft/s velocity for air, the cold air will cover every corner of the room, bedroom, and office. This air cooler is also used outdoors when you and your family have a party.
Easy to Use& Save Energy: This portable air conditioners no windows needed, and it has 4 wheels to move, You can enjoy the cold air everywhere. It also can save more energy compared with the traditional air conditioner. Only need to plug in the unit. Press the speed and cooling buttons to start the air cooling fan.
Intelligent Touch Panel & Remote Control: The air cooler for room is designed with a touch panel, so you can get close and adjust the wind mode, speed, timer, and more with just a simple touch. The portable air conditioner included remote control that lets you kick back on a chair or sofa and control it from afar.
---
A Soundless, Silent Sleep
Enjoy uninterrupted rest with an ultra-quiet operation, as well as an automatic shut-off timer, which can be set for up to 12 hours.
Low Maintenance, Easy Cleaning
Thewater tank and mesh filter are easily removable for fast, hassle-free cleaning.
This product has no reviews yet.
FAQ
Use this text to share information about your product or shipping policies.
Thanks for choosing the Paris Rhône 44"" Tower fan.This cooling bladeless tower fan is very easy to assemble.All required tools are in the package. Included Components: 1 x Paris Rhône Tower Fan, 1 x Remote Control, 1 x Screwdriver, 8 x Screws, 1 x User GuideIt won't fall apart as easily as a screwless tower fan.Your support means the world to us. We hope you enjoy our product as much as we did create it.
Paris Rhone ETL-certified bladeless tower fan is designed with a narrow fence to not endanger children; a fused safety plug prevents damage from over-voltage and power surges

Is its panel touchable or buttoned? Does this model have a remote control?

Thanks for your attention to the PARIS RHÔNE Tower fan.The 44'' Oscillating Standing Tower is touch-sensitive, the keys are very responsive, and the overall feel is light. The better way is to choose the remote, it depends on your choice.If you have any questions about the product, contact the Customer Support Team
No Bluetooth.Only the remote control.
We cannot figure out how to make the fan not oscillate. we press the button, but it still moves back/forth???

It sounds like your fan may have broken. I have the 36" and not the 44", but all it should take is a tap of the oscillating button to get it to toggle between the two settings.
Is this tower fan strong enough? How do you feel overall?

Thanks for choosing the Paris Rhône 44"" Tower fan.The massive 1200 CFM volume flowing at heat-breaking wind speeds of 24ft/s makes it a no-brainer. Paris Rhône 44"" Tower fan will give you chills even on the hottest summer days.
How large is the outlet & how high off the ground?

How large? Standard size I guess. Mine is 44 inches high. Operation is smooth and quiet.
Can the LED be turned off so it is completely dark?

Thanks for choosing the Paris Rhône LED Tower fan. This is a quiet cooling tower fan.The lights go out automatically while the fan is running.You can also turn off the screen by pressing the screen-off button on the screen/remote control.
Our customer support is available Monday to Friday: 8am-8:30pm.
Average answer time: 24h