Paris Rhône 1080P WiFi Projector SP001, Portable Outdoor HD Projector
---
• Real 1080P & Support 4K
• 5G WiFi Connection & Screen Mirroring
• 220 '' Big Screen & Stereo Speakers
• Image Zoom & Auto Sleep Timer
• Versatile Connectivity & 2-Year Warranty
---
PARIS RHÔNE
PARIS RHÔNE Native 1080P Projector
1. This portable projector could be used outdoor, but please use it in a dark environment to get a better viewing experience.
2. For most home projectors, it's normal that the edges of the image are not as clear as the center. You can adjust the focus, keystone and the projection distance to get the clearest image.
Featured
1 x Projector; 1 x Remote Control (Battery Not Included);
1 x AV Signal Cable;
1 x HDMI Cable;
1 x Power Cable;
1 x User Manual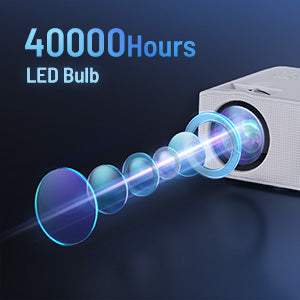 Long Life
Advanced LED bulbs last up to 40,000 hours, which means that the lamp can be used for more than 15 years/6 hours a day.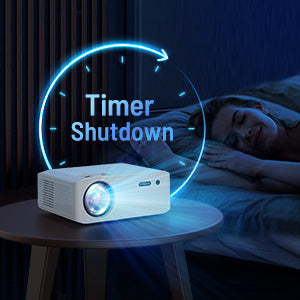 Timer Shutdown
You can use the auto sleep timer to set shutdown time which could avoid the overuse of the wifi projector when you fall asleep while watching videos.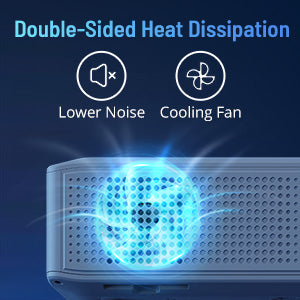 Cooling Fan & Lower Noise
Adjustable volume and zoom The fan noise of LCD projectors on the market is between 38-48db and our fan noise is 42db.
You will hear some fan noise when the environment is quiet and this is normal, do not worry because all LCD projectors need the rotation of the fan to realize heat dissipation.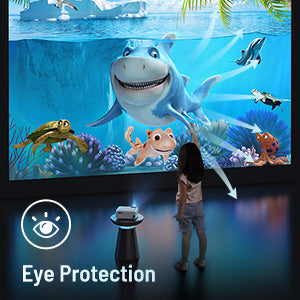 Eye Protection
Thanks to the eye-protective and uniform illumination techniques, our movie projector gives you the optimum visual experience.
Portable Projector
The size of the PARIS RHÔNE mini projector is 8.8 x 7.0 x 3.8 inches, which is small and light.
Installation Type: Front/Rear/Ceiling
Zoom Function
When you want to reduce the display size at a fixed distance, you can adjust the size between 75% to 100%.
This product has no reviews yet.
FAQ
Use this text to share information about your product or shipping policies.
How to connect the projector to Wifi?

You could connect the projector to your home wifi as below:1. Turn on the projector, choose Screen Mirroring and press OK2. Press OK again3. Find your WiFi and connect it
is there a headphone or audio output on this device?

Yes, there are output ports on the device that you are needed.
Can i connect the projecter to the internet via my iphone hotspot?

I don't know why not. An internet connection is an internet connection.
Can you reverse the image to project from behind with this?
Can someone confirm it's a true 1080P resolution projector?

Yes, it's a true 1080P projector and you could see the picture quality is pretty good
Can i connect my phone with the hdmi and would it allow Netflix etc.. to display?

Yes, but you need to prepare the converter yourself. Netflix can be played through HDMI.
Can i watch netflix, amazon prime or hulu?

The WiFi function doesn't support the mirror screen from the smartphone due to copyright such as Netflix, Amazon Prime Video, and Hulu.But you can watch the movies on Netflix, Disney+, or Hulu by connecting to a Laptop with an HDMI Cable.Or you could plug a fire stick to watch them.
Can I use a fire stick with this projector?

Yes, you could connect your Fire Stick to the HDMI port
Our customer support is available Monday to Friday: 8am-8:30pm.
Average answer time: 24h