Paris Rhône Oscillating Tower Fan TF005,42" or 36" Height Adjustable
---
• Choose from 3 running modes, 5 fan speeds, and 90° oscillation for customized cooling relief.
• Adjust the fan height from 36" to 42" with the removable extension stand to suit your cooling needs.
• Set the 12-hour programmable timer to automatically turn off the fan, and enjoy peaceful cooling with a quiet 35dB operation under sleep mode.
• Use the remote or control panel to easily adjust fan settings, including speed, timer, oscillation, and mute the beep sound.
• The slimline design of this oscillating tower fan saves space and makes it ideal for smaller rooms in your home, office, or mobile home.
---
PARIS RHÔNE
Oscillating Height-Adjustable Tower Fan
The Paris Rhône tower fan covers all your cooling needs thanks to the 3 modes, 5 fan speeds, and 90° oscillation. The height-adjustable tower fan can stand at either 36 or 42 inches, and the streamlined body fits neatly in any space to create a refreshing breeze in your home or office.
Featured
Adjustable Height
Widespread Oscillation
Remote Control
Space-Saving Design
Low Noise
High Quality
Easy-to-Clean Air Inlet
Remove the grid from the back of the fan to regularly clean it with a wet cloth, or just rinse with water, for optimum performance.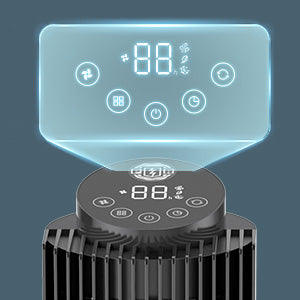 Intuitive LED Display
The remote performs all the same functions as the control panel, except the mute, and the control panel screen light turns off automatically after 1 minute of no operation.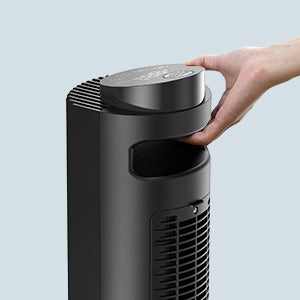 Handle & Remote Storage
Remote control slot gives you the ability to carry and place this tower fan in any room that needs a good dose of ventilation.
This product has no reviews yet.
FAQ
Use this text to share information about your product or shipping policies.
How can I get a replacement remote?

Could you please send an email to our brand email address which can be found in the user manual? Our support team will help you.
Is the 42" one bladeless?

The 42" fan is bladeless.
What is the lowest temperature it goes to?

The fan is in another location so I cannot give a specific answer. I do remember seeing the number 74.I haven't used the feature: but I will say out of three tower fans, this is my favorite. It has a natural setting that alternates the speed of the fan, timers and other features we didn't use. Nevertheless it's quiet and circulates the air well in a 16x22 area.
How do i cancel the memory, i don't want to use it? i just want it to stay on til i turn it off?

The memory function won't remember the timer setting. The fan is designed with power off memory function, it will always remember your last settings (except timer setting) once you turn it on again.

Our customer support is available Monday to Friday: 8am-8:30pm.
Average answer time: 24h