Paris Rhône 4L Cool Mist Humidifier AH023, 3 Humidity Level Light
PARIS RHÔNE
Easily Operate, Intelligently Humidify
This 4L cool mist air humidifier can provides you up to 40 hours of continuous cool mist from a single fill of 4L. Quitely runs at a silent level of 28dB (lower that most of the products), this large humidifier can perfectly assit you when you are relaxing, sleeping, working and reading. By entering smart mode, you can enjoy an ideal humidify level of 60-65% without any trouble since the humidifier can automatically adjust itself to human body's best comfort.
Featured
3 level mist output-runtime (300ml/h-12h, 200ml/h-20h, 100ml/h-40h)
Automatically maintain 60-65% humidity (best for human)
Low noise operation <28dB
Tank Light (Color- Humidity)
Safe and Reliable Operation - Auto Shut-off
Nanotechnology waterproofing- Last Longer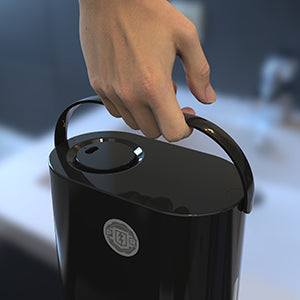 Convinient Handle
Just take the handle to carry the water tank to anywhere without concerning dropping the tank!
Color- Humidity Tank Light
The water tank light indicates the environmental humidity levels. Orange(<40%), Purple(40%-65%), Blue(65%<)
360° Rotating Nozzle
Allows you to adjust the mist direction to the exact position you want for a better humidification.
This product has no reviews yet.