Paris Rhône 4L Ultrasonic Cool Mist Humidifier AH007, 2023
---
• Built-in smart humidity sensor, automatically adjusts mist levels based on target humidity.
• Patented noise technology, reduces noise level to 28dB for a relaxing environment.
• Large opening for easy refilling and cleaning; portable handle for convenience.
• 3 mist levels (Min:100ml/h; Medium:180ml/h; Max:250ml/h); 360° adjustable nozzle.
• 4L tank, moisturizes rooms up to 323ft² for up to 35 hours. Ideal for large rooms, living rooms, bedrooms, or offices.
---
A must -have helper for new parents
PARIS RHÔNE Video Baby Monitor, safe & sound
PARIS RHÔNE
Split-Screen Video Baby Monitor
With the high-equipped Paris Rhône video baby monitor, you can simultaneously hear and see 2 different rooms or 2 babies on a 5.5" split-screen to check on your little ones' safety while doing chores or exercise. A thoughtful gift for new parents as it makes parenting easier and happier, takes care of babies in a better way.
Featured
5.5" Split-screen Design,1080P FHD
5000mAh Battery
Clear Night Vision
Energy-Saving VOX Mode
2-Way Audio
Pan-Tilt-Zoom
5 Soothing Lullabies
Sound & Temp Detections
What's in the box
1 x PARIS RHÔNE Baby Monitor
1 x Camera
2 x AC Power Adapter
1 x Mount Kit
1 x Camera Mount
2 x Power Cable
1 x User Guide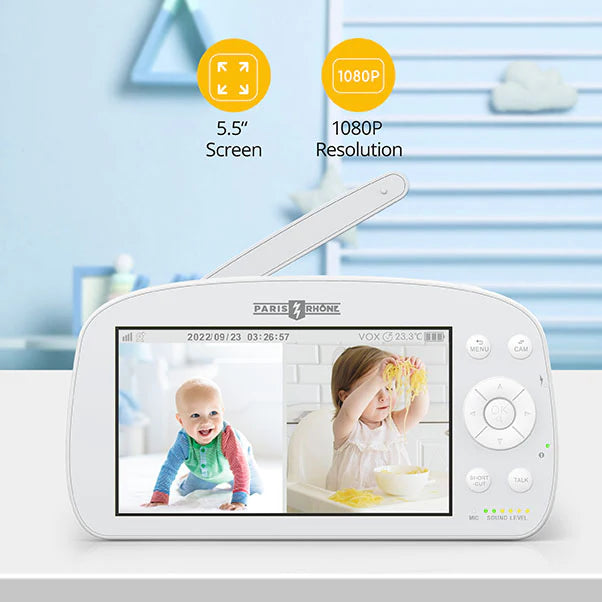 Larger Screen, Higher Clarity
Equipped with a 5.5-inch full HD screen and 1920*1080 high resolution. The SPLIT-SCREEN feature allows seeing both cameras or babies side by side on the same screen. ( buy extra cameras to meet your needs)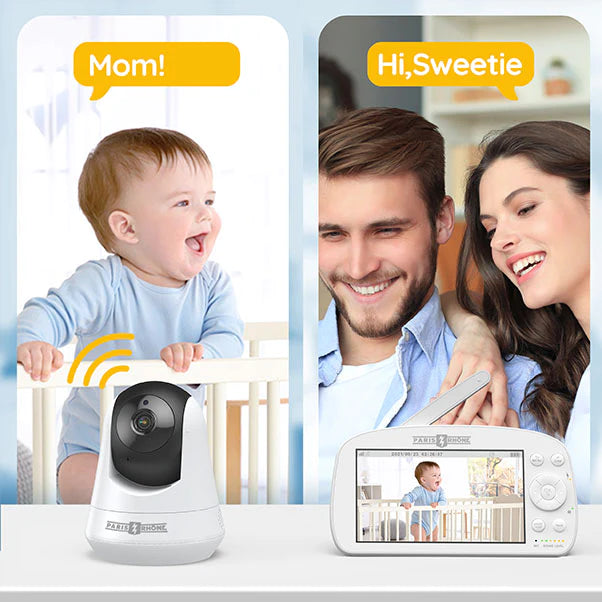 Two-Way Talk, Easy Care
You will get alerted immediately from the video baby monitor when your baby is crying. The 2-way audio features enable you to sing or talk to your baby or play lullabies to soothe your baby remotely if they begin to cry, instead of going into their room every time.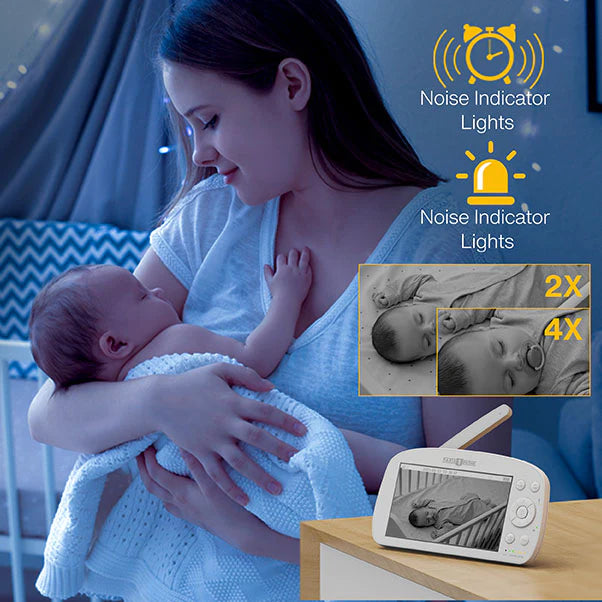 Day & Night Care, Helpful Reminder
Adjustable volume and zoom features allow you to hear and watch babies' movements such as coughing and breathing or hear a crying toddler and wake you up during deep sleep. Easy setup feeding time and sleep mode so that you won't disturb your baby and you're reminded when to feed your little one.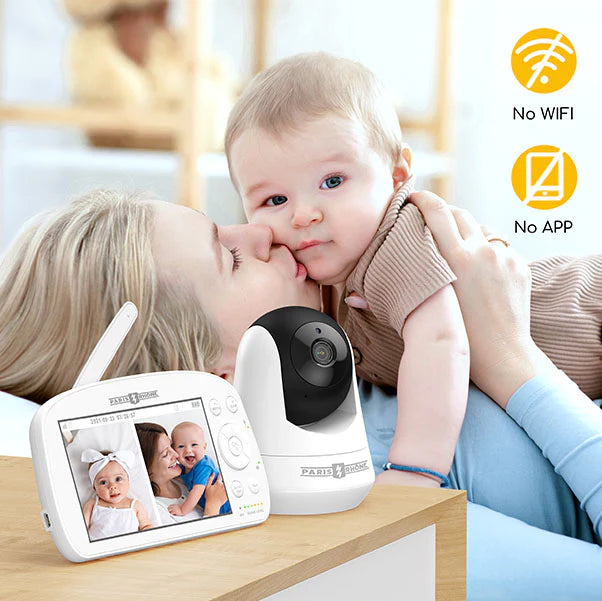 Easy &Safe Connection, No Privacy Leak
Adopting FHSS wireless technology, the connection of the Paris Rhône video baby monitor is incredibly private, secure, and stable – unlike other monitors that use Wi-Fi or App connections, we care about your privacy.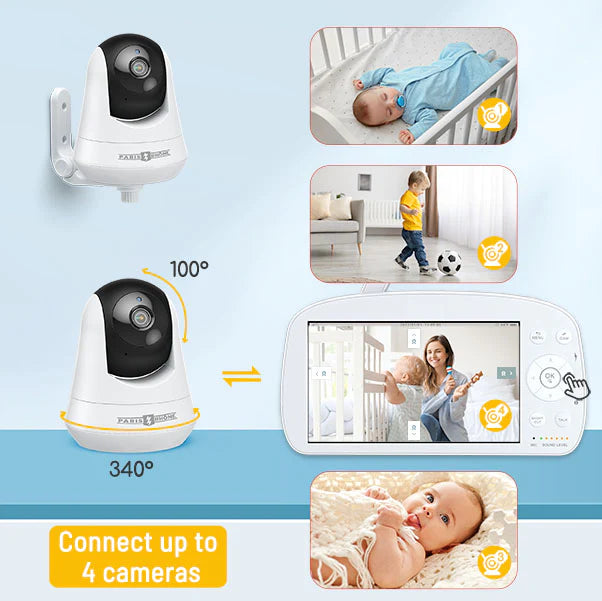 Connect Up To 4 Cameras, Two Installation Options
Paris Rhône video baby monitor can pairs up to 4 cameras, you can buy extra cameras to meet your needs, and easily switch cameras to watch over your children in different rooms with a simple press of the cam switch button. you can place the camera on a shelf or tabletop where it will stand firmly in place, or mount it on your wall with the included bracket.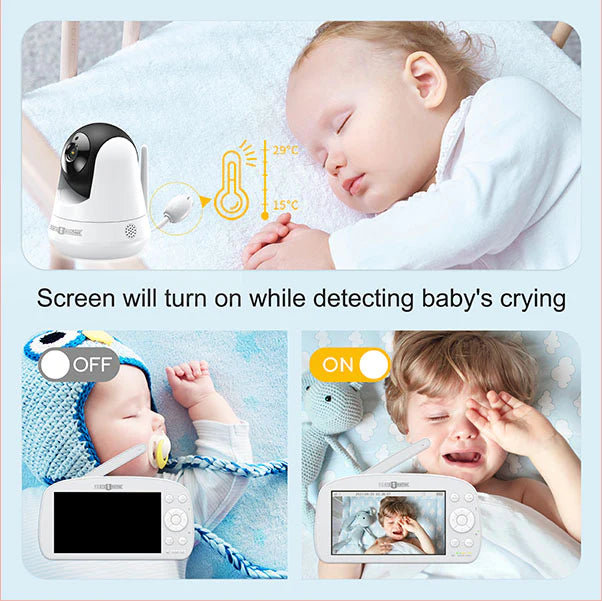 Vox Mode & Temperature Detection
With the Vox Mode function, you can hear and notice your baby at once, the screen will turn on and alarm you immediately. Featured a real-time temperature sensor that accurately detects the nursery's temperature and alerts you, so if needed you can make the appropriate changes for your baby's comfort.
Your indepenable parenting aide
Split-Screen Video Baby Monitor
This product has no reviews yet.
FAQ
Use this text to share information about your product or shipping policies.
Can this humidifier be used with essential oils?
Our customer support is available Monday to Friday: 8am-8:30pm.
Average answer time: 24h