Paris Rhône 5.3 Quart Air Fryer AF014, With 8-in-1 Toaster Oven Cooker
---
• 🍖[VIEWING WINDOW DESIGN]: No more drawing out the basket to see if your meal is done, a glass viewing window and a built-in interior light make it easy to monitor the cooking progress in real-time.
• ✔️[CERAMIC COATED NONSTICK BASKET]: Unlike 95% of the products, our fryer basket uses a ceramic coating instead of Teflon, which is healthier for both humans and pets. The frying basket and detachable frying tray can be quickly and conveniently washed down or put into a dishwasher, saving time & labor for every chef.
• 🥪[NO PRE-HEATING & OILLESS]: Built-in advanced light wave tube instead of ordinary stainless steel electric heating tube, fast heating while reducing power to 1200W, saving 25% of electricity than other airfryers. 360° hot air circulation, airfryer makes food crispy and juicy, reducing oil by 85%.
• 🍔[8 EASY FUNCTIONS]: With 8 cooking presets, you can easily make delicious meals including French fries, drumsticks, steak, chicken wings, fish, shrimp, egg tarts, and hot dogs with just a single button press. At the same time, you can always adjust the temperature and timer.
• 🔰[SAFETY PROTECTION]: If you forget to season your food, simply take out the frying basket, and the air fryer will automatically shut down operations to keep you safe. Once you've returned the basket, the fryer will resume with the previously selected settings; ETL, FCC, CE certified.
---
PARIS RHÔNE
Low-Calorie Living
The Paris Rhône air fryer helps make delicious meals. Unlike deep frying which uses oil to fry food, the 5.3-quart air fryer distributes hot air to evenly cook delicious meals. With 8 preset menus and overheat protection, the air fryer with a viewing window is the first choice for families looking for a healthier alternative with less calories.
Featured
8 Preset Menus
5.3 QT Capacity
Viewing Window
Touch Control Panel
Customizable Temp & Time
Non-Slip Rubber Feet
Non-Stick Coating
Automatic Shut-Off
Handy Cooking Cheat Sheet
Cook the perfect meal every time with the included magnetic cheat sheet. Attached to the side of the oven so it is out of the way, the sheet lists different cooking temperatures and the correct timings so you can always cook a chef-quality meal.
Advanced Stop-And-Start Protection
Need to add seasoning? Forgot to add an ingredient? The air fryer will automatically switch off if the frying basket is pulled out. Once you've added your seasoning, place the basket back and the air fryer will resume cooking with the previous settings selected.
LCD Display & Convenient Controls
A sharp LCD panel is the center of operations, letting you use touch controls to select the cooking mode or set the temperature and timer.
Better, Safer Cooking
Overheating protection keeps everyone safe by automatically switching off the air fryer so it can safely cool down.
Separate Non-Stick Frying Tray
Easy to remove so you can add food, the non-stick frying tray can also be easily cleaned by hand or in the dishwasher.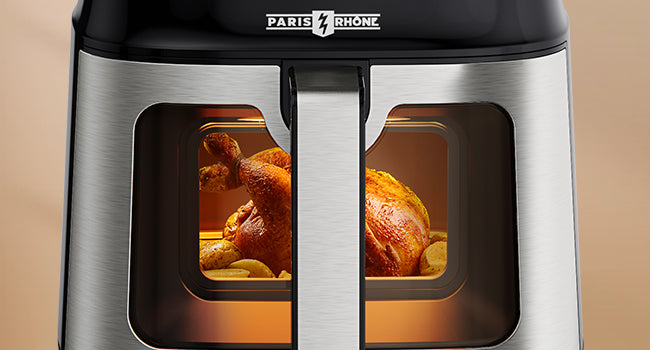 Illuminates Your Meal
Watch your food cook and fry. A built-in light bulb and a transparent glass window allow you to see inside and monitor the cooking progress.
This product has no reviews yet.
FAQ
Use this text to share information about your product or shipping policies.
Most recipes call for a temperature of 400 degrees, this unit maxes out at 392 degrees. Is this a probem that would warrant a return?

Dear customer, our air fryer uses a more advanced heating element - the light-wave tube, the replacement of this element makes the air fryer heating faster and more effective so that the maximum temperature can be reduced to 392 degrees Fahrenheit, the power down to 1200W, thus achieving the effect of saving electricity for our customers.
Is the viewing window useful?

The viewing window helps me a lot, allowing me to determine if I need to shake or end cooking at any time without having to interrupt the cooking process. My food is always in good condition, this air fryer means a lot to me.
what size silicone basket fits this airfryer? is it square shaped?

Yes it's square shaped!! Great air fryer
This air fryer comes with 12 month's warranty from the date of its original purchase.
What are the basket interior demensions?

air grill takes up little space and a lot of functional I do in it lamb on the ribs and chops and fish I'm happy with everything buy you won't regret it👍👍👍
does this come in steenless steal?

Body: PP, Basket: Aluminum Teflon, Transparent window: PC, Basket decoration: 430SS
I feel that every touch can be sensed when I use it just right, and there have been no accidental touches

Our customer support is available Monday to Friday: 8am-8:30pm.
Average answer time: 24h