Paris Rhône Kitchen Knife Set FP003, 16-Piece High-Carbon Stainless Steel
---
• High-Carbon 5CR15MOV Stainless Steel
• ✅【Long-Lasting Sharpness】: Premium high-carbon stainless steel blade boasts precision&rapidly cutting and lasting sharpness,the exceedingly sharp edge easily pass through tough ingredients with a razor-sharp cutting angle for easy meal preparation
• ✅【Durable & Robust】:The kitchen knife set ensures exceptional sturdiness, longevity, wear-resistance, and corrosion resistance, every blade,forged from high-carbon 5Cr15MoV steel, makes it incredibly rust-proof, corrosion-resistant, and easy to clean 👉(please note that: Clean and dry the knives after each use)👈
• ✅【Comfort Grip】:The ergonomic full tang design fits your palms perfectly for maximum comfort,the gravity balance design and ABS anti-slip handle help reduce hand fatigue,provide a reliable and secure grip while cutting
• ✅【French Design with Damascus-Like Pattern】: Kitchen knife set designed by French professional designers, PARIS RHÔNE knife block set features an elegant streamlined shape and Damascus-like pattern, makes it an ideal gift for housewarmings, weddings, birthdays, party, and more
• ✅【All-in-One Unique Knife Set】:The kitchen knife set includes not only chef's knife,bread knives, paring knife but also Santoku knife,utility knife,boning knife, 6 steak knives,carving knife,carving fork,multifunctional kitchen scissors, providing the right knife for any task and tremendous meal preparation fun,besides the knives is easy to store in the included breathable,damp-proof, and slip-resistant hard wooden block,the built-in sharpener flawlessly completes the knife set
---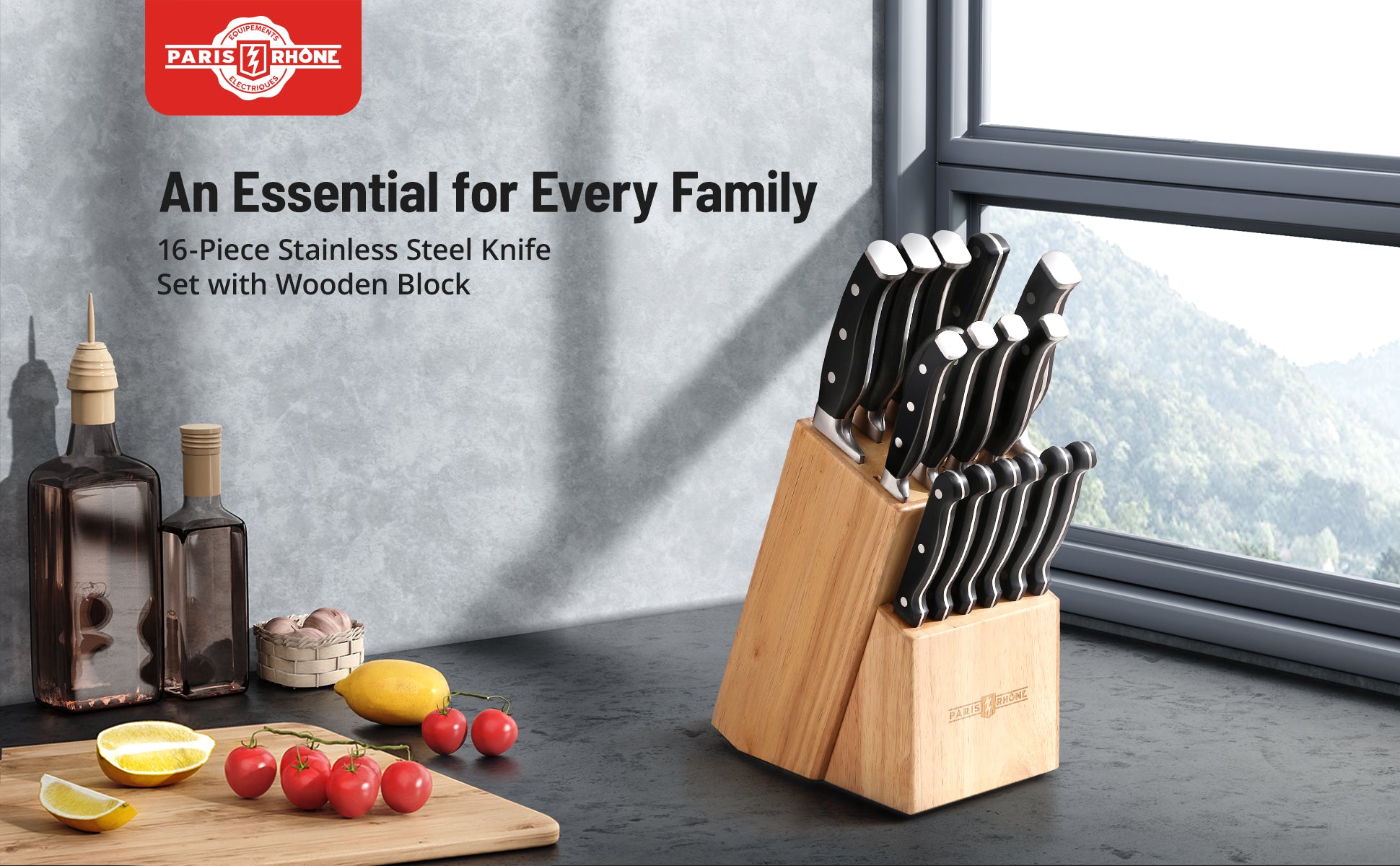 PARIS RHÔNE
Versatile. Quality. Durable.
Made of high-carbon stainless steel, the Paris Rhône knife set is robustly constructed and remarkably sharp and durable for daily use. A 16-piece knife set makes quick work of all sorts of jobs like slicing turkeys, fruit, and vegetables, cutting steak and bread, snipping herbs for garnishing, and more. Thanks to the included wooden block with a built-in sharpener, it is easy to store and maintain the sharpness.
Featured
Superior Quality Knife Set
Ergonomic & Comfy Grip
Efficient Knife Sharpening
Exquisite Pattern
Easy to Store
Effortless Care
What's in the box
1 x 16-Piece Knife Set (Model: PE-FP003)
1 x Wooden Block with Sharpener
1 x User Guide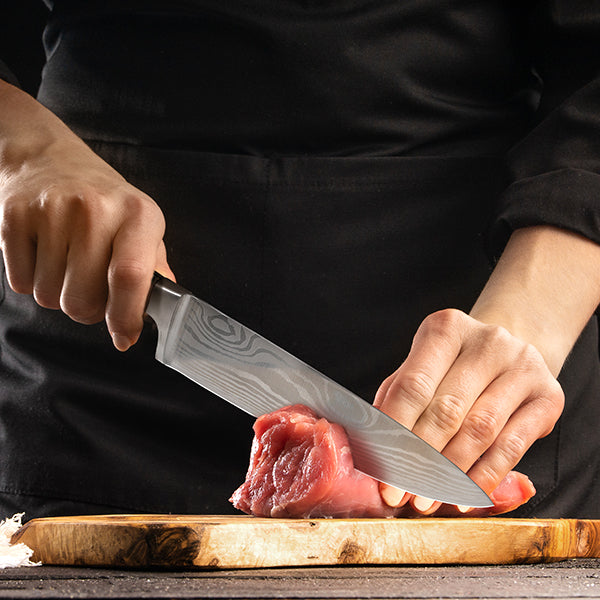 8"Chef's Knife
This essential, multipurpose knife is the ultimate kitchen tool that is suited to virtually any cutting task, including slicing, dicing, mincing, cutting, and other types of chopping.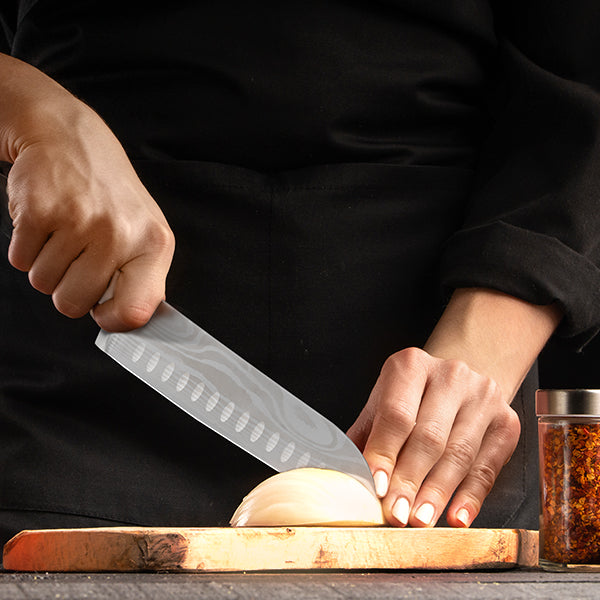 7"Santoku Knife
This Santoku knife is perfect for cutting meat as well as for preparation tasks such as dicing or slicing vegetables and fruits. The wide blade comes in handy to scoop chopped food up off a cutting board.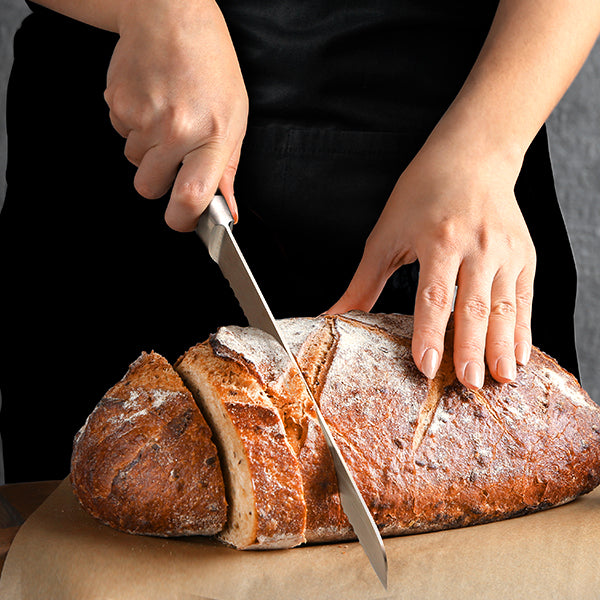 8"& 5"  Bread Knives
The 8" bread knife is great for sawing through bread, baguettes, bagels, and soft veggies such as tomatoes, lettuce, and more. Your 5" bread knife can be used to slice through cheese, pizza, sandwiches, and fruit.
4.5" SteakKnife
The weight of the steak knife is well balanced for a comfortable grip. Featuring a sharp and smooth-cutting blade, the steak knife is ideal for cutting through tough cooked meat like steak.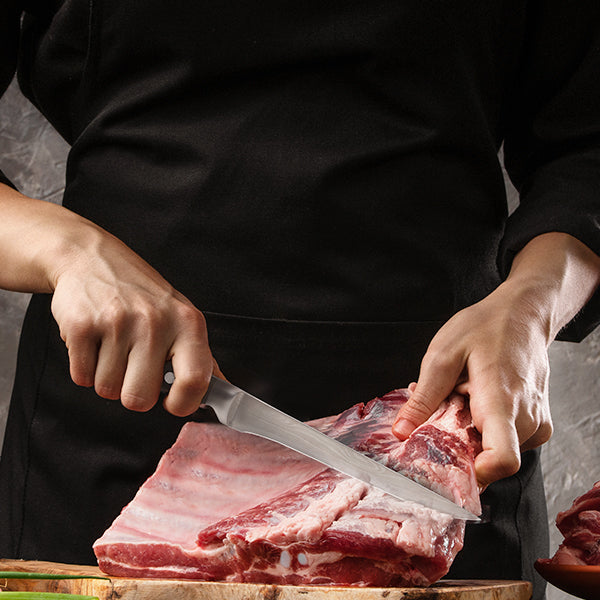 5.5" Boning Knife
The boning knife boasts a long, exceptionally sharp blade with a piercing tip to make trimming, skinning, filleting and butterflying all your favorite meats easier and removing bones more efficient.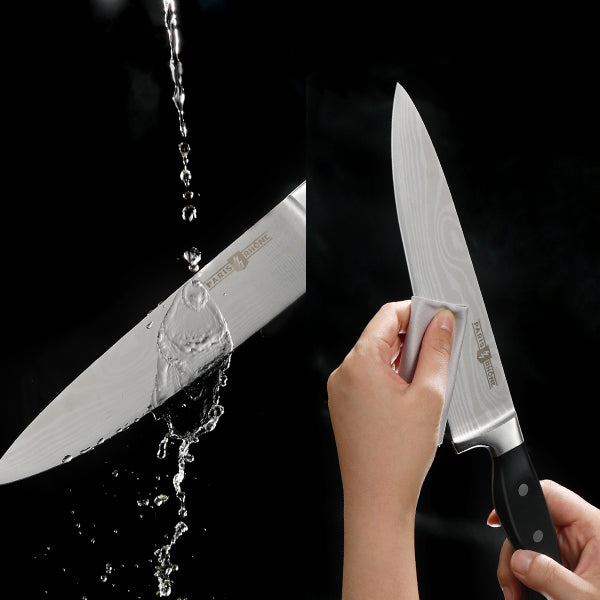 Easy To Clean & Maintain
Simply rinse the knives and dry with a clean cloth. To prevent rust and rupture, do not put the knives into the dishwasher. To ensure safety, do not test with your fingertips and keep the knives away from children.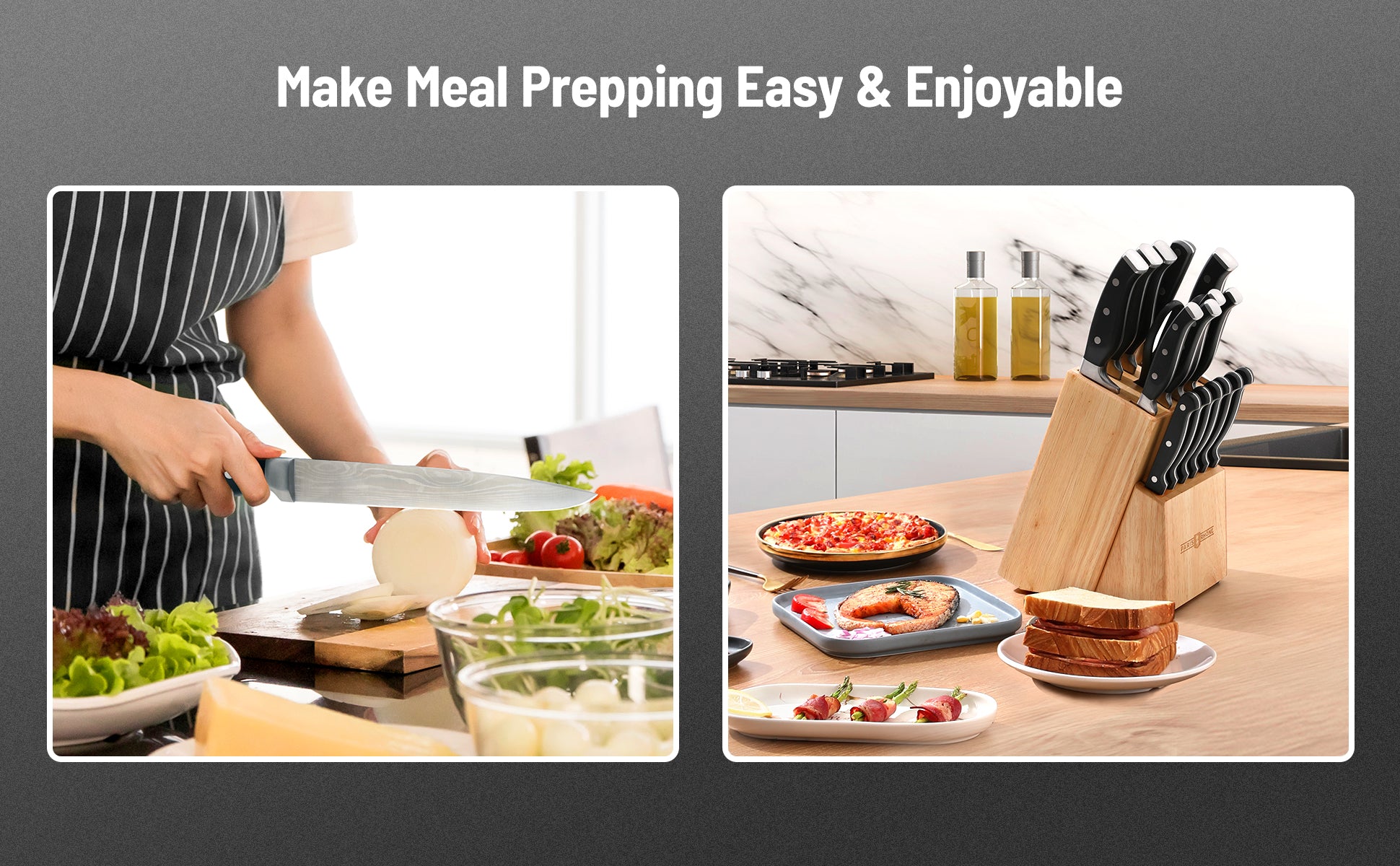 This product has no reviews yet.
FAQ
Use this text to share information about your product or shipping policies.
What steel are these knives made of? Will it rust?

This kitchen knife is made of high-carbon stainless steel, 5CR15MOV material, carbon content 0.5%, chromium content 15%, no rust, wear-resistant and corrosion-resistant, Wikipedia says that this material is widely used to make kitchen knives, high-end scissors, etc., Anyway, I used it very well
What is the handle material made of? What country is manufactured? and what is the warranty?

What is the handle material made of---Stainless SteelWhat country is manufactured?---ChinaWhat is the warranty?---12 monthes
Our customer support is available Monday to Friday: 8am-8:30pm.
Average answer time: 24h