Paris Rhône 1500W Fast Heating HE018,Electric Ceramic Space Heater
---
• 2S Rapid Heating: Powerful 1500W PTC ceramic heating allows this PARIS RHÔNE electric heater quickly heat up to 70°F and rated power up to 1500 watts in 2S. 2 heating modes – High mode(1500W) and Low mode(900W) –making you feel the change from cold to warm in a matter of seconds.this electric heater is perfect for sitting by your feet on the floor, near your hands on a desk, or carry around your bedroom, living room, bathroom, or office.
• Safe & Reliable: Made of V0 flame retardant materials, this ETL-certified ceramic space heater comes with multiple security features including overheat and tip-over protection, 12-hour timer, auto off after 24h without operation. Safe and worry-free all-day use.
• Energy Efficiency: Smart ECO mode uses a built-in precise temperature sensor to keep your room at a constant temperature while saving more on energy bills and keep you cozy. (with a low of 900W and high of 1500W)
• Wider Heating Range: 70° wide-angle oscillation, this space heater for indoor use boosts heating coverage by 20%, which helps distribute the warm air more evenly towards the room's corners.
Ease to Use: The portable space heater combined with remote control. Controlling all the settings and directly view the current setting on the ceramic space heater LED display without getting up. Built-in handle ensures easy transport from room to room.
---
PARIS RHÔNE
Fight The Cold This Winter
Cold won't stand a chance with the 22" Paris Rhône Oscillating Tower Space Heater. Loaded with great features including a 12 hour timer, tilt protection, and 3 heat settings, this ultra-quiet 40dB home heater warms every corner of a room with it's wide 70° oscillating design. When it comes to staying warm this winter, look no further.
Featured
3 Heat Levels: Hot (1500W), Warm (900W), Natural Fan Mode
70° Oscillating
22Inch for Large Room
2s Fast Heating
12Hr Auto-Off
Remote Control/Touch Control
Energy Saving ECO Mode
Electronic Thermostat
1-12Hour Auto-Off
Set a 1-12Hour timer, so the space heater doesn't operate when you're not around, helps to save energy and save cost.
Touch Control
Incredibly easy to monitor and control the space heater settings from the easy-to-read LED digital screen on the top of the heater.
Portable Handle
The portable design and hidden handle let you take this space heater to any room in your home so you always have warmth in every home.
Safety Protection
Built-in tip-over and overheat protection shuts off the heater when it tips over or overheats. Even it is lifted up a bit, the heater will also auto off for your safety.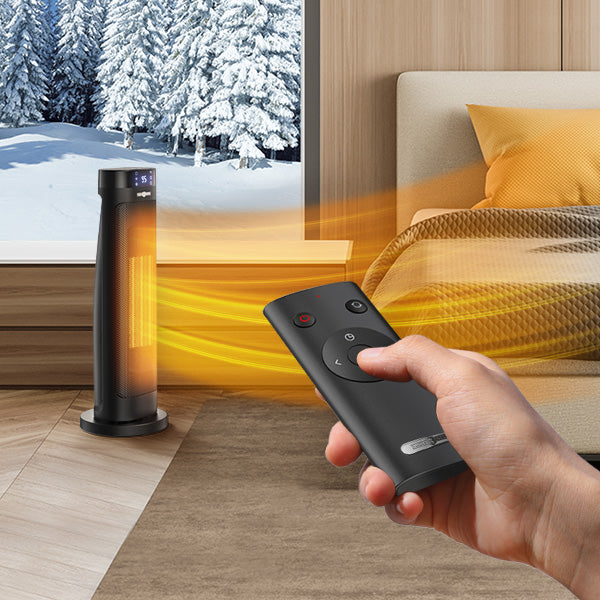 Extra Long-Range Remote
No need to get up from bed or the couch. In addition to the touch panel, you can control the heater from up to 26 feet away with the included remote control.
The Right Heat For You
All bodies are different, that's why this tower heater includes three heating modes and a wide temperature range between 50℉ and 95℉, ensuring you get the warmth your body needs.
This product has no reviews yet.
FAQ
Use this text to share information about your product or shipping policies.
Does this have 2 or 3 prongs?
Does it work at 230 voltage (Jerusalem)?

Excelente funciona muy bien
Does the plug get hot? A previous heater I had did so I would not use it.

No the plug does not get hot. It gets slightly warm, but that is to be expected of all space heaters and nothing to worry about. I have had other space heaters that I have had to unplug because the plugs got so hot that I was afraid they would start a fire.
Will this heater shut off the heat and the fan also when satisfied? Cause I just return one that will shut off the heat but the fan still run

This heater will not switch to fan at all. When I turn on the fan the heater runs
Is there a way to switch to Celcius?
Can I sit this on carpet?

Just as a general rule, put your space heater up, on something non-combustible with enough space to let the heat rise. Melted carpet is nobody's friend.
Our customer support is available Monday to Friday: 8am-8:30pm.
Average answer time: 24h