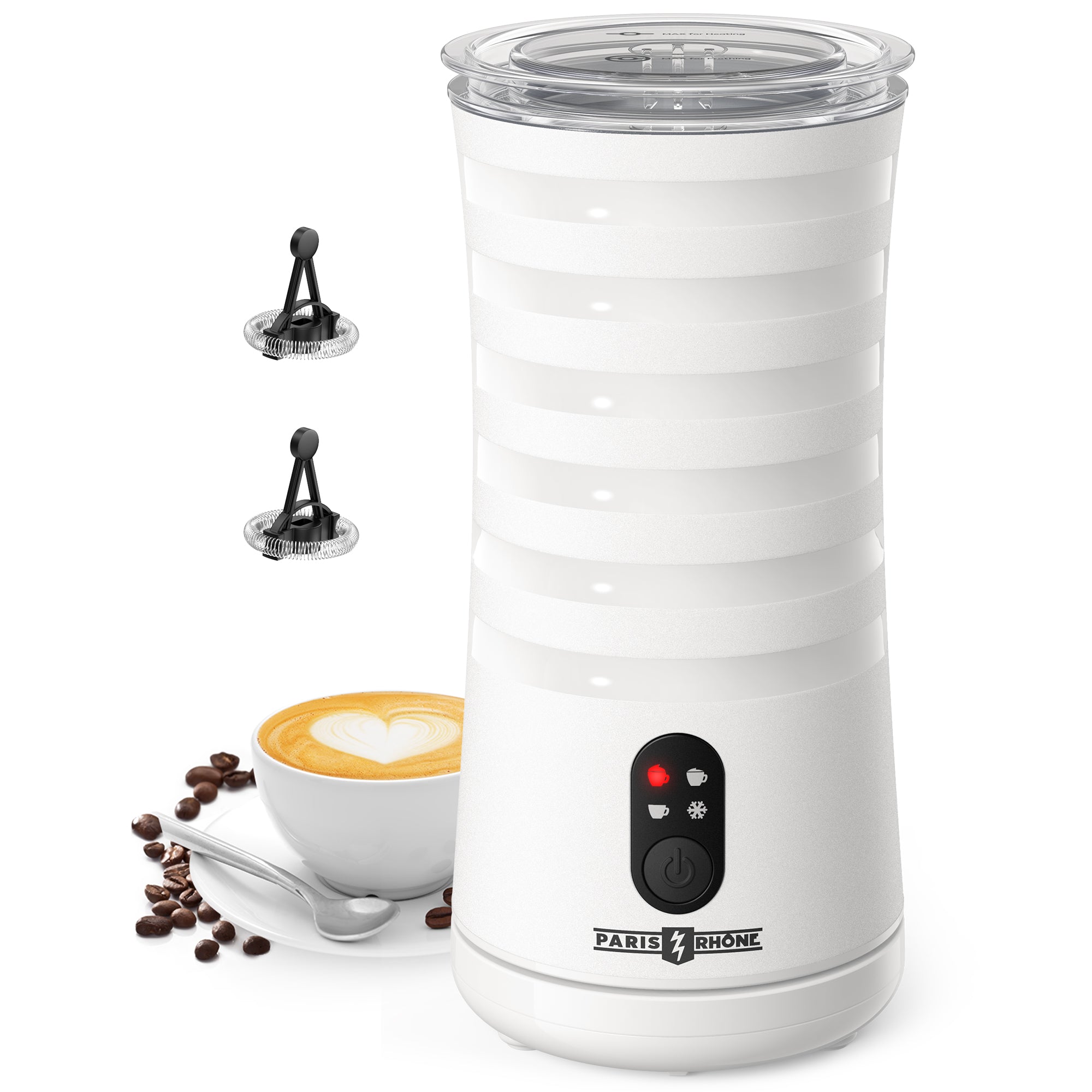 Paris Rhône Milk Frother MF010, 4-in-1 Electric Coffee Frother 2023
---
• 🎁Unique Eiffel Tower-inspired shape, non-slip ergonomic design, perfect as a gift
• ☕4-in-1 function for hot/cold froth and heated milk up to 70°C / 158°F
• 🍧Simple one-button control and quiet operation in only 2 minutes
• 🍨Easy cleaning with scratch-resistant materials and non-stick coating
• ✔️Certified with ETL for safety and automatic shut-off to prevent burning or over-frothing
---
PARIS RHÔNE
Why Choose the Paris Rhône 4-in-1 Milk Frother?
The electric milk frother adopts an extraordinary shape inspired by the Eiffel Tower of Paris, not only bringing you the visual pleasure but also significantly enhancing the using experience; the ergonomic design makes sure that it is non-slip and easy to hold
Featured
With fast and high-efficient making, you can have a cup of coffee with a strong aroma in 2 minutes.
It is safe to control the temperature accurately with the temperature controller, and the machine will automatically shut down after the drink is made.
This milk frother is portable and quiet. It operates smoothly without noise and can be used in the living room and the kitchen with its compact body.
The capacity is appropriate enough to meet the coffee needs of 1-2 servings.
The product is easy to clean by rinsing it with water.
The product comes with two twists and a cleaning brush.
Quick Frothing
Savor the mellow coffee with dense milk foam without long-time waiting.
Whisper-Quiet Operation
Won't wake you up in the silent morning or disturb you when chatting with your family and friends.
Large Capacity
Maximum capacity for heating: 240ml / 8.1oz. Maximum capacity for frothing: 115ml / 3.9oz. Minimum capacity for heating & frothing: 75ml / 2.5oz.
This product has no reviews yet.
FAQ
Use this text to share information about your product or shipping policies.
Can it make multiple cups one after another?

Yes, you can make a new glass of milk after you have made a glass of froth. However, you need to wait until the previous one has been made before adding more milk to make the next one, not adding more than one cup portion of milk at a time.
What is the wattage of the heater?
How do you keep the frother clean from milk burning on the bottom?

When cleaning, you can remove the whisk from the milk frother and use the small brush included to clean the inside of the pot.
What is the milk frother functions?

This milk frother enables you to whip the milk into hot dense foam, hot airy foam, or cold froth, and DIY your velvety-smooth coffee; it can also heat the milk up to 70°C / 158°F.
What temp does this heat the milk to?
How do i know tje milk is finished heating? How long do i leave it

The frother beeps when it's done with any function. If you start it when you begin steeping your tea bag (if you're having tea), it's usually done by 3 minutes or so. So I can warm the milk and just about pour it right into my prepared 1/2 mug of tea. You don't have to let it sit before pouring.
What am i doing wrong? froth is spilling out of lid while it's frothing. made sure lid was on and held down. not over filled either.

The milk frother has two max indicator lines, the top one is the capacity indicator line for heated milk and the bottom one is the capacity indicator line for the milk frothing function, please make sure the amount of milk poured is lower than the bottom frothing function indicator line, if the problem still exists, could you please kindly contact our support team? Here is our support email: support@parisrhone.com. Please kindly attach your order number and issue.We are looking forward to your early reply.
Is this 220v does it work in Europe ?

I doubt it.You most likely will need a converter andplug for that countries voltage whichcan be purchased on Amazon or at a localluggage shop.
Our customer support is available Monday to Friday: 8am-8:30pm.
Average answer time: 24h