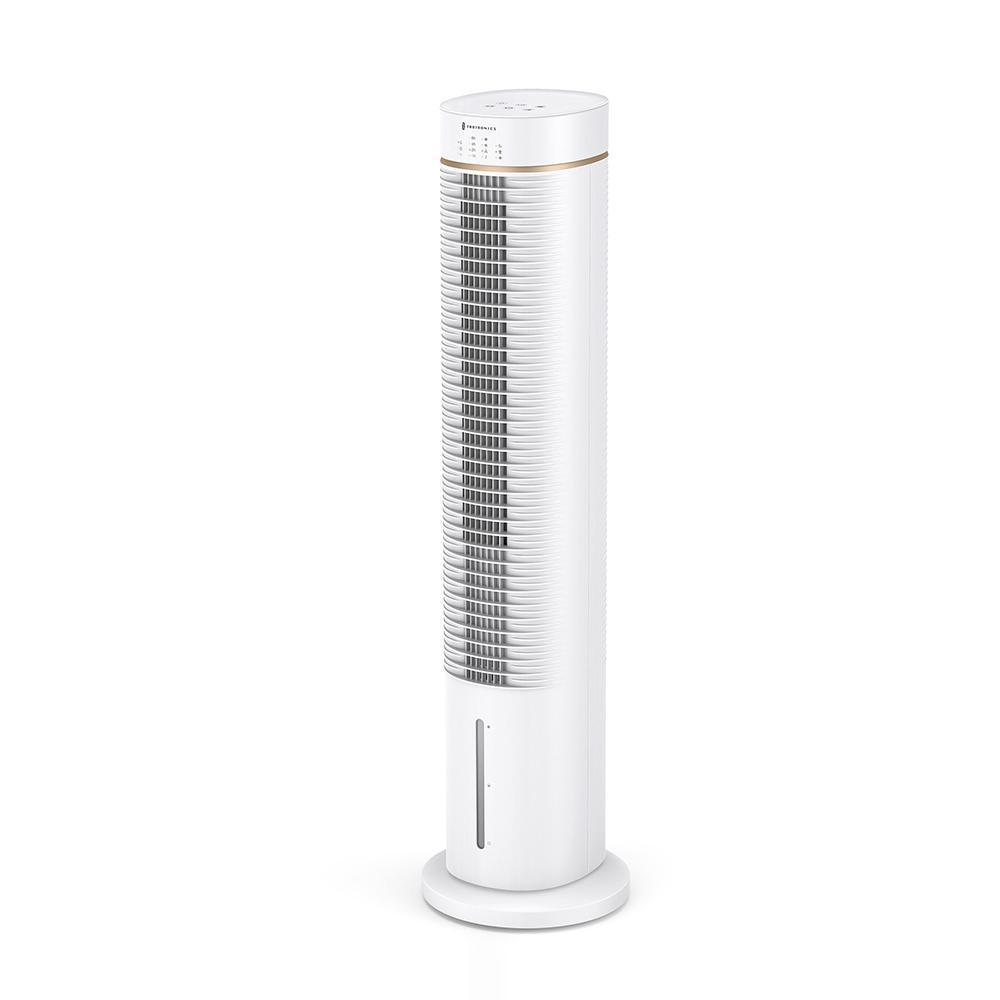 Paris Rhône 45" Air Coolers Fan TF008, 3-in-1 Smooth 80° Oscillation
---
• Fan-Cooler-Humidifier in One: Oscillating cooling fan with impressive 3-in-1 evaporative air cooler functionality to hydrate the air, maximize airflow, and summon a cool breeze all from a single unit.
• Exceptional Cooling Power: By adding ice packs or cold water into the tank, you can boost the air conditioner's cooling power to rapidly produce large quantities of refreshingly cool air to lower the temperature of the room and provide immediate relief
• Smooth 80° Oscillation: 45" cooling fan with a 19" extra-long air outlet and smooth 80° oscillation propels air across your space with a velocity of 25ft/s for maximum coverage
• Large-Capacity Water Tank: Equipped with a generous 6-liter/1.59-gallon water tank, the evaporative cooler ensures extended cooling performance that you can enjoy without frequent refilling
• Simple Operation: Get the perfect airflow in your room when you adjust between 4 wind speeds, 3 wind modes, 80° oscillation, and 15H timer with the user-friendly control panel on top of the evaporative air cooler, or change the settings from your sofa or couch with the remote control
---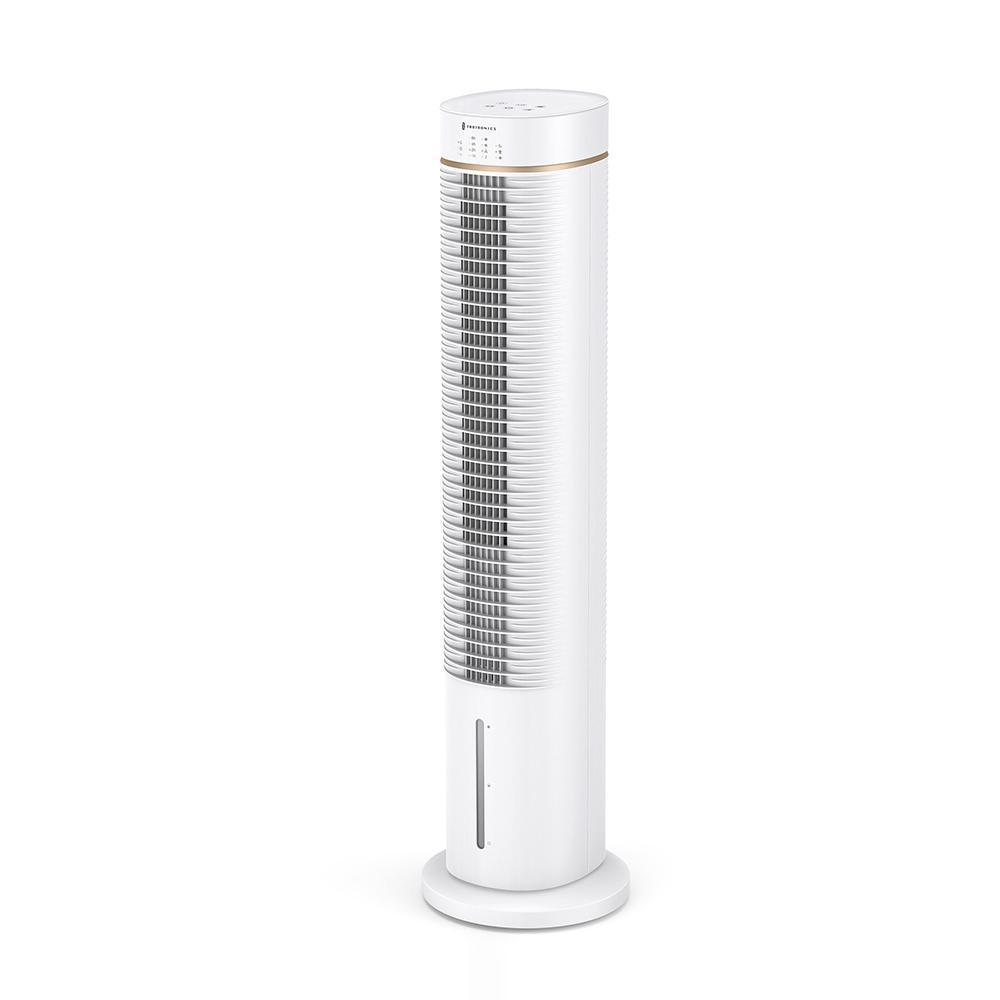 PARIS RHÔNE
Enhanced Cooling, Premium Comfort
Create a comfortably cool space with the Paris Rhône Advanced 3-in-1 Evaporative Air Cooler. This versatile oscillating unit functions as a high-power cooler, humidifier, and fan in order to cool the indoor climate faster, enrich the air with humidity, and maximize the airflow.
Featured
Fan-Cooler-Humidifier in One
80° Smooth Oscillation , 19" extra-long air outlet, 25ft/s velocity
6L Large Water Tank
3 Wind Modes +4 Fan Speeds
15 hours timer
Remote Control
What's in the box
1 x Paris Rhône Air Cooler
1 x Remote Control
2 x Ice Packs
1 x User Guide
Portable Universal casters and Washable water tank
Portable Universal casters will let u easily remove the evaporative air cooler fan anywhere
Evaporative air cooler with washable and removable water tank makes refills easy and spill-free.
Maintenance is a Breeze
Detachable back cover and cooling pad facilitate easy cleaning with water, filtering trash, and keeping evaporative air coolers running efficiently
Day & Night Care, Helpful Reminder
Adjustable volume and zoom features allow you to hear and watch babies' movements such as coughing and breathing or hear a crying toddler and wake you up during deep sleep. Easy setup feeding time and sleep mode so that you won't disturb your baby and you're reminded when to feed your little one.
This product has no reviews yet.
FAQ
Use this text to share information about your product or shipping policies.
How many gallons is the cooling fan's water tank?

The PARIS RHÔNE Air Cooler has 1.59Gal water tank. You can get 7.5hrs cooling while use with the ice pack.
So it says the air cooling fan comes with 4 Speeds, 3 Modes, and it's set up easily?

Dear Customer,The Evaporative Air Cooler is very easy to set up, plug and play.3 modes of Air Coolers, Tower Fan, and Humidifieron to select. You also can remotely control the portable air conditioners.
Can I use this cooling fan as an air conditioner?

This evaporative cooler definitely cools you down with a nice flow of air. you will be quite surprised by such a swamp cooler.
How large an area will this air cooler cool?

The air cooler moves air across your space with a velocity of 25ft/s for maximum coverage, it tends to cool you down instead of cooling the room
I have an ungrounded outlet in my bedroom. Does the unit have 2 or 3 prong?
will this work in 100 degree weather?

I use mine in my garage with the door open. It will blow 85 degee air @ 100 degrees, depending on humidity. Just enough to make it bearable. It does not work very well with the door closed.
Do you have to keep adding ice when it melts just to keep the water source cool? Looking for a unit w/ pre-water freezing compressor. Thanks.

By adding ice packs or cold water into the tank, you can boost the air conditioner's cooling power. Equipped with a generous 6-liter/1.59-gallon water tank, the evaporative cooler ensures extended cooling performance that you can enjoy without frequent refilling.
Our customer support is available Monday to Friday: 8am-8:30pm.
Average answer time: 24h