Paris Rhône Space Heater HE015, Ceramic Heater With 2 Heat Settings
---
• Fast Heating: Energy-efficient PTC ceramic heating elements work in tandem with a fan to rapidly heat small spaces up to 215sq. ft. thanks to the 1500W power
• 2 Heat Settings: Features 2 levels of heat, including low heat "I" that heats at 900 watts and high heat "II" that heats faster and hotter at 1500 watts, so you can select what you need without worrying about wasting heat; easily control the temperature by rotating the knob for instant warmth
• Triple Protection Design: V-0 flame retardant ABS materials, built-in tip-over protection and overheat protection ensure that the electric space heater operates safely; the power indicator stays on while the space heater is running
• Compact & Portable: At only 9.1 inches tall with an 8.0in x 6.9in footprint, this compact ceramic heater takes up minimal space and is perfect for tabletop or floor placement; a hidden carrying handle makes moving from room to room effortless
• 20% Wider Heating Coverage: Featuring an air velocity of 8.4ft/s – surpassing the standard 5.6ft/s of other personal heaters – this Paris-Rhône heater ensures more powerful heating; also, the 9° tilted angle increases the heat distribution to warm your surroundings evenly

---
PARIS RHÔNE
Compact Size. Powerful Heat.
Adopting ceramic heating elements, this Paris-Rhône 1500W Ceramic Space Heater quickly and evenly heats up to 215ft² of space. With a 9° tilted angle, the space heater provides broad coverage that's 20% wider than standard small personal heaters. Stylish and space-saving design makes this electric space heater ideal for desktops, and with the hidden handle you can take it anywhere you need to add extra warmth.
Featured
Energy-Efficient Heating
Tip-Over Protection
Overheat Protection
V-0 Flame Retardant ABS Material
20% Wider Heating Coverage
Small & Portable
Simple Operation
2 Heat Levels
What's in the box
1 x Paris Rhône Space Heater (Model: PE-HE015)
1 x Remote Control
1 x User Guide
Adjustable Thermostat
Simply rotate the knob on the space heater to adjust to your desired temperature and enjoy personalized warmth immediately.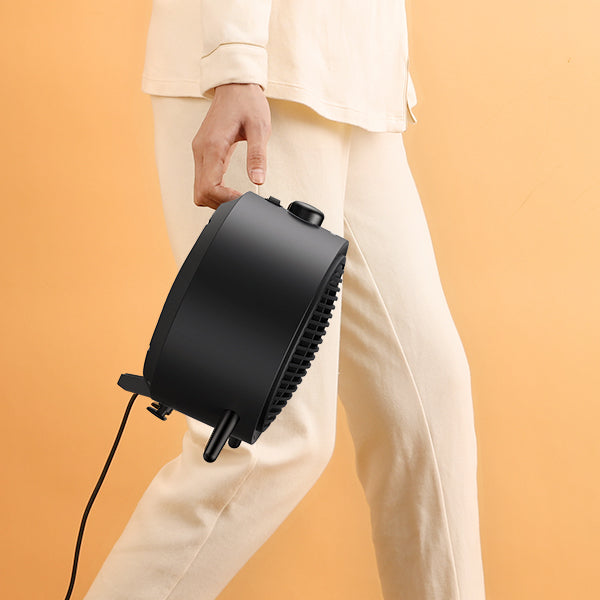 Ultimate Portability
With a hidden handle, the lightweight ceramic heater is effortless to carry around in order to summon your own pocket of toasty warmth in any small space.
Compact Design
At only 9.1in tall, this stylish electric space heater is perfectly sized to sit in place on your desktop or any other workspace.
This product has no reviews yet.
FAQ
Use this text to share information about your product or shipping policies.
Is it a 2 or 3 prong outlet?
Will this heat a 8 foot by 4 foot tent to 85 f

It's a great small heater. Has a thermostat. Should heat your tent nicely depending on outside temperature.
Does this product contain Teflon?

This product doesn't contain Teflon. It used V-0 flame retardant ABS materials that are very safe.
How many hours can you run it at one time?

I run it all day in my garage
Can it be used outdoors in a screened in porch?

I would not use it outside as it's not supposed to get qet
Does it get hot to the touch ?

This small space heater Constructed with V-0 flame retardant material which will make touch cool when you use it. Designed with an electronic and sensitive tip-over switch, our small portable heater reacts fast with an alarm when tipped over, it carries a sensor and automatically shuts off when the 185°F is reached.
Our customer support is available Monday to Friday: 8am-8:30pm.
Average answer time: 24h