Paris Rhône 5000 Sq Dehumidifier EE017, With Pump, White
PARIS RHÔNE
Ideal Humidity for Healthy Living
Designed for spaces up to 5000 sq.ft., this Paris Rhône dehumidifier with pump efficiently removes up to 50 pints of moisture from the air per day to create a comfortable environment. Thanks to the 30° to 80° swing, the dehumidifier improves airflow movement and ensures even humidity throughout your room, which is perfect for drying clothes. The 14.8-pint large water tank and built-in pump makes for convenient drainage.
Featured
High Efficiency Dehumidification
5000ft² Max. Coverage
Built-In Pump Drainage
30°-80° Oscillation
24-Hour Auto On/Off Timer
14.8-Pint Water Tank
Handy Control Panel
Simple Portability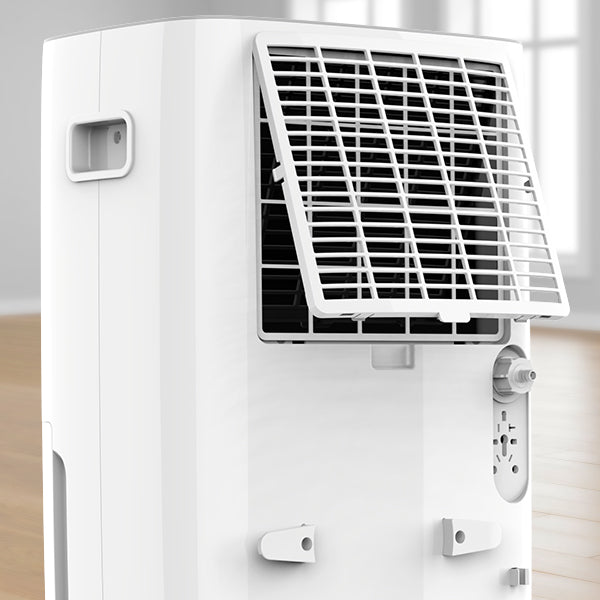 Detachable & Washable Filter
The durable filter at the back of the dehumidifier helps track the dust from air and can be easily detached to clean regularly for optimal performance.
14.8-Pint Visible Water Tank
Designed with a visible and removable water tank holding up to 14.8 pints of water, this dehumidifier ensures longer working sessions and less emptying frequency.
Continuous Drainage
With the built-in pump, the dehumidifier auto drains when attaching the included hose via a hose adapter. (Note: the hose adapter is stored in the middle of the water tank. The drain hose must be lower than the drainage outlet.)
LED Display & Memory Function
The easy-to-read LED display helps you monitor the current humidity level. Plus, the dehumidifier will restore to the last used settings next time you turn on.
3 Helpful Indicators
The three smart indicators on the control panel remind you when the water tank is full, a hose is connected, or the filter needs cleaning.
Low Noise Operation With 24H Timer
The dehumidifier enables you to set an auto on or off timer ranging from 0.5hours to 24hours to take a relaxing rest thanks to the low noise working.
This product has no reviews yet.
FAQ
Use this text to share information about your product or shipping policies.
Does this dehumidifier have a pump or not? Description says it has to drain down. This sounds like a standard gravity drain, not a pump.

The dehumidifier has a built-in pump and it supports continuous drainage.
How do I setup drain tube connected?

When it is necessary to open the water pump for continuous drainage, first tighten clockwise with the drainage connector in the DRAIN outlet of the middle partition. At this time, the pump induction device is started, the DRAIN TUBE CONNECTED lamp on the operation panel is on, and a plastic pipe is inserted into the drainage connector, and then the plastic pipe is placed in the drainage area. When the pump function is turned on, when the water tank of the pump is detected to be full of water, the pump starts the drainage work of '90S and then stops working.
Our customer support is available Monday to Friday: 8am-8:30pm.
Average answer time: 24h