Paris Rhône Ultrasonic Cool Mist Humidifier AH001 With Humidistat
---
• Custom Comfort: Tailor mist output, temp, timer, sleep mode with buttons & LED display
• Soothing Relief: 1.06gal / 4L tank, up to 30hrs on low mist in 10-30 m² room
• Integrated Humidity Sensor: Set desired level, self-adjusting humidifier
• Ultra Silent: Quietly adds mist to office, bedroom, nursery
• Peaceful Sleep: Night light for bedroom, sleep mode for undisturbed rest
---
PARIS RHÔNE
Breathe Easily, Sleep Soundly
Feel the refreshing effects of optimal humidity levels with the 4L Ultrasonic Cool Mist Humidifier. Innovatively designed with a wealth of features to humidify your environment based on your unique needs, you can maintain your preferred level of moisture in the air all day and night. It's a welcome addition to any bedroom, office, nursery, and any other medium-sized room.
Featured
1.06gal / 4L Water Tank
Built-In Humidistat
Waterless Auto Shut-Off
Optional Night Light
Clear LED Display
Wide Open-Easy to Clean and Refill
Customizable Comforting Humidity
Select from either 300ml/h on high, 200ml/h on medium and 100ml/h on low to distribute your ideal level of moisture and create an indoor climate that's perfect for you.
24H Auto-Off Timer
Set the humidifier's timer to run for 1-24 hours then automatically turn off to humidify for precisely how long you need and also save power when sleeping or away from home.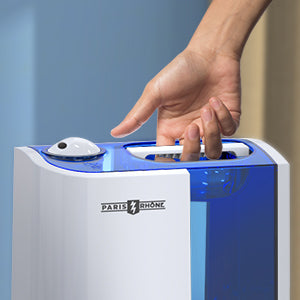 Water Tank With Handle
Featuring a sturdy handle, you can easily grab and lift the water tank with one hand to transport effortlessly for refilling and cleaning purposes.
This product has no reviews yet.
FAQ
Use this text to share information about your product or shipping policies.
Is the Humidistat Adjustable & what is the range?

I don't know why the answers vary so much, but the black one I received yesterday can be set from 40 to 95%. The humidistat is worthless, however, as the sensor is located on the underside of the unit. It will have your room a rain forest before the sensor detects it's at the specified RH.
Se le puede poner esencias de aceite?

No pero vale la pena da un servicio excelente
Do you have to change the filter? Or is it a lifetime filter that doesn't need to be changed?

There's definitely a filter. But I haven't figured out how to get a replacement. I have a 2019 model so I only fill it up with filtered water at this point. Hard water will make it dirty, so not ideal.
How do you keep from using the sleep node? I want it on 24/7 Thanks

Here is a button(NIGHTLIGHT/SLEEP) for Cycle through Nightlight On - Enter Sleep Mode –Exit Sleep Mode. It comes with 12 months warranty from the date of its original purchase. If you have ever experienced issues with your humidifier, please contact us for support. We will take care of you in 24 hours.
How accurate is the humidistat? I have a hygrometer that came with a 2x2x5 sf1000 spider farmer cannabis grow tent and the humidity readings differ

Raise it up off the ground, and don't use anything porous to do so as that will hold moisture and throw off the reading. The sensor is on the bottom on the other side of the intake filter. Block its airflow or soak the area around it and it won't be accurate. BTW, i wouldn't put a humidifier within 2ft of a plant so you don't add moisture to its leaves causing burn from light magnification. But this question is 10month old, so you prob figured it out already
Do you have to use distilled water? Or can you use Spring Water?

We recommend using soft water, such as filtered and distilled water. Spring water generally has high hardness, and it is easy to precipitate scale when used in a humidifier. We don't recommend using spring water.All of our products are covered with a 12-month warranty. Please feel free to contact our customer support team via email referring to the user manual if you have further questions. We are always here to serve you.
Im about to harvest my indoor led tent photoperiod cannabis plant but now distilled water is sold out What can i do use regular tap water for 2 weeks?

Tap water will produce the calcium fog and film on EVERYTHING. Even after just a couple of days.
Can you run this unit 24/7 in a grow tent 2'x4'x70'? Thanks

This ultrasonic cool mist humidifier generates up to 30hrs to humidify all the air in a 10-30 m² / 107-322 ft² room with a single filling on the low mist setting. It also has a 24H Timer and Waterless Auto Shut-off.
Our customer support is available Monday to Friday: 8am-8:30pm.
Average answer time: 24h